Welcome to your weekend! While you were working, Microsoft had a big moment, releasing new Surface devices (and sorta-kinda admitted Windows is useless). Also, the government has feelings about social media and encryption. It was a weird week... but when isn't it?
Let's jump right in!
The Surface Surfaces – Twice!
Behold, Microsoft unveiled its long-rumored dual-screen Surface device and it's… essentially two iPads stuck together.
There are two variants of this, the Surface Neo and Surface Duo. The Neo has two nine-inch displays, while the Duo features a duopoly of 5.6-inch screens. The Duo, which is absolutely a phone, will run Android, though Microsoft isn't showing off the software just yet.
Surface Duo runs a variant of Windows, dubbed Windows 10X, which is being framed as a sort of new version of Windows. It also has a keyboard folio, and the area of the screen not occupied by a keyboard resting on it can turn into something called a "WonderBar," which is like the MacBook's Touch Bar, just larger.
There are also new Surface Laptops and wireless Surface earbuds. It's hard to see why anyone should care about these dual-screen Surface devices, because they're not quite what the public has clamored for; there's a distinct seam down the middle, which splits up any full-screen experience. But it's something.
Windows Shade
Microsoft CEO Satya Nadella said something very curious this week: "The operating system is no longer the most important layer for us."
He added: "What is most important for us is the app model and the experience. How people are going to write apps for Duo and Neo will have a lot more to do with each other than just writing a Windows app or an Android app, because it's going to be about the Microsoft Graph."
What Nadella is really saying is that Windows kinda doesn't matter anymore. In his thinking, Azure does. Data-flow through Microsoft services matters, too; and maybe even better (and more) APIs are in the pipeline.
This doesn't mean Windows is going away, or that you can't develop apps for it, but it's clear Microsoft is tossing in the towel on encouraging technologists to develop apps specifically for it, or trying to compete with Android or iOS on mobile.
We'll also note IKEA delayed its smart shades this week, likely because Nadella tossed enough Windows-shade around for all of us to enjoy. Haha!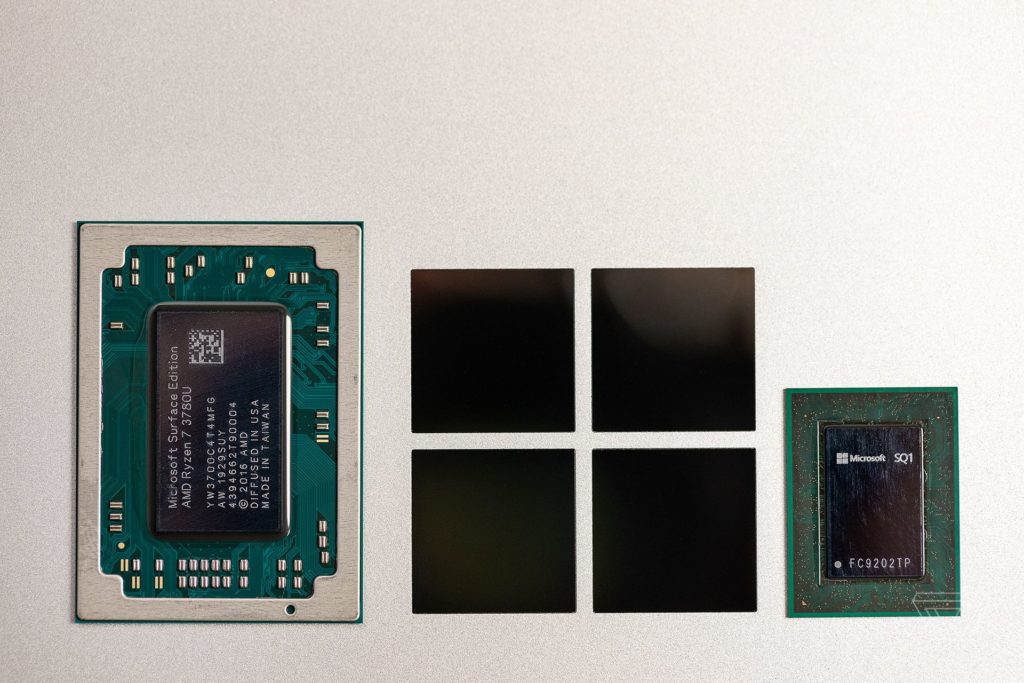 New Surface SoC
Following Apple's lead, Microsoft has developed a bespoke SoC for its Surface hardware. Meant for the new Surface Laptop 3 and Surface Pro X, the ARM-based SQ1 will power Microsoft's 13-inch and smaller laptops.
Microsoft claims this renders the Surface hardware about as powerful as an Xbox One, which can spin at 1.2 teraflops. It also has GPU performance hovering around 2.1 teraflops. Developed in coordination with Qualcomm, SQ1 is sort of a Snapdragon on steroids.
It's a new look for Surface, but there is plenty in the way of making this a success. Microsoft's history with Windows and ARM is not great, but there's hope a new breed of hardware can cure its woes.
Say What, Zuck?
Elizabeth Warren, who just may win the Democratic nomination and run for President of the United States in 2020, has some real feels about THE Facebook. Her feeling is Zuck and company are corrupt, and should be dismantled or held accountable more often.
Leaked audio from a meeting at Facebook has 'ol Mark Zuckerberg saying Warren is an existential threat to the company.
Now, Attorney General William Barr has signed a letter (along with officials in the UK and Australia), that reads (in part): "Security enhancements to the virtual world should not make us more vulnerable in the physical world. Companies should not deliberately design their systems to preclude any form of access to content, even for preventing or investigating the most serious crimes."
Basically, these governments want Facebook to allow them access to data that may contain information on illegal goings-on. That would essentially mean either Facebook drops its plans for end-to-end encryption for Messenger, WhatsApp, and Instagram, or that it keeps a copy of your data somewhere… which is just silly.
It's almost as if Facebook can't do anything right because it's spent years doing wrong by its users. Weird how that happens.
Have a great weekend!