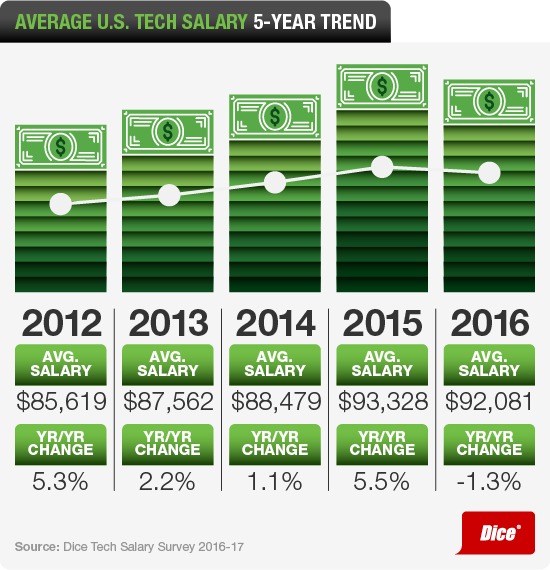 Although average technology salaries in the U.S. remained essentially flat (~1 percent) year-over-year, certain skills are in especially high demand, according to the new Dice Salary Survey (PDF). Those tech professionals with backgrounds in database and networking technology, as well as a select group of programming languages, earned the biggest salary increases over the past 12 months.
For tech professionals with those skills, this salary data comes as good news. However, those in the tech industry are cognizant that software and hardware evolves rapidly. The knowledge and abilities that land you a six-figure salary today could easily be outdated tomorrow, unless you take the time and effort to evolve your skills in lockstep with the industry. Companies need tech pros to accomplish ambitious goals—but those pros must keep up their end of the bargain by bringing the latest techniques to bear on their work.
---
High-Paying Specialties
Topping the list of highest-paid skills and languages was SAP HANA, the high-performance analytical database application, followed by MapReduce, Cloud Foundry, HBase, and (rounding out the top five) Omnigraffle. While HANA first appeared on last year's edition of the Dice Salary Survey, Cloud Foundry is making a first-time appearance, along with—outside of the top five—Apache Kafka and Ansible.
Skills that enjoyed the biggest salary increases over last year's report were (in descending order) Compellent, Drupal, JCL, FCoE, Nimble, HBase, and Pure Storage.
Despite the flatness in average technology salaries, some 61 percent of tech pros reported their salaries increasing from a year ago; by contrast, only 9 percent said their annual pay had decreased. Around 54 percent of tech pros also said they were satisfied with their compensation—virtually the same as last year's Salary Survey. Some 27 percent said they would consider relocating to a new city for a job, up two points from the previous report.
Keeping Skills Up-to-Date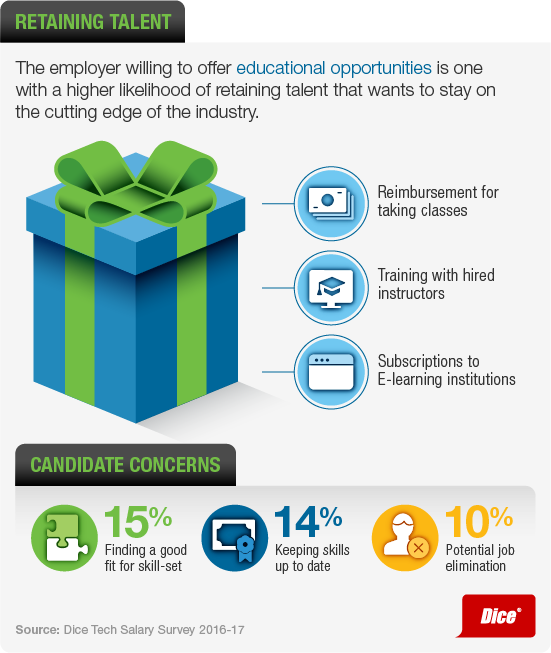 Although many tech pros are enjoying high pay and rising salaries, some 15 percent expressed concern over their ability to find an appropriate position for their skill-sets. Another 15 percent worried about keeping their skills up-to-date, while 10 percent expressed unease over potential job elimination.
A key step toward keeping skills up-to-date is figuring out what you actually need to know. While that sounds incredibly simple on the surface, it can actually take some time to sort out what knowledge is necessary to advance your career, and what's extraneous. Paying attention to your industry is a must; if you see an uptick in chatter around a new programming language or platform, that's a good indicator that you should learn as much as possible about it. Making a point of reading up on the topics presented at relevant conferences, even if you don't attend the events, is another solid way of determining what others in your industry are concerned about.
Mentors are equally important; seek one out, if you haven't already. An effective mentor encourages your career evolution and helps you through technical challenges. While such figures are easiest to find within the walls of your company, you can also seek out advice from people who are prominent in your particular field.
Employers also recognize the importance of employees learning new things, and many are more than willing to pay for professional development and training. Although a company may prove reluctant to pay out more in salaries or perks, they're often willing to devote the necessary funds to educate their employees on the latest and greatest platforms. If you're locked in salary negotiations with a particular firm that seems reluctant to meet your goal number, see if they're willing to pay you to learn; the training path can quickly turn into a win-win for everyone.
Next: Top Cities by Salary (click here or below)...

Top Cities by Salary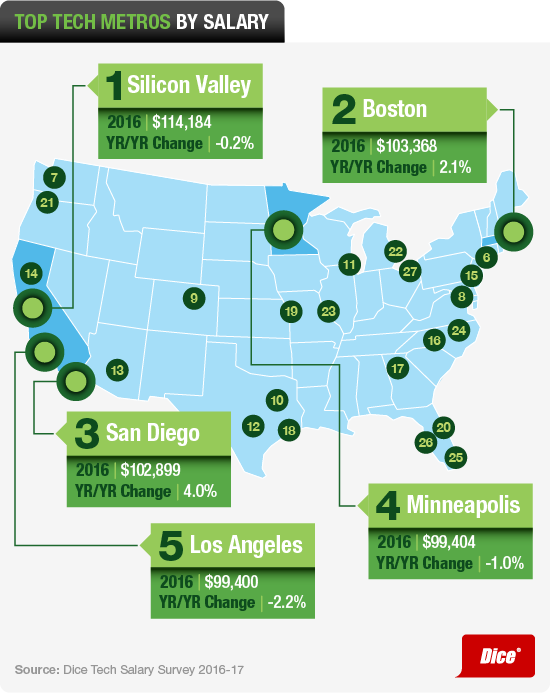 Certain cities also offer tech pros a higher average salary than others. Topping that list is:
Silicon Valley
2016 Salary: $114,184
Year-over-year change: -0.2 percent
Silicon Valley continues to dominate the nation's tech scene. In order to grow and survive, local tech giants and startups alike need the best talent in highly specialized fields such as artificial intelligence and machine learning. That influx of highly skilled (and highly paid) talent, in turn, puts considerable pressure on the housing market, leading to an absurdly high cost of living in San Francisco and many of the outlying areas.
But that pressure also leads to ever-higher salaries and great perks, as companies fight over tech professionals who really know their stuff. As with many of the geographic areas on this list, Silicon Valley boasts several key attributes for growth, including amenities, innovation cultivators (i.e., accelerators and V.C. incubators), universities (which pipeline talent to companies), established tech companies, and an abundance of office space and transportation options.
Next up is...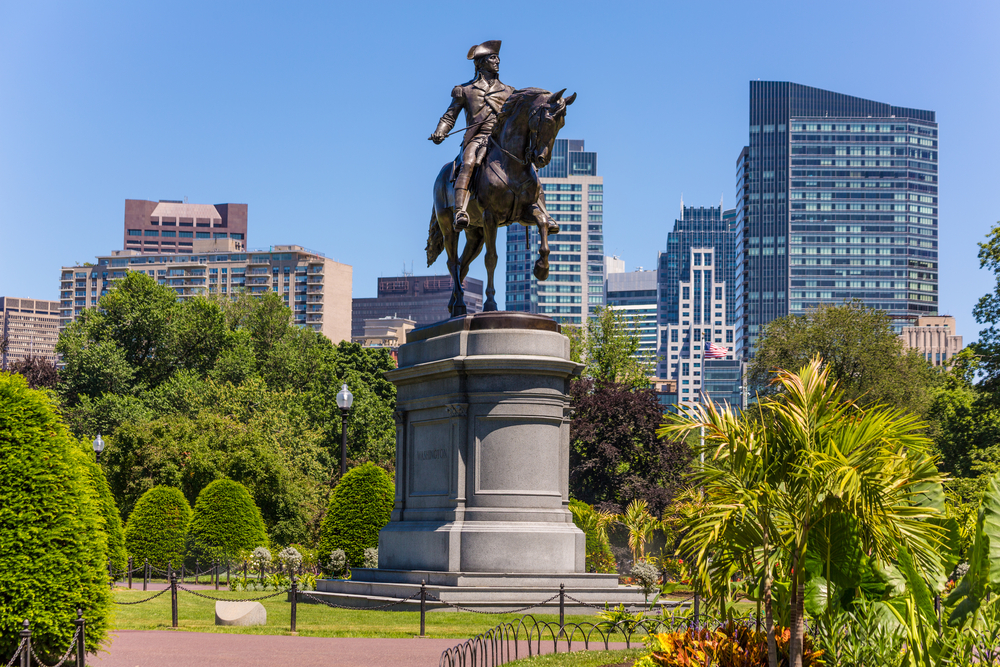 Boston
2016 Salary: $103,368
Year-over-year change: 2.1 percent
Thanks to major universities such as MIT and Harvard, Boston tech firms have access to a pipeline of top-tier talent. But given how the city is just one tech hub among many, companies have fought for years to keep graduates around, instead of moving to Silicon Valley or New York City.
Boston tech firms also tend to be highly specialized, with a focus on areas such as biotech, Big Data analytics, and ERP/CRM applications. That means a continual demand for business analysts and managers in addition to developers and engineers.
For the third city on the list, we're heading back west...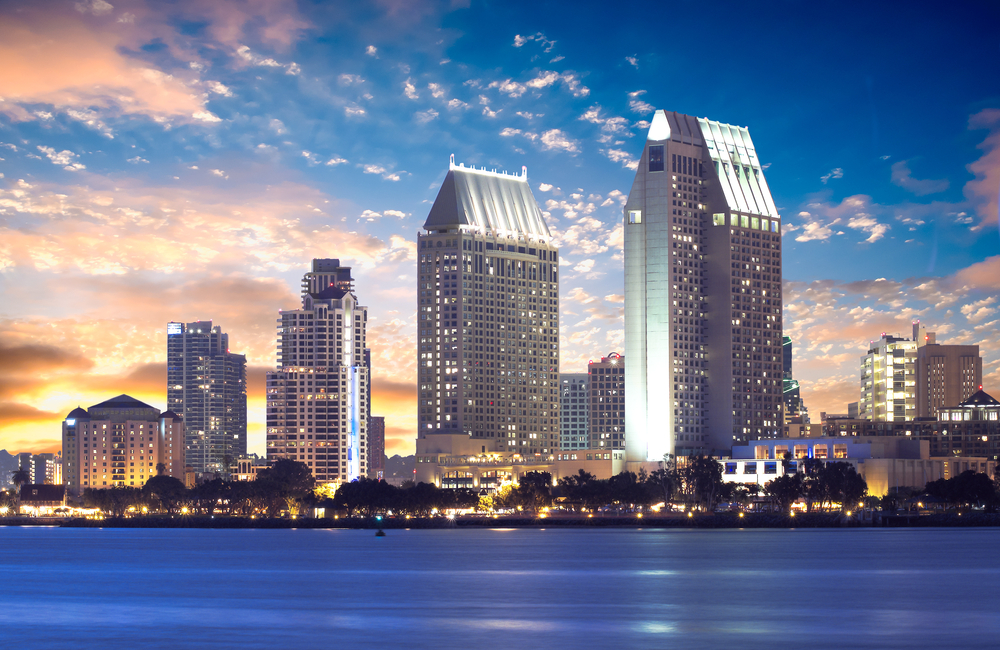 San Diego
2016 Salary: $102,899
Year-over-year change: 4.0 percent
Despite pressure for talent from Silicon Valley and Los Angeles, San Diego has more than managed to hold its own among California tech hubs, developing a healthy ecosystem of startups and established firms. Maybe tech pros are coming and staying for the wonderful weather?
The fourth-ranked city on the list, on the other hand, experiences some pretty nasty winters...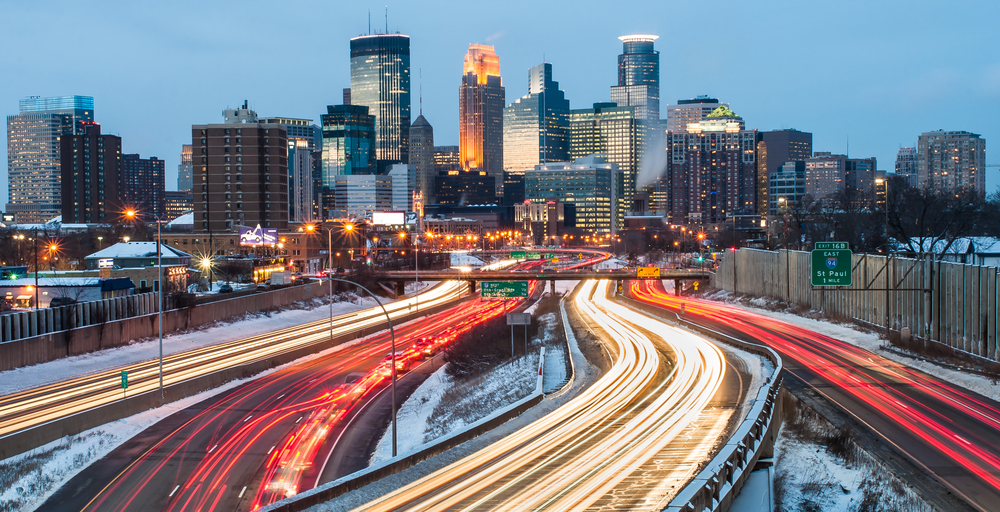 Minneapolis
2016 Salary: $99,404
Year-over-year change: -1.0 percent
Back in ye olden days of 2015, Dice's data suggested that Minnesota was the fastest-growing state for technology jobs, edging out California, New York, Washington, and Texas. While it seems that salary growth has leveled off somewhat, tech pros in Minneapolis-Saint Paul—home to a growing collection of startups and major corporations—can still expect to land high salaries.
Heading west again for fifth place...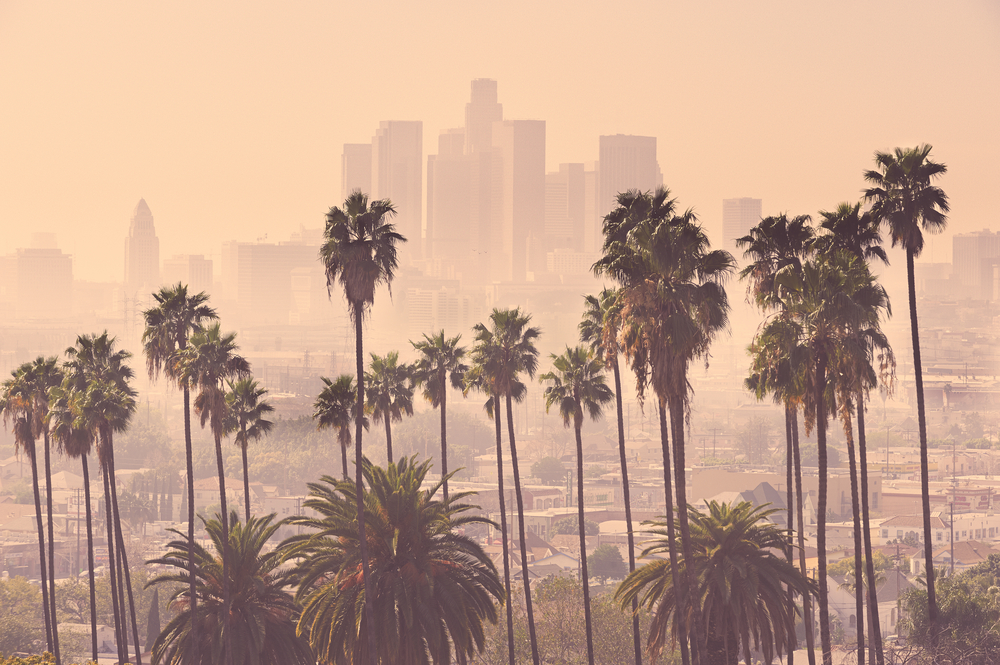 Los Angeles
2016 Salary: $99,400
Year-over-year change: -2.2 percent
Thanks to the rise of Snapchat and other startups, Los Angeles has been able to reposition itself as "Silicon Beach" (a title also claimed by Miami). The City of Angels is a growing hub for V.C. investment and innovative founders, and tech pros can expect to land a salary high enough to justify those lofty expectations.
Next: New York, Seattle, and more (click here or below)...


New York
2016 Salary: $99,345
Year-over-year change: -1.7 percent
After years of hard promotional work, New York can claim the crown of the East Coast's preeminent tech hub, due in large part to a host of startups in Brooklyn, Manhattan, and Queens that have survived and prospered. The sheer diversity of firms in the city means an unending demand for developers, engineers, network administrators, and data analysts. Area schools are also renowned for their respective tech-focused curriculums.
The next big city should be familiar to anyone who works in tech...

Seattle
2016 Salary: $99,290
Year-over-year change: -2.3 percent
Tech pros in this longtime hub continue to pull down high salaries, due in no small part to competition between local giants Microsoft and Amazon. Both companies have pushed hard into the cloud, e-commerce, and mobile, with new technologies such as augmented reality on the horizon; as a result, there's a need for everyone from software developers and A.I. specialists to support specialists and salespeople.
In addition to the big firms, it also pays to stay on the lookout for promising area startups and local branches of tech giants—for example, Facebook subsidiary Oculus has an R&D facility in nearby Redmond, Washington.
Speaking of Washington...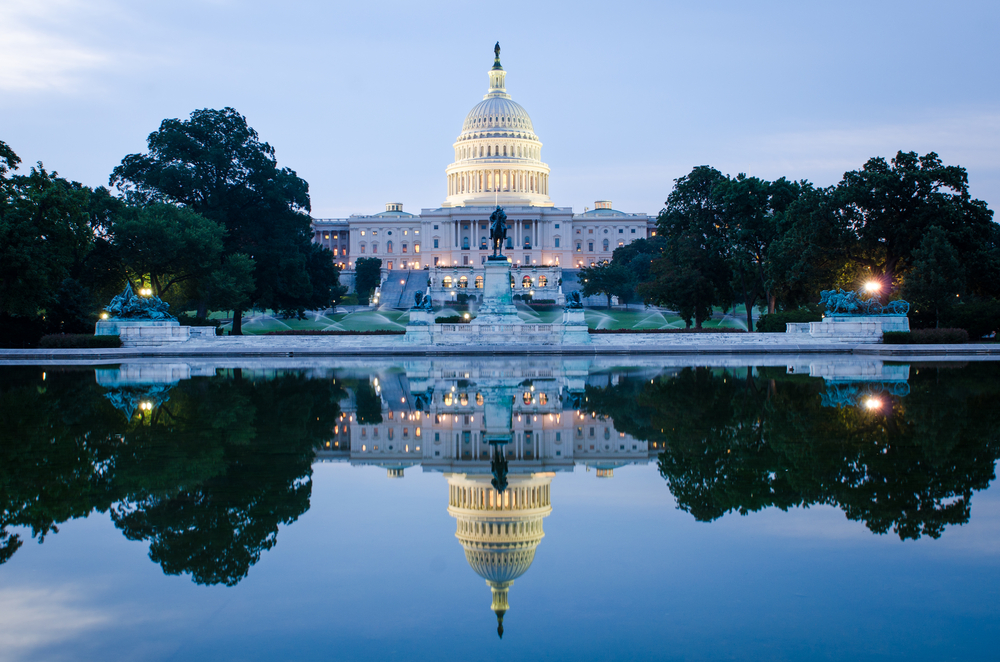 DC/Baltimore
2016 Salary: $97,958
Year-over-year change: -3.4 percent
...Washington D.C., that is. Whatever happens in the White House, Washington D.C. will always need tech pros with an appetite (or maybe it's the patience) for working with the federal government's giant systems. Cyber-security professionals with the right mix of certifications and experience also have their choice of firms, especially in the wake of some high-profile attacks and infiltrations. No matter what anyone may say, salaries are bigly here!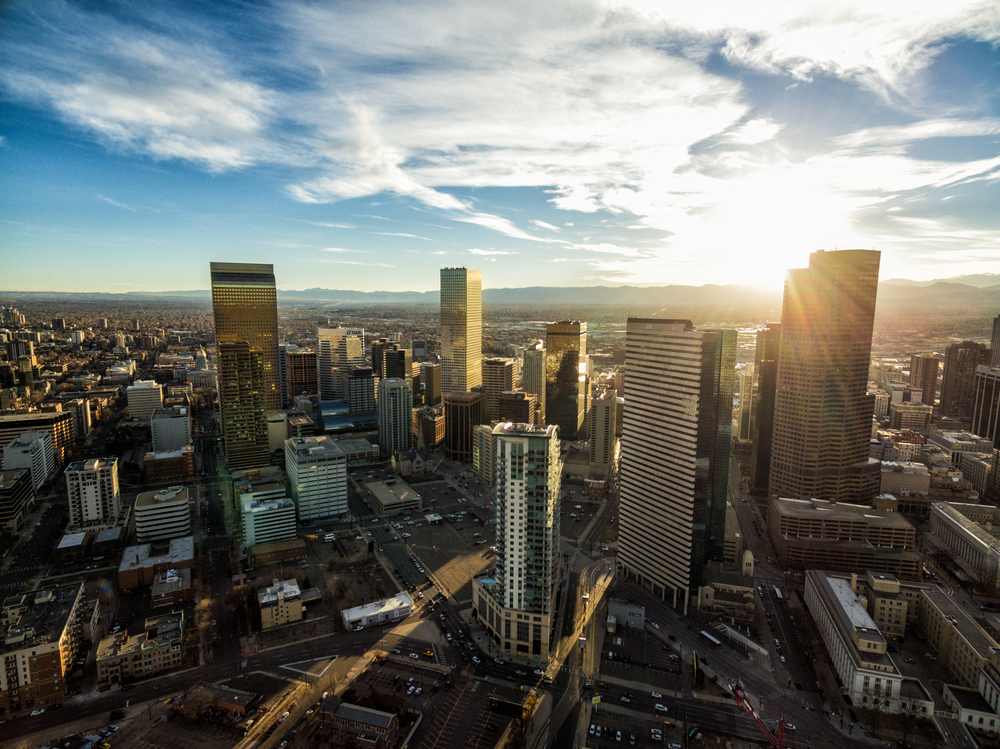 Denver
2016 Salary: $96,530
Year-over-year change: 0.2 percent
As with other cities in Denver (such as Colorado Springs and Boulder), Denver is attracting its share of startups. For companies large and small, the city holds a lot of appeal, most notably its highly educated workforce and top-notch university system. The local defense industry also demands its share of tech pros with the right combination of skills.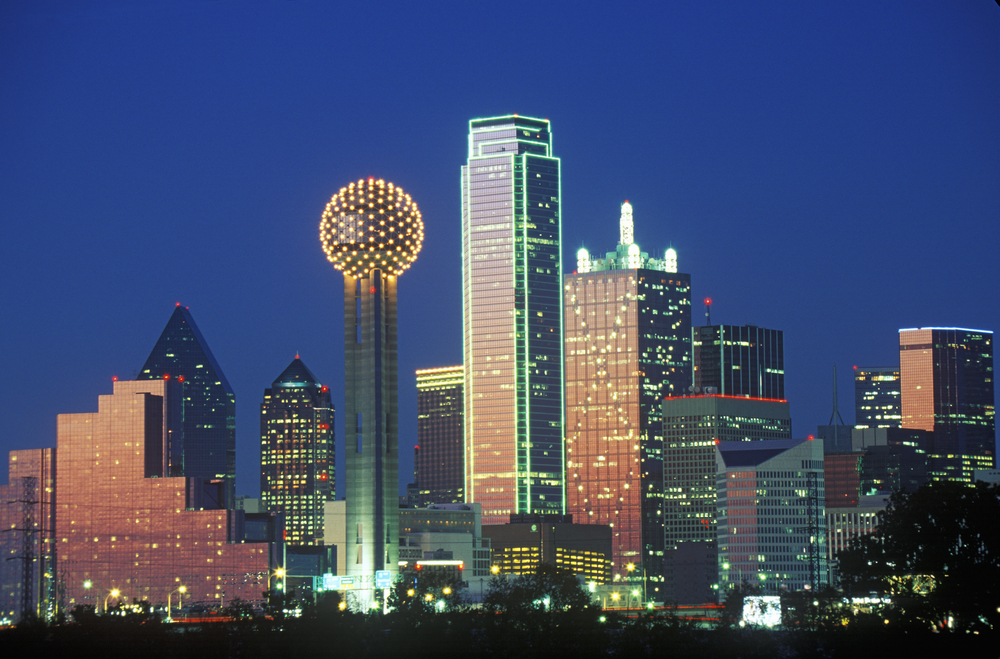 Dallas
2016 Salary: $95,130
Year-over-year change: 2.1 percent
Dallas has traditionally surfaced in a lot of job postings on Dice. Although often overshadowed by Austin, which has a reputation as a hip locale for startups, Dallas boasts substantial industries driven by data analysts and other tech pros. For example, between 2003 and 2013, the number of computer and software programming jobs in the Dallas-Fort Worth-Arlington metropolitan area more than doubled, from 10,387 to 23,193, according to the U.S. Bureau of Labor Statistics (BLS). It seems all that influx is driving higher salaries