Twitter has opened up its analytics dashboard—formerly reserved for advertisers—to all account-holders. (
Hat tip to The Next Web
and its sources for pointing it out.) The dashboard is available at
ads.twitter.com
. Twitter subdivides those analytics into two broad categories: Timeline Activity and Followers. Timeline Activity offers visualizations of all Mentions, Follows, and Unfollows, subdivided into six-hour increments:

There's also the ability to see which Tweets earned the most Favorites, Retweets, and Replies:

The other category, Followers, visualizes the account's increasing (or decreasing) followers on a timeline:

It also breaks down followers by Interests, Location, Gender, and who your followers follow: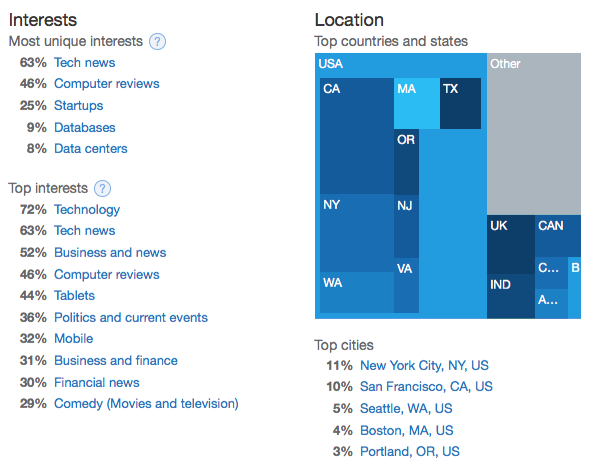 Twitter has spent the past several months building out its features. In April, the social network jumped into the online-music game with a service that uses activity such as Tweets and engagement "to detect and surface the most popular tracks and emerging artists" (
according to a post
on Twitter's official blog). Anyone visiting music.twitter.com can see the latest music trending on Twitter; clicking or tapping on an artist's image will bring up a small control module that allows the user to play or pause a small snippet of a particular song; other buttons allow someone to post about the song on Twitter or buy it on iTunes. Other recent Twitter tools include
Vine
, an iOS app for 6-second videos, and a
new photo service
packed with Instagram-style filters and editing tools. But all the features in the world won't matter if Twitter can't attract enough advertising revenue. That's where the analytics come in: in theory, advertisers can use those dashboards and metrics to determine the effect of campaigns on the social network. Do Re-tweets, Favorites and Follows translate, in some weird alchemical way,
into actual sales and cash
? Critics argue "No," but enough companies still believe enough in the promise of social media to keep pouring money into ad campaigns. Now, individuals and small companies can use those Twitter analytics, previously open only to advertisers, to judge their own social impact.
Images: Twitter