Last week, we discussed how the coronavirus might impact Foxconn's iPhone production lines. This week, it's clear that the virus continues to have a massive (and negative) impact on the tech industry, forcing the shutdown of an important annual conference. And that wasn't the only big news of the week: A controversial startup just went down in flames, and an A.I. might determine the accuracy of one of the world's most important reference sites…
Let's jump in!
Coronavirus Wrecks Mobile World Congress 2020
Every year, some of the world's largest tech companies (including Amazon, Facebook, Sony, Intel, Nokia, and others) make the trek to Barcelona for the Mobile World Congress (MWC), where many show off their latest gadgets and services. MWC might not have the hipster cred of SXSW, and it's not nearly as large as CES, but nonetheless it's a way for companies to draw important buzz and eyeballs to their mobile efforts.
This year, the MWC is canceled because of fears over the coronavirus epidemic, which has sickened thousands and killed dozens. Here's the official statement from GSMA, which runs the event:
"12 February 2020, Barcelona: Since the first edition of Mobile World Congress in Barcelona in 2006, the GSMA has convened the industry, governments, ministers, policymakers, operators and industry leaders across the broader ecosystem.

"With due regard to the safe and healthy environment in Barcelona and the host country today, the GSMA has cancelled MWC Barcelona 2020 because the global concern regarding the coronavirus outbreak, travel concern and other circumstances, make it impossible for the GSMA to hold the event.

"The Host City Parties respect and understand this decision.

"The GSMA and the Host City Parties will continue to be working in unison and supporting each other for MWC Barcelona 2021 and future editions.

"Our sympathies at this time are with those affected in China, and all around the world."
This is a pretty big friggin' deal, and it means that all the companies that normally use the MWC to make their big annual announcements will need to find some other way to generate buzz. But if this cancelation keeps people safe from the coronavirus, then perhaps it's for the best.
Speaking of phones…
Essential Shows It Wasn't So… Essential
It's hard to launch a new smartphone in the current market. Apple captures 66 percent of smartphone industry profits, according to an estimate in late 2019 by Counterpoint Research, with Samsung a very distant second (at 17 percent); other manufacturers are left to pick up the scraps. So why did Essential, a smartphone hardware startup founded by ex-Googler Andy Rubin, believe it could succeed?
It all came down to design: Essential tried to produce phones that, in its words, "seamlessly integrated with people's lifestyle needs." Its first phone, the PH-1, was a standard-issue Android device, largely indistinguishable from many other Android-based smartphones on the market. Its second-generation device, dubbed Project GEM, was meant to redefine mobile computing: Its hardware was small and slim, designed to be unobtrusive at a time when other manufacturers are dedicated to manufacturing enormous phones.
On the plus side, Project GEM would have fit easily into most hands. On the downside, watching movies and video on this thing would have been a real pain: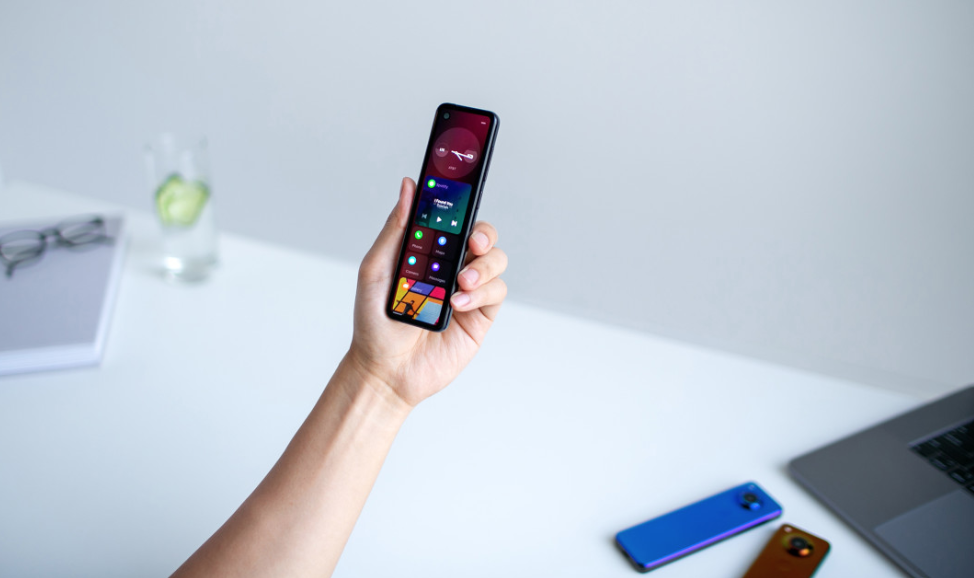 In talking about Essential, there's one very important thing to bring up: Andy Rubin, who led the development of Android while at Google, has faced accusations of sexual harassment. In 2018, The New York Times published an article detailing those accusations, which Google reportedly investigated and found credible. That article also stated that Google paid Rubin $90 million in severance, which sparked protests and walkouts among Google employees.
The accusations cast a pall over Essential's efforts. On top of that, the startup experienced some spectacular growing pains—including a data leak and a hilariously botched attempt to clean it up. While perhaps it's not surprising that the company finally imploded, it does raise the question of whether any startup phone manufacturer has a chance to carve out a sustainable niche in a market dominated by Apple on one side and a small handful of huge Android manufacturers on the other.
A.I. Gives Wikipedia a Re-Write
Over the past 19 years, Wikipedia has grown into an essential resource for students, researchers, and anyone who really, really wants to prove a point. Although its methods are open to certain criticism—it's impossible for some people to trust crowdsourced content, no matter how many studies verify Wikipedia's general accuracy—the platform is generally treated as a reliable resource.
There's just one issue: Wikipedia is so huge, it's difficult for even a crowdsourced army of editors to keep every single entry up-to-date. And that, reportedly, is where artificial intelligence (A.I.) will come in: A new platform developed by researchers at MIT will automatically rewrite content that's outdated.
"The machine learning-based system is trained to recognize the differences between a Wikipedia article sentence and a claim sentence with updated facts," is how Engadget summed up the new system. "If it sees any contradictions between the two sentences, it uses a 'neutrality masker' to pinpoint both the contradictory words that need deleting and the ones it absolutely has to keep. After that, an encoder-decoder framework determines how to rewrite the Wikipedia sentence using simplified representations of both that sentence and the new claim."
That's not to say an A.I. is about to take over Wikipedia, but it is a potential sign of things to come. Is having an A.I. as a fact-checker and/or editor a positive evolution? That's a tough question to answer at this juncture. One thing is clear, though: artificial intelligence, like any other system, is "garbage in, garbage out," and we can only expect a well-architected system to actually deliver the right kinds of updates and improvements.
Of course, if an A.I. changes every entry to "OBEY YOUR ROBOT LORDS AND MASTERS," it's time to run away.
Have a great weekend!