[caption id="attachment_6510" align="aligncenter" width="548"]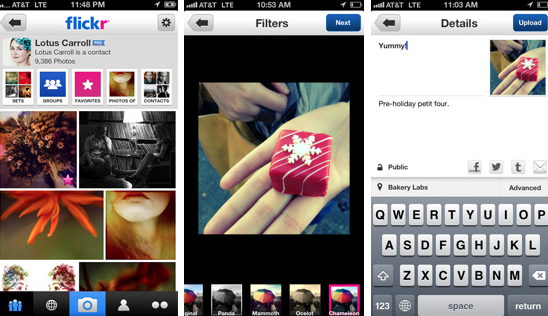 When you really need to add a dash of pretension to your cat photos, you can't go wrong with a filter.[/caption] Now this is just getting ridiculous. The same week that Twitter and Instagram decide to kick off a minor war over photo sharing, Yahoo announced a new Flickr app for iPhone (along with some new navigation tools for Flickr's Website). Clearly the fate of the Internet—and the fortunes of multibillion-dollar companies—hangs on the ability to share an artfully composed photograph of that granola bar you ate for breakfast, its wrapper crumpled to suggest transcendent existential angst.
A Dec. 12 posting
on Flickr's blog broke down the new features of the iPhone app, which include "new high res filters" and the ability to post an image to Facebook, Twitter, Tumblr or email. "Just like our Flickr site, you can upload unlimited photos from your camera roll, add your photos to groups and sets, add a venue from Foursquare and tag people," the posting added. Meanwhile, the navigation bar on Flickr's Website has been redesigned "to make browsing Flickr faster and easier so you can quickly get to the photos you love." Flickr also features a new "Explore" page, filled with photos posted by the community. The current battles over online photo sharing began when Instagram—owned by Facebook—decided to cut off its interoperability with Twitter. "Instagram has disabled photo integration with Twitter. As a result, photos are no longer appearing in Tweets or user photo galleries,"
read a Dec. 5 note
on Twitter's Status page. "While tweeting links to Instagram photos is still possible, you can no longer view the photos on Twitter, as was previously the case." Instagram's move sent the tech pundits, well, atwitter. "The only way these companies can succeed financially is by tricking members and forcing them into walled gardens," Dan Lyons wrote in
a Dec. 10 ReadWrite posting
. "Think of it this way—there's a reason that they don't hold a circus out in the open, and instead put it under a tent—and it's not to keep you dry in case of rain." Not to be outdone, Twitter launched its own muscled-up photo service Dec. 10, complete with Instagram-style filters and editing tools. "In June, 2011, we
introduced the ability
to attach a photo to your Tweet, a first step toward improving the entire photo experience on Twitter," read a posting on
Twitter's official blog
. "Since then we've been making it easier and faster to share and discover and enjoy great photos on Twitter every day." Now Yahoo's escalated with its own offering. Yahoo competes with Facebook and (to a lesser degree) Twitter for the online collective's attention and ad-clicks, meaning it can't afford to be left behind with regard to services and features. That means a lot of engineers pouring a lot of resources and effort into one particular cloud-based platform, all to ensure that millions of people can give that photo of their breakfast a yellowed 1970's sheen.
Image: Yahoo/Flickr