Six emerging help desk and service desk trends, and the skills required to support them.
By Mathew Schwartz
---
The help desk is an excellent - as in, typically hiring - front-line entry point for new IT recruits.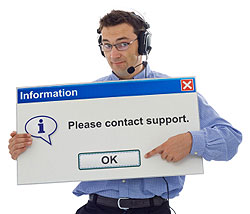 However, a recent study finds enterprises are expecting more from their help desk, and its more ITIL-influenced cousin, the service desk. In particular, the survey of 158 IT professionals with help or service desk responsibility by market researcher Enterprise Management Associates found that help and service desks are evolving in six ways:
ITMS: 62 percent of surveyed organizations are involving the help/service desk in IT management software (ITMS) efforts.

Fewer Tools: 56 percent of large enterprises manage multiple help desk tools, and plan to consolidate them.

Consolidating Service: Almost one third of organizations are integrating customer service with IT service desk operations.

ITIL: 64 percent of organizations plan to, or already use, parts of

the IT Infrastructure Library (ITIL) version 3

for help/service desk incident, problem and change management.

Service Catalog: 56 percent plan to, or already have, a service catalog.

Self-Service: 32 percent have implemented password-reset technology.
So what skills can current employees master to either make themselves more valuable, or move into a new help or service desk position?
Pursue ITMS: When it comes to managing services, making business users more efficient , and interacting with users, the help desk is on the front line. "That's why they've become a key role in the IT service management strategy, because they are a communications strategy," says Rich Hand, executive director of membership for HDI, a 50,000-member association of IT service and support professionals based in Colorado Springs. To support these enterprise-wide endeavors, there's a need for IT professionals who know their ITMS software - BMC Remedy, HP Service Manager, IBM Service Management, and so on.
Master Help Desk Tools: Do you know your help desk tools inside and out? Brian D. Jaffe, a New York-based IT director and co-author of IT Manager's Handbook: Getting Your New Job Done, says he often sees room for improvement, for example with remote-control and support tools: "I've seen an awful lot of support people who just seem to be more comfortable going to the user's desk, when by the time they got there, they might have been able to already resolve it remotely."
For IT, Work with Customer Service: HDI's Hand sees a number of organizations co-locating their help desk and customer service center. "Carnival Cruise Lines, for example, has a massive, massive call center, and their IT support department is literally in the center of that," he says. "They don't take calls from customers, but if there are issues - such as the site going offline - their IT support department is housed in the call center, so they can immediately respond."
Practice ITIL: Learn to use ITIL version 3 - a framework for delivering better services to users - for incident, problem and change management. "ITIL ... provides a common framework in an organization where everyone is talking the same language," around problems or service requests, says Hand. When that happens, "we can talk the same strategy about how to improve those processes."
Maintain a Help Desk Service Catalog: This is simply a list of services provided. "It's a great way for IT to market themselves, because it identifies what they're doing, and also sets user expectations," says Jaffe. For example: "These are the boundaries of what we can do, or these are our hours of service."
Develop a Self-Service Knowledgebase: A knowledgebase is the by-product of successfully diagnosing the root cause of a problem, then making a note of it. (Many organizations use ITIL to manage these incident processes.) That way, the next time a service agent fields a similar call, they can see if it's happened before, and what the fix was. For problems that users can solve themselves, organizations can share the knowledge directly with users via FAQs, knowledgebase search tools, and so on - all of which helps lighten the help desk workload.
Finessing ITIL
If there's a strong thread running through how the help desk will evolve, it's that for many service desks, ITIL is king. And while you can become a certified ITIL master, you needn't master all of ITIL. "ITIL has morphed over the years into a strategy, and it's not all or nothing," says Hand. "You can take key pieces of ITIL, start working on those, and then expand them out through the organization."
And when it comes to transforming help desks into service desks, someone's going to have to help organizations do just that.
Mathew Schwartz writes about technology and business from Pennsylvania.