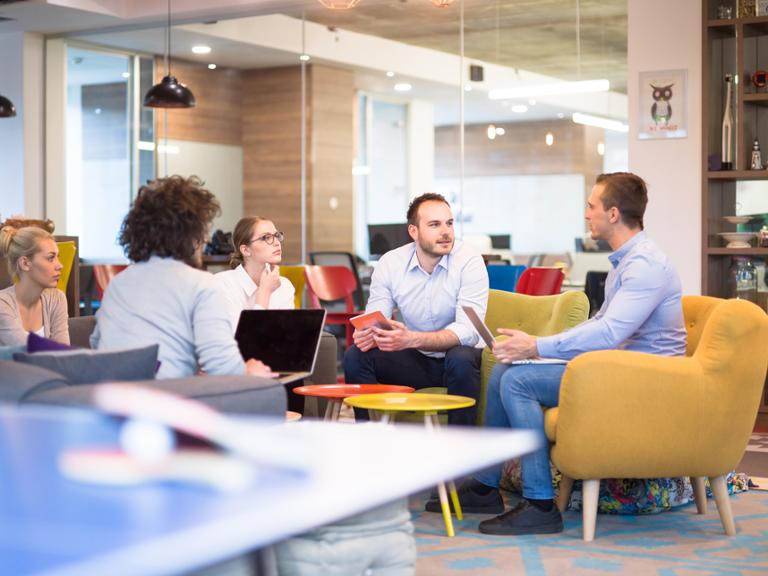 Hiring the right people is crucial for every startup­—but even more so for startups, which have little room for error when it comes to personnel. Truth be told, not having the right team in place was rated as the third-biggest cause of failure, according to a post-mortem analysis of 101 unsuccessful startups conducted by CB Insights.
The fact that a startup environment isn't right for everyone makes identifying talent even more difficult, especially for rookie founders who often lack hiring experience.
Fortunately, we can learn something from startups that have succeeded and failed. Here are the seven biggest takeaways from leaders who managed to hire employees who possess the right qualities to not just survive, but thrive in a fast-paced startup environment.
1. Define What Success Looks Like
Founders often struggle to find the right talent for their startup ventures because they wait too long to hire. Then, once desperation sets in, they hurriedly try to recruit without thinking through the role or defining what success looks like, noted Maren Kate, a serial entrepreneur and founder of AVRA Talent Partners.
To define the hard skills and experience that correlate with success in the role, try working backwards from what you want to achieve. For instance, ask yourself: Why does the role exist? What are the key objectives or outcomes this person needs to achieve? What types of people are needed to take the company to the next level?
Once you've answered those questions and created the hiring profile, you're ready to write the job description.
2. Create an Enticing (But Honest) Startup Job Description
Above all, the description or posting for a job at a startup needs to answer a passive candidate's ultimate question: "What's in it for me?"
A canned job description is a huge turn-off for people who are interested in startup opportunities, Kate noted. In fact, a study by LinkedIn confirmed that a clear job description that showcases the company's mission and expectations for the role was a common element among successful startups.
Since the job description doubles as a marketing piece, start with a small paragraph that emphasizes the most enticing aspects of the job, followed by three to seven key objectives of the position; then close with a few key tasks and responsibilities.
The job description needs to be brutally honest, as well. Some people will love it, while others will hate it—but at least you will attract like-minded professionals, Kate noted (she also provided this job description template to help you get started).
3. Be Realistic
Nothing will hinder a founder's hiring effectiveness more than believing your own hype.
Be realistic in assessing why someone should work for your startup, warned Estelle Roux-Stevens, hiring expert for startups and a talent development consultant. Founders often place a strong emphasis on belief in the company's product and mission—but not everyone is going to share your enthusiasm.
"Strong candidates can sense when a founder is being arrogant or refuses to acknowledge the potential drawbacks and risk," Roux-Stevens said.
No matter how great the business model or market potential seems, some risk will always remain. Candidates know that, and you should remember that they know that.
4. Create a Great Candidate Experience
Candidates make decisions with their heads and their hearts; that's why it's important to recognize the value of giving them a great experience at every step of the hiring process, Roux-Stevens added.
Don't wing it. To identify and nurture relationships with passive candidates, develop a structured hiring process and use an ATS or CRM to build a talent pipeline. Maintaining consistent communication is key, as well.
Visualize what it's like to go through your hiring process, and make an effort to build trust and maintain engagement by mapping the candidate's journey.
Plotting out the various steps will help you identify touch-points and opportunities to provide information. This will ensure that you attract the best candidates and maintain their attention throughout their journey, which could take several months.
5. Risk-Return Trade Off
It doesn't matter whether you provide stock options, training and education allowances, or flexible work schedules and telecommuting—the employee value proposition for startups has to offer employees something beyond the mythical "pot of gold" at the rainbow's end.
Fortunately, startups have the ability to tailor perks and packages in ways that allow them to compete directly with larger companies for rock-star talent. The key is to offer something that meets the unique needs of each employee and creates value by balancing risk and reward.
6. Ask Multi-Layered Situational Interview Questions
Ask situational interview questions focused on real-life scenarios to find employees who can thrive in a fast moving, unstructured startup work environment.
"Keep asking follow-up questions to get more descriptive answers," Roux-Stevens said. For instance, don't ask how a candidate handles shifting priorities and evolving requirements—give them an actual scenario or case study. Then add a series of new obstacles or issues to the original situation to see how they react and adapt their approach.
7. Close Strong with a Compelling Offer Letter
When you find the right person, don't leave them hanging or nonchalantly assume that the deal is closed, Kate warned.
"I've seen too many startups drop the ball at the end of the hiring cycle," she said. "In today's market, you have to assume that other companies are running a 'full court press' to steal the candidate you want to hire."
Make a quick decision and extend a verbal offer, but always follow-through by sending a formal, compelling offer letter outlining all the terms, perks and salary. Let the candidate know their qualifications for the job are the best you've seen. Showing enthusiasm can sway a candidate with multiple offers on the table.
"Don't let up," Kate said. "Remember, you don't have a hire until they sign the offer letter, quit their current job and report for work."