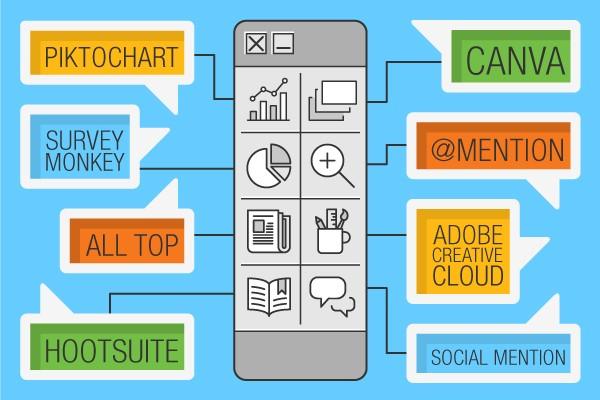 Words are cheap. If you want to grab the attention of Millennials, you can tell a story 3X faster with visuals. During our latest Social Recruiting Pro Tips Webinar,
Ashley Cheretes
, Recruitment Marketing Manager at ADP
(@ashleycheretes
), recommended a few digital tools she found especially useful for reaching and recruiting millennials via social media. Adding visuals to your messages can dramatically increase your engagement. Ashley recommends these eight web-based tools for information gathering and graphics creation:
Piktochart
is geared toward creating infographics, reports, posters and presentations. The drag-and-drop interface is easy to use. You can start with one of hundreds of templates and customize from there, or start from scratch and build your own infographics and cha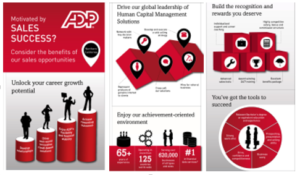 rts. A help section is packed with FAQs and video tutorials. The basic level of use is free; access to more robust capabilities carries a monthly fee. Ashely has used Pickochart to help create infographics for ADP similar to what you see on the right.
www.piktochart.com
Canva
is also a Web-based, drag-and-drop system but bills itself as a broader graphic design tool for everything from infographics to report layouts and marketing materials. It also offers hundreds of templates or a start-from-scratch option. Canva's deep help section includes some guidance on the fundamentals of graphic design. The tool is free, but using some images in your layouts carries a small cost.
www.canva.com
SurveyMonkey
is a survey tool popular with many recruiting and HR staffers. Ashley suggested it as a way to get ideas or input on social media strategies or channels. The interface is easy to use and guides you step-by-step through making a survey. You can brand the survey with your logo and send it out via mobile, web or social media. The tool's native analytics help you crunch the survey results and generate reports. SurveyMonkey comes in a free basic version and advanced, pro versions that range from $26 to $65 per month.
www.surveymonkey.com
Hootsuite
is a highly popular system that creates a dashboard for keeping track of many social media accounts at once. The free level lets you monitor and analyze up to three social media profiles. The fee-based Pro plan offers up to 50 profiles, and the Enterprise plan allows unlimited social profiles. Fee-based versions also allow multiple team users to access your social media accounts via the Hootsuite interface. Hootsuite offers native analytics that are more sophisticated and powerful as you go up the fee-based plans. Other popular features include the ability to schedule Tweets in advance on various platforms, give multiple users access, and send one tweet or post to many platforms simultaneously.
www.hootsuite.com
@mention
is a fee-based service for monitoring how often anyone or any company is mentioned on the Web, whether it's via social media or otherwise. It can help you find or create buzz about your company, identify influencers and engage with the social media community.
www.mention.com
Social Mention
is a free social media search engine and analysis platform for tracking and measuring what people are saying about you, your company, and more. It monitors more than 100 social media sites including Twitter, Facebook and YouTube. It can also deliver daily social media alerts for terms you designate.
www.socialmention.com
All Top
is a free service that lets you search for information in a wide range of topics pulled from 32,000 sources. You can also create a custom page that contains feeds from your favorite sources (often discovered by using the service), sort of like building a playlist in iTunes. Once you've built your favorites page, it becomes a quick snapshot of what's in the news, useful in keeping yourself up to date or to provide content for your social media posts.
www.alltop.com
Adobe Creative Cloud.
If you or anyone on your team has graphic design skills, Creative Cloud offers Adobe's top graphic design programs, including InDesign, Photoshop, Illustrator and Premier Pro and many more. You can download the tools to your desktop for optimum performance or use off-line. Tools can be used across all your digital devices — phone, tablet, laptop and desktop — and projects can be shared via the cloud among collaborators. Monthly fees for individual users range from $9.99 to $49.99.
www.adobe.com/creativecloud
Watch the Webinar
To see how Ashley put these some of these tools into action, watch the full on-demand webinar,
"How To Engage Millennials through Social Recruiting,"
on YouTube.
View the Slide Deck: