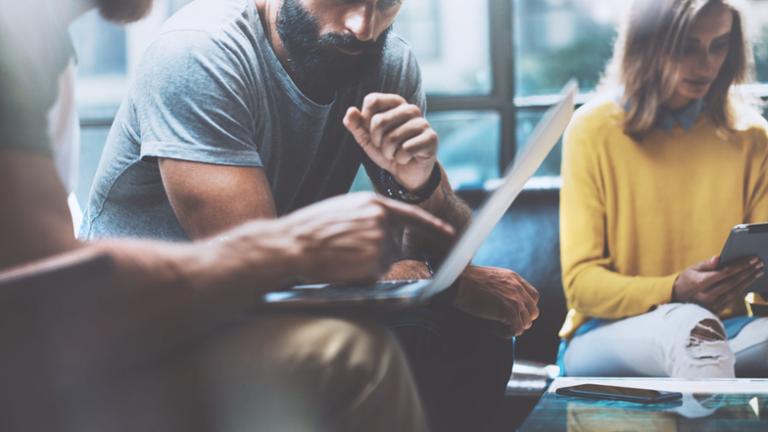 Which states are looking to hire the most tech professionals? That's an important question for any recruiter or hiring manager that is trying to source talent in an already competitive job market. To provide insight into the hiring market in five particularly competitive states, we utilized Burning Glass, which analyzes millions of job postings from across the United State. Leveraging that data (along with some other sources) shows us which states are significantly competitive for employers looking to hire tech professionals.
In addition to job demand, you can also find key salary averages, and additional data points that further illustrate the tech hiring climate in each state. If you're hiring in any of these states, consider creating a more robust employer value proposition and recruiting strategy to stand apart.
California
Average 2018 Tech Salary (Dice Data): $105,953
Change Y/Y: 1.4%
Job Postings (July-Sept): 164,540
It should be no surprise that California tops the list of states hiring tech professionals: Silicon Valley and San Francisco remain America's premier technology hub, despite attempts by New York City to take its place. And although Silicon Valley's cost of living is extremely high, the area remains home to technology giants such as Facebook and Google, which will likely ensure its dominance for some time to come.
Based on Burning Glass data, it's clear that employers need to hire a variety of tech roles, suggesting that Silicon Valley is growing horizontally, rather than in a few individual occupations. This is further enabled for a few reasons: The area features universities to pipeline talent to companies, venture-capital firms to provide funding to startups, and networks of experienced technologists to move projects forward.
Meanwhile, Los Angeles is also growing when it comes to tech companies, thanks to the presence of firms such as Snap (in Venice Beach). Towns such as Santa Monica and Manhattan Beach also host their share of startups.
Texas
Average 2018 Tech Salary (Dice Data): $89,277
Change Y/Y: -1.4%
Job Postings (July-Sept): 76,433
From Houston to the "Silicon Hills" of Austin, Texas enjoys a robust tech scene. Austin itself is home to companies ranging from Dell (which is headquartered in nearby Round Rock) to Apple (which plans to manufacture its new Mac Pro at a factory there).
The living here is also more affordable than other tech hubs, which plays a factor in the lower salaries compared to California. This lower cost of living may also be the reason why businesses like Walmart and Microsoft are opening new offices in the state, and could be a sign that others will follow.
New York
Average 2018 Tech Salary (Dice Data): $98,219
Change Y/Y: -6.6%
Job Postings (July-Sept): 55,233
New York City has spent years trying to grow into a tech hub capable of competing with Silicon Valley. Part of that strategy included a rebranding ("Silicon Alley," even though most of the city lacks alleys) and an aggressive attempt by former mayor Michael Bloomberg to attract startups and large companies that would hire tech professionals.
New York City's push as a tech hub reached its peak when Amazon announced that it would establish one of its two "HQ2" headquarters buildings in Long Island City, a neighborhood across the East River from Midtown. However, that move create a huge amount of local protest from the community, and Amazon backed down.
While everyone in the city clearly is not onboard with expansion, Google, and other businesses have continued to press on—and post jobs. Outside of New York City, the state government has tried to make things hospitable to tech firms, albeit with very mixed results. For some states, it's clear that the bulk of tech activity is centered in one place.
Florida
Average 2018 Tech Salary (Dice Data): $86,139
Change Y/Y: 3.9%
Job Postings (July-Sept): 43,873
For years, Florida has worked to become a tech-oriented state both in from the company and tech professional standpoint. There's been more venture-capital investment, as well as a significant well of talent, and a notable cost-of-living advantage over other cities. The big question is whether the state can maintain and grow what it's managed to establish—and based on the Burning Glass data, it seems that state certainly needs to hire tech professionals.
Virginia
Average 2018 Tech Salary (Dice Data): $101,935
Change Y/Y: 4.4%
Job Postings (July-Sept): 40,193
When it comes to states' growth in tech jobs, Virginia has one significant advantage: nearby Washington, D.C. The federal government (and its contractors) means constant demand for a variety of technologists.
In addition, Virginia is host to Microsoft, Amazon, and other major firms, some of which have built out considerable data center infrastructure. And even though New York City rejected one of Amazon's "HQ2" headquarters buildings, the other one is still being built in Crystal City, right across the river from D.C. Once that's completed, expect the number of technologist job postings to only increase.
What does this mean for hiring tech professionals?
What does this mean for businesses that are need to hire tech professionals in these states? From startups to multinational businesses, and recruiting agencies that are assisting in their efforts, having a robust employer value proposition has never been more important. Understand what your (or your client's) business has to offer in terms of benefits and salary, but also in terms of career growth and opportunities for increased responsibility and for learning new skills. Even in a competitive job market, smaller companies can effectively compete with larger companies by understanding their audience and making their value clear.