We are excited to introduce the Dice Tech Job Report, taking a deep dive into tech's fastest growing skills, occupations and hubs. Using data from Dice's partner, Burning Glass Technologies, we've analyzed over 6 million tech job postings throughout the United States from 2018 and 2019 and are proud to present you with our findings.
2019 saw the growth of tech hubs across the U.S., the continued emergence of data-oriented occupations and skill sets, as well as increasing competition among businesses looking to hire. As we move further into 2020, more businesses are likely to put even more effort into hiring more tech professionals, which will mean that the time required to fill these positions will increase in tandem. Equipped with these insights, you and your business will be able to confidently navigate your 2020 tech hiring with the key knowledge of what's growing – and why.
Demand for data-oriented occupations and skill sets skyrocketed in 2019
Data-oriented roles and skills were on the rise in 2019. The top tech occupations for 2019 reflect the need for specialized technologists like data engineers who can move and prepare information, data analysts who offer interpretation of valuable insights and data scientists who develop machine learning models that can process large datasets.
Specifically, Data engineer was the fastest growing tech growing tech occupation (up 50% y/y) followed by back end developer (up 38%), senior data scientist (up 32%) and CRM developer (up 29%).
In line with 2019's most in-demand occupations, the top skills for 2019 only further emphasize the need of technology employers to support end-to-end workflows. Kubernetes topped the 2019 list of hottest skills as containerization needs have grown considerably over the past few years. With a year-over-year growth of 82%, Kubernetes also has a projected growth of more than 67% in the next 10 years. Data science grew by 28% y/y, machine learning by 22% and Python by 17%.
---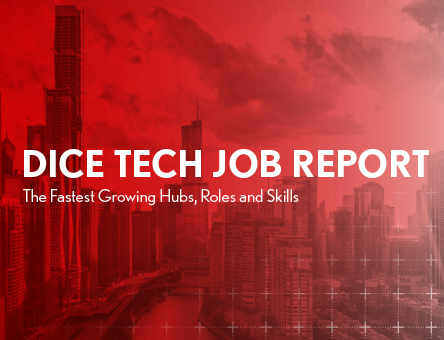 ---
Fastest growing tech hubs attract both companies and talent
The tech industry has always been synonymous with "traditional" tech hubs such as Silicon Valley, but 2019 has seen the expansion of emerging "innovation centers" and technology corridors in cities throughout the U.S. These smaller tech hubs—including Jacksonville, San Diego and Columbus—are working to attract an ever-increasing percentage of the country's tech talent. While well-established tech hubs such as Austin, San Francisco and New York City still have a grip on industry hiring, these new innovation centers have several advantages when it comes to attracting talent: lower cost of living, higher quality of life, and growing opportunity for jobs. While historically these smaller tech hubs lacked career opportunities compared to their larger competitors, they are looking to increase their career offerings by actively attracting large businesses and fostering growing startups.
Jacksonville was the fastest growing city in terms of job postings (up 54% y/y), followed by Columbus (up 38%), San Diego (up 37%), Sunnyvale (up 31%) and Cincinnati (up 27%). These new and innovative tech centers' year-over-year growth continues to outpace well-established hubs like New York, San Francisco, Chicago, Atlanta and Los Angeles due to lower cost of living, higher quality of life, and the growing opportunity for jobs.
---