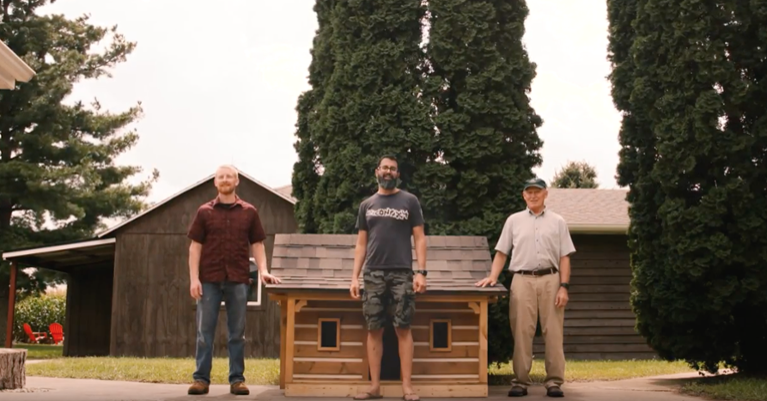 How far would you go to find top talent? Would you host a job fair or networking event? Even sponsor a conference? Unfortunately, those are tactics that everyone else is using. And yes, they are finding talent—but you don't just want talent. You want the
best
talent in tech. In today's market, that means you're going to have to step up your game. First, here's a fun fact: In the United States,
we have more open jobs
than we have people to fill them. You'll need to push harder than ever to attract that top talent. So, again: How far will you go to find top tech talent? What if you gave tech pros something fun and desirable: The ability to use their skills to "hack" something very public? Dice did just that, giving tech pros the chance to show their stuff to the world.
The Hack It Challenge
The goal was simple: Find a way to inspire the best and brightest in tech to participate in a challenge that would generate excitement and attract them to jobs. Dice invited participants to hack into the Content Management System (CMS) of a mobile billboard that was driving around New York City, Atlanta, Charlotte, Salt Lake City and Silicon Valley.
Okay so today I finally got around to attempting the #CanYouHackIt tech challenge from the guys over @Dicedotcom . Here's a pictue of me a few hours ealier looking a bit smug; little did that man know just what he was going to be up against... Well played Dice 👏👏👏 pic.twitter.com/Ua7hpqXyGC

— Arron Hovingham (@AnalystiaArron) April 9, 2018
The billboard advertised four fictitious companies in ways that held clues—as well as red herrings. The companies were:
Big Sal's:
A scissor-door company that puts scissor doors on…anything.
Encrusted Crust:
An establishment that offers elaborate pizza experiences.
Spaniel + Setter:
Custom dog mansion builders.
Wheelfree:
A helicopter commuting company based in New York City. The response from the community was overwhelmingly positive. All the top players who could "hack it" won a 3+ foot tall trophy and a custom ad placed on Reddit. The
four grand prize winners
could live like a billionaire and choose one of the four prizes: Custom scissor doors installed on their car, a super-fancy $1,000 pizza experience, a custom-built pet mansion, or a helicopter commute for a day. The companies may have been fictitious, but these rewards were definitely real.
Congratulations to Our Big Winners
Antonio Martinelli a.k.a. 'Johnny Xmas'
Johnny is a Security Researcher at Uptake – a company dedicated to ensuring the safety, reliability and security of industrial environments. Johnny has been speaking internationally on the topics of information security, career advancement and social engineering for 20 years. His infamous mixture of humor, raw sincerity and honest love of people often leads to lighthearted but serious discussions around our innate desires to get in our own way. Recently, he was one of the masterminds behind the reproduction and leaking of the
TSA Master Keys from 2016-present
. The purpose of this was to help educate the public on the dangers of rotationless key escrow, which the government is requesting for all of our digital communications.
THERE WE GO. Massive mobile billboards in 4 cities "Hacked by JohnnyXmas." Weird @Dicedotcom CTF, very fun results! #dicehackit pic.twitter.com/YRdnps7OOx

— Johnny Xmas (@J0hnnyXm4s) April 9, 2018
Alex Herrick a.k.a. 'ALXHRCK'
Alex is a Hacker/Hunter at Uptake, where he designs real-world phishing attacks, performs web application and network penetration tests, investigates security incidents, and trains Security Operations Center (SOC) analysts in security monitoring techniques. Alex holds a Master's of Science in Information Systems Security from DePaul University along with several GIAC Cyber Security Certifications, including Network Forensic Analyst (GNFA), Continuous Monitoring (GMON) and Web Application Penetration Tester (GWAPT).
@Dicedotcom Had a lot of fun with the challenge and learned a trick or two. #dicehackit pic.twitter.com/G6Myxl4k2b

— Alex Herrick (@alxhrck) April 8, 2018
Nick Percoco a.k.a. 'c7five'
With more than 20 years of information security expertise, Percoco is adept at developing and leading security programs in this ever-evolving connected threat landscape. He co-founded the "I am The Cavalry" movement, a highly regarded grassroots hacker organization that is focused on issues where computer security intersects with public safety and human life. He also founded SpiderLabs, the ethical hacking test lab that contributed to Trustwave's growth. Nick was the creator of THOTCON, a growing annual Chicago hacking conference. Nick has served as a media spokesperson on CNN, Fox News, CNET and Forbes. He holds a Bachelor's degree in computer science from Illinois State University.
Thanks to @Dicedotcom for the largest trophy I've ever received. It was a fun challenge!!! #dicehackit pic.twitter.com/lGPGctkfX4

— Nicholas J. Percoco (@c7five) May 26, 2018
Matt Jakubowski a.k.a. 'JAKU'
Matthew "Jaku" Jakubowski has more than a decade of experience in information security, and is currently the director of Hackers & Hunters at Uptake, a leading data company. There, he runs a team of hackers who help improve the company's defenses by seeking out and exposing potential weaknesses in both its cybersecurity and physical infrastructure. Jaukbowski's research specialties include wireless communications, hotel security, the Internet of Things (IoT) and many more, and has been featured in Wired, PC World, the Washington Post and Forbes and on CNN, NPR, CNET and Gizmodo.
Thanks @Dicedotcom for the pizza! This will help me from leaving the house for a while and help me solve more challenges! #dicehackit pic.twitter.com/LaZeshKQxC

— Jaku (@Jaku) April 5, 2018
You Hacked It!
We want to thank all of the tech professionals who brought Dice's Hack Challenge to life. We're proud of the number of participants as well as the varied types of talent who proved they could 'Hack It.' Now the question is: How can you hack your tech recruiting to land the best and the brightest in the industry?