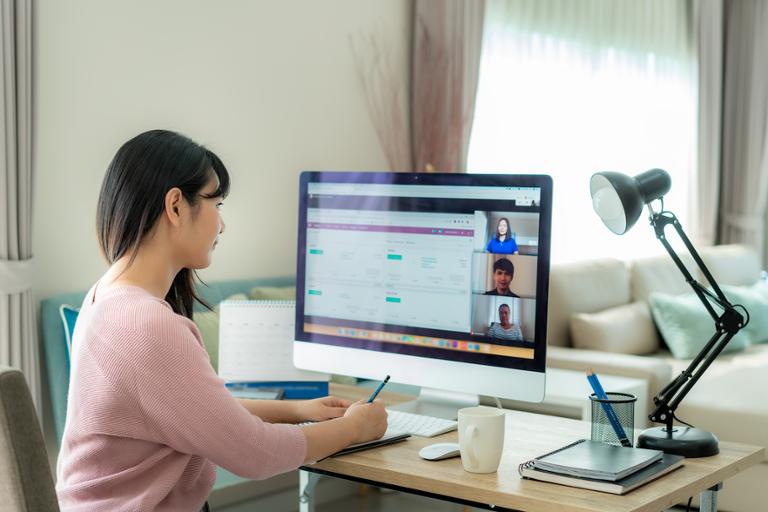 Virtual career events are here to stay, and the Dice team is ready and available to ensure that you feel confident as you prepare to participate in our events. The career events crew will support you and your organization every step of the way, so you feel comfortable taking the reins. Use the eight tips below as a checklist to be sure you're prepared for your next Virtual Career Event.
1. Build or Copy Your Booth Immediately
Ensuring success starts with building a framework for your booth as soon as possible. Work closely with your events team to supply a 300x300 logo and point of contact/booth owner or, get your booth copied from a previous event! If you copy your booth over, include the date and name of the most recent event you attended. Remember to update your representatives and job opportunities if there have been any changes.
2. Make Your Booth Enticing and Eye-Catching
As you are setting up your booth, think about ways you can create an aesthetically pleasing, visual experience for the candidates. This can mean adding a GIF as your lobby image, keeping your content well organized and within character limits and adding a video to your "About Us" page. Utilize the "preview" option to see what your booth will look like to attendees. Need help or want to make sure you've taken advantage of all the ways to make your booth eye-catching? Just reach out to the Dice team!
3. Humanize the Experience
Use your booth and your representative profile to humanize the experience for candidates. When you are setting up your representative profile, add a picture and a summary that gives attendees an idea of who you are and how you can help them. This can have a positive effect on candidate participation. As you build your booth, focus on your company and what makes your business stand out from the rest. This can mean adding an "About Us" section to highlight your team, outline benefits, promote a sign-on bonus if you offer one and showcase company values such as work-life balance.
4. Test Your Firewall
One of the best ways to prepare for an event is… PRACTICE! Test your security system beforehand to avoid unforeseen glitches on event day. Dice offers platform demos and designated "Firewall Friday" testing sessions to help. So, consider setting up a time to test your firewall and leave enough time for a whiteboard session if necessary.
5. Attend a Demo
Demos are a fantastic way to get to know the platforms utilized for Virtual Career Events. Whether you have attended a virtual hiring event before or are brand new to the process, this is an advantageous opportunity to familiarize yourself and increase success on the event day. Dice holds demos weekly; Catch one or two, ask questions, and start off on the right foot.
6. Attend Content to Your Booth Well Ahead of Time
With busy schedules, Virtual Career Events can sneak up on you. Avoid throwing your booth together at the last minute (and missing out on engagement optimizations) by starting to add content to your booth as soon as you receive your welcome email and have been assigned as a booth owner. Be intentional with the content you provide and stay ahead of schedule by following the timeline. Adding content well ahead of time will also result in more time for reviewing candidate profiles and preparing for conversations during the event. Candidates have access to see the lobby and all booths as soon as they are registered, so the earlier you add content, the more candidates will be drawn to your booth.
7. Create a Document with Your Elevator Pitch and FAQs to Create Snippets
Rather than spending valuable time typing out the same information to each candidate, prepare an elevator pitch and frequently asked questions on an accessible document to utilize during the event. You can use save the document to Snippets or copy and paste them as necessary.
8. Invite Candidates to Scheduled Chats 1-3 Days Before the Event
One to three days before a virtual career event is the sweet spot for inviting candidates to chat. This will make your organization top of mind for candidates and build familiarity before the event even begins. Spend time reviewing registered candidates' information and resumes so you can utilize the event to learn what isn't included on paper.
Our Career Events team at Dice is excited to see you confident and prepared at our upcoming events. Click here to view our full calendar and get registered for your next event.