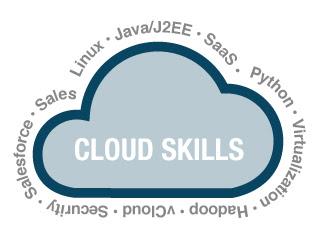 Is your company among the growing number that is turning to the cloud for storage and computing? If so, you've probably discovered that the competition is fierce for tech professionals with cloud experience.
In a recent Dice Report, an analysis of hiring managers searches shows that key skills companies are looking for
in cloud candidates are varied:
Programming (Java, Python)
Open source technologies (Linux, Hadoop)
Cloud specific (SaaS, Virtualization, vCloud, Salesforce)
Security
Vendors (Amazon/AWS, VMware)
And every company moving to cloud computing is looking for similar skills. Fortunately, this cloud has a silver lining.
Get personal
With a little insight, you can succeed in finding and hiring the cloud skills your company needs to shine. Your search should begin by appealing to the candidate's best interests. The more you know about the candidate's professional achievements and aspirations, the better you'll be able to speak to the ways in which your open position aligns with their career objectives. Start with a view of the candidate that goes beyond their resume.
Dice's Open Web social recruiting platform
leverages data from 130 social media sites to provide a snap shot of the tech professional. This lets you know things like what they're passionate about, how they spend their free time and what their peers think of their work. The more you really know about the candidate, the easier it is to craft a more meaningful introduction to your company.
Sell the value the company places on the position
Then, to really make an impression on a cloud devotee, be clear about the importance your company places on cloud engineering. Is your company a recent convert due to the cost efficiency of cloud computing? Perhaps you love the unlimited storage capability and backup and recovery benefits. Maybe you've taken an environmental stand and favor the cloud for its ability to lower energy use and carbon emissions from IT. Or your company values the cloud for its ability to solve collaboration needs between departments or with clients externally. Any or all of these are great ways to stress the importance of the cloud to your company.
Know the skills needed
Be prepared to speak to the way in which the candidate's cloud skills will be used in your company. As a cloud engineer, they will need to understand the ins and outs of building and running software in the cloud. For this they will need to be familiar with AWS, Azure or OpenStack cloud computing platforms; have a working knowledge of cloud architecture based on APIs and Web Services; be able to design and operate applications using Virtualization, Storage and Networking skills; and be conversant in cloud software operations skills including Disaster Recovery, High Availability, Fail Over and Redundancy. If your company is counting on you to make it rain and bring in a top cloud engineer, there's one more thing to keep in mind. Ultimately, the pot of gold at the end of the cloud rainbow is the potential for career growth. You can help compel a cloud engineer to join your company by offering non-confidential insights into how he or she can expect to achieve career advancement. Detail things like the company's generous training policy, paid professional conferences, and the support of independent judgment and new ideas.