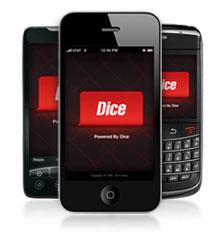 Don't have time for training on Dice's powerful resume search tools? Think again.
Dice customers have access to free, customized training
that will help you find the best tech candidates for your open reqs quickly and easily. Learn the behind-the-scenes secrets to using Dice's powerful search tools and unique job posting features.
Free Webinar: How to Use Dice to Find Top Tech Talent – Level 1
Date: Thursday, June 28, 2012
Time: 11 a.m., CT
Length: 30 minutes
Join audio conference: 1.877.803.4834
Watch a live, hands-on demonstration and learn how to:
Work in "My Jobs" - Post, activate and inactivate jobs
Find Tech Candidates Using TalentMatch - Review search tips; refine  your searches; email candidates; do reporting, ratings, routing, and saving
Set Up Search Agents - Receive matching candidates based on your specs, daily
IMPORTANT: Webinar Technical Help
The webinar is best viewed in Internet Explorer. Firefox is NOT recommended.
If you have difficulties connecting, please contact Customer Support at 1.888.321.DICE(3423) or support@dice.com for individualized training.
We hope you can attend this free webinar. You'll walk away with actionable knowledge so you can better utilize Dice's features and make your job easier.