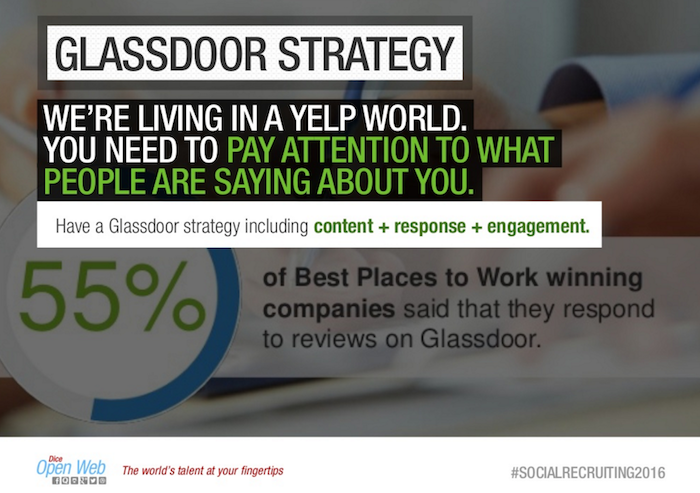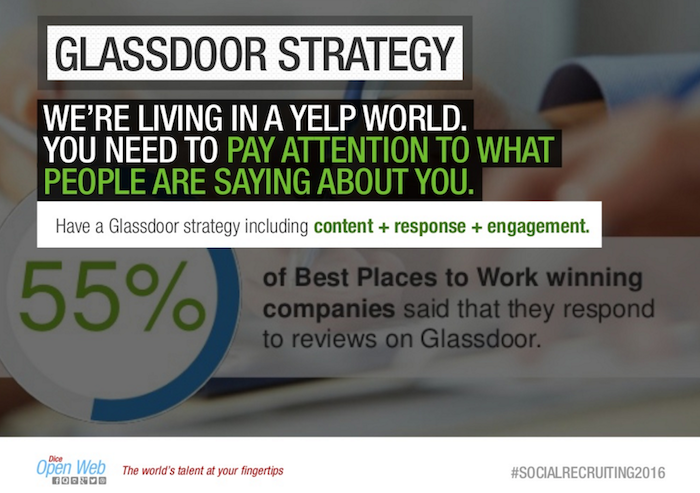 Late last month, recruiting expert Stacy Zapar collaborated with Dice on a Webinar that delved into the latest social-recruiting trends, including the best sourcing tools and techniques. Zapar broke down a variety of concepts, including the need for recruiters to do a lot of research before engaging the candidate. When working on social platforms, personalizing a recruiting message is vital, especially given the number of queries that qualified tech professionals receive on a regular basis. (Keeping things short and sweet is also ideal: when communicating with a tech pro on Facebook, for example, firing off a ten-paragraph missive will likely wreck your attempt to build a rapport.)
As you click through the slides below
, you'll also note Zapar's
Glassdoor
strategy. "We're living in a Yelp world," she wrote. "You need to pay attention to what people are saying about you." A solid Glassdoor strategy combines:
Content: A constant stream of updates and content to your Glassdoor page, including images.
Response: As people leave reviews on Glassdoor, your company should respond. Even a "Thank you so much!" to a positive review can help personalize your brand in potential candidates' minds.
Engagement: Remind employees to provide feedback on Glassdoor. Your happiest employees will evangelize your brand.
Click through for even more great tips,
or give the Webinar replay a listen
.