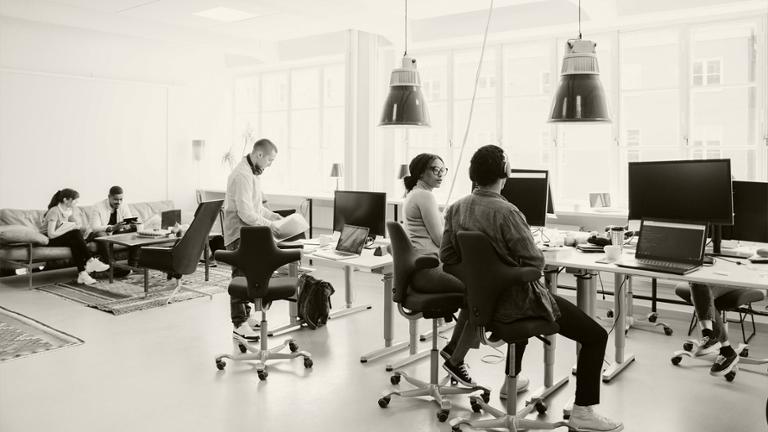 Competing with large organizations for tech talent is a major challenge for small- to medium-enterprises (SMEs). One of the best ways SMEs can stand out amongst known brands and grander salary ranges is with their own strong employer brand. Employer branding may feel like something you can't get to because of limited staff or something you can't support due to limited budget, however, there are 3 simple steps that SME's can take to build their brands and showcase their organizations as great places to work. In this article, you'll find a resource-conscious set of steps for building, evaluating, optimizing and communicating an authentic and compelling employer brand.
Lock In Your Vision, Mission, Values
As an SME, you're looking for candidates whose values align with your organization's—candidates who are passionate about your organization's mission and vision for the future—while also balancing a focus on retaining current employees. Luckily, aligning on values is one of the simplest things your organization can do to differentiate itself from larger employers that may have flashy brands and offer higher salaries.
Before tech candidates join an organization (or even consider joining an organization), they want to know what the company stands for and how their role is going to contribute to the organization's mission. Having a firmly established vision, a clear mission statement and an intentional list of organizational values is table stakes.
While mission and vision statements should be foundational to your organization's business, there are some values you might consider calling attention to with technologists in mind. The pandemic prompted many professionals to evaluate their own values and evaluate how those values were being upheld or conflicted with the values of their employer (day-to-day work). With technologists placing more focus on purpose and values, both in their own lives and in the work they do, SMEs have a great opportunity to find tech candidates who are looking to align their purpose and values with those of their employer.
To support your organization's list of values, it's important to share examples of current programs and initiatives that prove you're serious about your employees (and leadership) living out the organization's values in the workplace. A few ways to do this might be to:
Call out current initiatives that support a diverse, equitable and inclusive work environment
Showcase training or leadership programs that show how your organization prioritizes advancement and employee growth
Highlight an employee's experience managing a project to show that level of ownership is high and can lead to career acceleration at your organization
Review the Tech Candidate's Experience
Understanding how your organization's brand as an employer is perceived in the market is vital – both from the candidate perspective and the employee perspective. Most candidates will conduct a simple Google search to learn more about your organization (if they don't visit your organization's website first) and then check out your social media pages and employer rating sites, like Glassdoor.
Evaluate how your brand appears in these cases by doing a Google search and putting yourself in the shoes of a tech candidate who is perusing your organization's website and social media pages. Do you readily find the information you're seeking? Are images and videos current? Do you feel compelled to apply for a position and join the team?
Approach your evaluation of the candidate's experience in the recruitment and hiring process from the candidate's point of view:
Frequency, timeliness and thoroughness of communications
Medium and tone of communications (empathizing with the candidate communicates care; consider offering multiple ways for candidates to communicate with your recruitment team – email, phone, text)
Information provided (Is it detailed enough? Is the candidate getting all their questions answered?)
Time to hire
Faster responses and more personalized outreach are two key ways SMEs can differentiate themselves from larger, slower moving organizations. Throughout your evaluation of the current candidate experience, keep a running list of ways to optimize this process for a better candidate experience and then set up a plan to implement those optimizations. Mapping out the experience on a whiteboard or in a digital flowchart can help you visualize the process and quickly identify bottlenecks or problem areas.
Build Assets and Content to Support Recruitment (and Retention)
Creating content that showcases what it's like to work for your organization will help you communicate your employer brand. Don't think you have to handle this part of the process all by yourself though. Employer branding is a shared responsibility in smaller organizations. Individuals and teams across the organization will be able to contribute information and perspectives that will generate ideas for communicating what it's like to work for your organization.
In addition to making sure tech candidates get a feel for the day-to-day work environment and culture from your organization's website, consider taking photos and videos of employees sharing their experience and talking about what they enjoy most about working for your organization. Don't get caught up in a need for high-tech production equipment or modeled photos, the most important aspect is authenticity (your phone's camera works perfectly for capturing this content)! The key here is to communicate what it's really like to work for your organization – that's the information technologists are looking for.
It's also helpful to consider three primary audiences when creating content to support your employer brand: active candidates, those currently on the hunt for a new job, passive candidates, who are happy in their current situation but might be open to an attractive opportunity if it came along, and current employees you want to retain and help progress in their career with your organization. Consider these audiences when creating content so you're keeping the attention of those already looking at your open positions, grabbing the attention of those who weren't but may just check them out after watching an engaging video about an employee's experience, and motivating current employees.
Next Steps
Building and communicating an employer brand can feel like a significant undertaking, especially for SMEs with already-strained resources and limited brand awareness. Dice is here to help you work smarter with a simplified approach. Equipped with firmly established vision, mission and values, an evaluation of your current candidate experience (and plan for implementing optimizations) and ideas for communicating your employer brand, you're ready to set your organization up for recruiting success.
Learn more about Dice Employer Brand Solutions or reach out to Dice's Employer Branding consultant, Jesse Ofner, for a complimentary consultation on how to build or communicate an authentic brand that attracts and retains technologists.