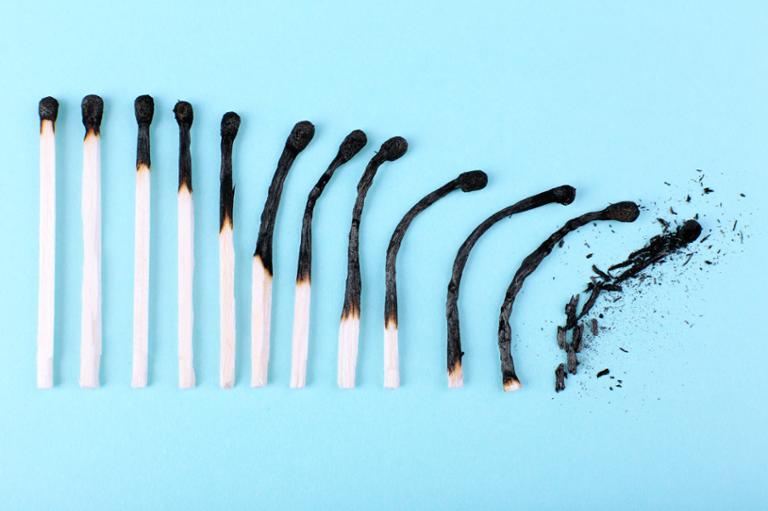 Burnout is a constant problem among tech pros. But what actually causes it? A new survey from Blind offers some clues. First—and perhaps most surprisingly—work overload isn't the number-one factor that leads to burnout (although it's a major one). Rather, it's "poor leadership and unclear direction." Toxic culture was cited as another major cause, along with a perceived lack of control and career growth, and insufficient reward. "Only 9.7 percent of participants answered that burnout is not a problem at their company, meaning 91.3 percent indicated burnout is a problem," read the note accompanying Blind's data. Here's a look at the full chart: Respondents also called out certain companies as burnout factories due to poor leadership and unclear direction. Coming in first was eBay, where burnout was blamed on leadership by 35.04 percent of respondents; Salesforce came in second, with 26.15 percent, followed by Intel (26.02 percent), Expedia (24.27 percent), and Cisco (21.01 percent). Check out this chart: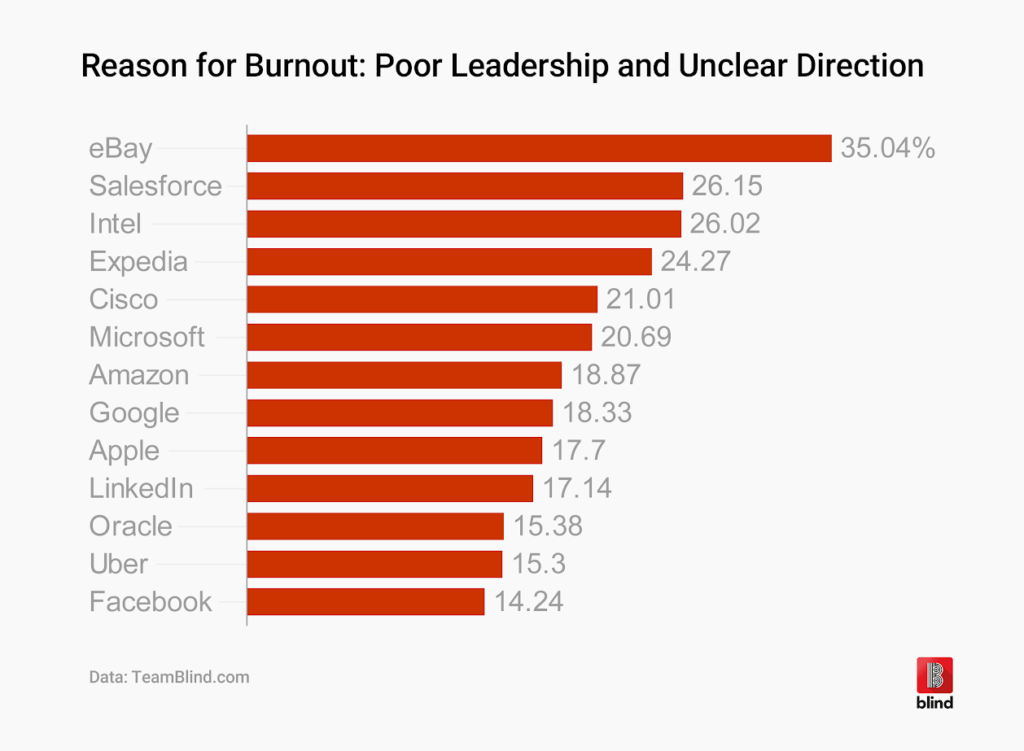 This is the second time this year that Blind has conducted an anonymous survey about tech-industry burnout.
Its first survey
, in May, simply asked tech pros whether they were mentally fried, without digging too much into causes; credit-monitoring company Credit Karma and game-streaming giant Twitch had the highest percentage of crispy critters, followed by Nvidia. That first survey also found lower rates among bigger tech firms such as Apple, Microsoft, and Salesforce. However, "lower" is a relative term; at Netflix, for example, more than one-third of employees reported symptoms of burnout. If you're a manager who wants happier, healthier employees, it's not just a matter of making sure that workloads are balanced; leadership has to do its part, as well. Making sure that employees are aware of the company's direction, and sufficiently motivated about their projects, can do as much as ensuring that they're not trying to crunch too much code in too little time. As with so many things, including hiring and retention,
it all comes down to a company's culture
.