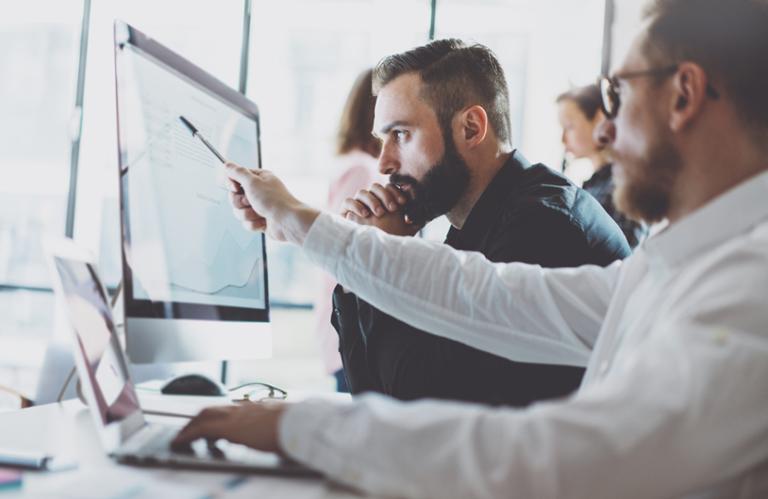 Here we are: The final quarter of 2018. The home stretch, if you will. It's been a heck of a year in the recruiting world, but we'll save the wrap-up post for December. Instead, let's take a look at what's making waves and what will have an impact in Q4. Here are some trends to consider.
Workforce Stats
The arrival of Gen Z continues to shake things up—just when everyone finally got comfortable with their predecessors.
Josh Bersin likens this new generation to the traditionalists
, citing research that puts financial stability at the top of their wish list. At the same time,
Boomers aren't going anywhere
,
Gen X and Millennials
are ready for leadership roles, and everyone's overworked. For recruiters, you'll need to keep each generation's needs and wants in mind while trying to fill open reqs. For example, consider your communication methods: Chat and texting will help you connect with younger folks, while email and phone appeal to more senior talent.
Stacks on Stacks
It's no longer a question of which recruiting technologies you're using, but how many. There's no one-size-fits-all option on the market. The days of large-scale enterprise solutions are gone;
as Tim Sackett puts it
: "The future of the tech stack is something akin to the Apple App Store." Look for point solutions that work well with others, through integrations and modules that you add on as needed. Think flexible and adaptable, and keep the core functions covered: recruitment marketing, sourcing solutions, your ATS and onboarding.
A.I. Anyone?
The crucial thing to know about A.I. is that, at this point, we're all still learning—and that's a good thing. With the support of A.I.-based algorithms, much of the recruiting process becomes streamlined. Take the ever-laborious task of sourcing:
With smarter search solutions
, recruiters and sourcers can input information and draw results, versus building out complicated Boolean strings time and time again. If you haven't implemented A.I. yet, don't stress: You're not alone. However, if you're really keen on making that move, use Q4 to do some digging and see how it might enhance your recruiting strategy.
Conversational Recruiting
You're probably thinking: But what about chatbots? These fit into a larger trend called conversational recruiting, and they're everywhere. Bots' ultimate goal is
defined as
"attracting, qualifying and engaging candidates with real-time, continuous one-on-one messaging." In essence, bots can help streamline candidate interactions in texting, online chat events, and more. If you're already using these solutions, you probably know whether or not they're working for you. If you're not on board or aren't sold on the efficacy yet, do some research within your candidate pool to identify whether this platform might work for you.
The Assessment Game
Pre-hire assessments, while not a new concept, are definitely one that's trending—and for a good reason. The technology keeps getting smarter, and the data tells us that these solutions work (and work well). Assessments are also known to help eliminate bias from recruiting, another hot-button topic making the rounds this year. Citing stats from Aptitude Research Partners' 2018 Assessments study,
analyst Madeline Laurano adds
: "This market has reinvented itself to be more predictive and candidate friendly." So that's great… if you're using assessments. For organizations that aren't, Q4 is a good time to do research, demo a variety of solutions and make the business case.
The benefits are plentiful
, trust us.
Other Q4 Considerations
Quite a list, right? As the year winds down and you start to think about next year's strategy, consider how these trends fit your needs. Check in on the progress you've made, pull the reports and study metrics. Examining factors such as application drop off, time in workflow and cost-to-acquire should provide critical insights into any existing pain points. Once you get a sense of your current state, study your recruiting methods and identify your most effective sourcing channels. You don't need to put pen to paper quite yet; instead, explore the factors above with a sense of where your needs exist and what the future holds. Recruiting is not a static space, and it never will be one. As soon as we've got a handle on one year, one generation or one technology, we're onto the next. So, before it's time to set new goals and come up with budgets, take pause and look around. 2019 will thank you for it.
Ryan Leary
helps create the processes, ideas and innovation that drives RecruitingDaily. He's RecruitingDaily's in-house expert for anything related to sourcing, tools or technology. A lead generation and brand buzz building machine, he has built superior funnel systems for some of the industry's top HR Tech and Recruitment brands. He is a veteran of the online community and a partner at RecruitingDaily.