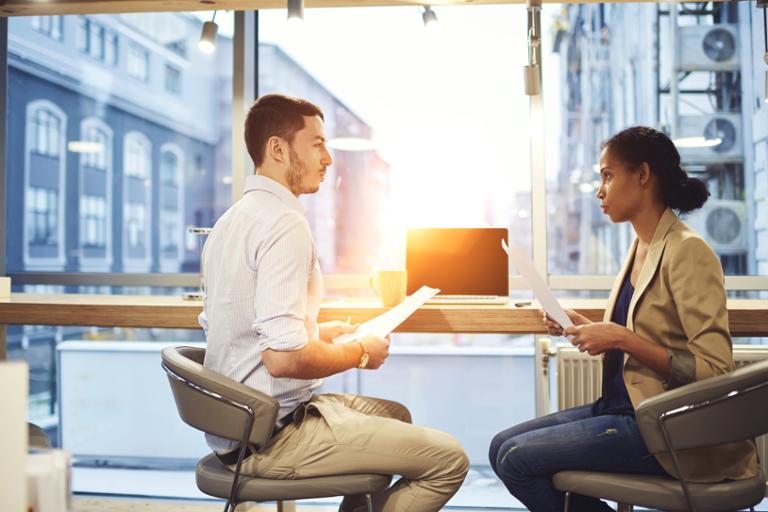 Wow, January blew by. You realize that's 8.5 percent of the year, give or take? How are you doing on your 2018 goals? Hopefully well; but if not, no worries. You have 11 months to get back on the track you designed for yourself and your team. As you transition from Q1 to Q2 planning, what should you think about in terms of recruiting the best tech talent for projects, long-term work, etc.? Here are 25 concepts, ideas, and tools to consider.
General Tech Hiring Trends
#1:
Dice's
own 2018 Salary Report
showed how specialized skills are driving up the salary market.
#2:
When you combine the rise in specialized skills with low levels of tech unemployment, you can see where tech salaries could skyrocket; but at the broadest level, they are flat compared to 2016. The average tech professional salary in the U.S. for 2017 was $92,712, which was only a 0.7 percent increase from 2016. About 33 percent of tech professionals earned a bonus, which averaged just about $10,000. The contract rate did rise 5 percent, to about $72.32 an hour.
#3:
Highly specialized skills are driving up salaries, but they're not necessarily the skills most in-demand presently. Here are the fastest-growing technology skills
based on Dice job postings.
It's also interesting to see the ratio between Internet of Things (IoT), which is discussed constantly in the media around recruiting and tech in general, and Docker, which most people probably have limited ideas around. IoT is very important, undoubtedly, but that doesn't necessarily mean companies are hiring for it at scale just yet.
#4:
Hiring processes are increasingly
revolving more around the candidate's previous experiences
in addition to the skills noted above. Obviously, you want to make sure the candidate is technically vetted, but hiring managers are more and more trying to assess fit, makeup during stressful periods, and the broader context that the person would bring to a team.
#5:
While there is a lot of talk about unicorns and startups, the biggest hiring powerhouses in the Bay Area tech hub are still huge enterprise companies: Apple, Amazon, Cisco, Oracle, and Google/Alphabet
are 1-5 for 2018 expectations.
Interview and Onboarding Trends
#6:
We know culture is important to top tech talent. We've known that for years. Interestingly, then, many companies are still doing "exit interviews." There is value to be gained here, sure. But oftentimes the employee is already checked out (mentally), or maybe concerned about how truthful they can be in such a setting. What about this idea of "entry interviews," then? Here's how it works: between offer acceptance and first day (or within the first week), the team lead sits down with the new employee and talks to them about their approach, goals, preferred ways of working, what they respect/value in teammates, etc. Adam Grant, famous for
Originals
and his newer book with Sheryl Sandberg,
has championed this approach:
In the first week on the job, managers sit down with their new hires and ask them about their favorite projects they've done, the moments when they've felt most energized at work, the times when they've found themselves totally immersed in a state of flow, and the passions they have outside their jobs. Armed with that knowledge, managers can build engaging roles from the start.
#7: Team-based hiring will increasingly become important. I won't belabor this point, but I just want to say: hiring managers are often very busy, and a low-context relationship between hiring manager and recruiter can reduce the quality of candidates coming in. Hiring managers end up
managing
the new hire; the team actually
works
with him or her every day. As a result, some companies are
turning to team-based hiring
for their impactful tech roles.
#8:
Onboarding will become more important to the overall experience of tech hiring. Antonio-Garcia Martinez, a former Facebook product manager and the author of
Chaos Monkeys
,
describes a typical first day at FB:
Your first day at Facebook, you'll have two emails in your inbox. One is a sort of generic, "Welcome to Facebook." And the second one is, "Here's a list of software bugs to fix." On your first day, you'll pull a version of Facebook's code to your personal machine that's your version of Facebook. You're encouraged to go ahead and make changes, upgrades, improvements, whatever, from day one. You're actually entrusted with that much authority. Facebook is literally a quarter of the internet everywhere in the world, except China. Here, some 22-year-old engineering grad has a version of it on his machine and he's going to push a change to it today.
How powerful a Day 1 is that? It seems a lot better than walking around meeting a lot of people, right? That entrusts the new hire with authority and a sense of respect from Day 1. Shouldn't that be the goal?
We're Going to Keep Using Data Better
#9:
In a recent article on job-search trends for 2018, Peter Cappelli of Wharton has a rather direct quote:
"As organizations have gutted the recruiting function, many players with different interests weigh into the hiring process, and individual 'hiring managers' who will be the supervisors have disproportionate influence. Recruiters are specialists in understanding recruitment and selection. Hiring managers are not, and they are 'going with their gut' to sort through candidates. The reason that job seekers do not know what to do in order to be hired is because hiring managers do not know what they are doing, and as a result, they all do something different."
While potentially a bit harsh, it's also true. In the supposed era of data (which Dice lives and breathes daily), hiring managers should not be allowed to use "trust my gut" as a rationale for bringing in someone, much less someone at a likely $92,000+ salary (see first section). Companies will increasingly see the costs associated with poor hires and apply data-first practices to hiring, whether blind scorecards from the team or some combination formula developed internally. Point being: the era of "I like the cut of his jib!" will increasingly fade out in 2018 and beyond.
...and We'll Align Process and Tech Better in Recruiting
#10:
Our friend William Tincup of RecruitingDaily is fond of this one: "This may be an unpopular opinion, but process matters more than technology for successful recruiting." Gasp! But in reality, he's right: you should be level-setting your processes every six months. To wit:
Where are the choke points?
Who or what is holding things up?
Where are you posting?
Where else should you be posting?
Are your recruiters mostly doing scheduling and screening, or are they strategizing and relationship-building?
Once you better understand your processes (and fix them), only
then
should you turn to the tech. The tech should support and underscore the processes and strategy in place. Many companies do it the other way: buy the tech, then race to fit the process to the tech. That is often less successful. 2018 should be a year we understand that tech for the sake of tech doesn't make your recruiting better… but tech within the right system/process will.
Here's Where We Talk About Automation
#11:
Whoa, how did we get this far and
not
mention automation? Well, in short: because everyone else is, and you've probably read about it already. The most important thing about automation (from a recruiting context) is going to be two-fold:
Can you use it to free up your recruiters for more valuable work?
Can you make the candidate experience better?
First, recruiters shouldn't spend half their week (or more!) on scheduling interviews and six-second résumé screens; many of those functions can be automated. Now recruiters can go to trade shows, build pipelines, strategize for their fiscal year, etc.
#12:
Regarding No. 2 above: chatbots and artificial intelligence programs can help solve the "résumé black hole" issue (
"We'll keep your résumé on file!"
) by extracting valuable information from previous candidates. A standard ATS couldn't do that. Chatbots can also help with answering basic candidate questions about progress/status of application, which has been a pre-eminent candidate gripe for years. In short, we'll see companies use these tools to streamline processes and, hopefully, have more high-context interactions with candidates.
Social Media Isn't Going Anywhere
#13:
Recruiters will continue to use social media to discover, vet and learn more about candidates. Increasingly specialized boards for tech jobs (such as Dice) will remain a source for those looking for the best talent possible. Facebook, Twitter, Instagram and other major sites will likely buffer sites such as GitHub and Dribble as sourcing hubs.
#14:
Candidates should be wary about what they post on social media, even with privacy settings on. Some 72 percent of recruiters
screen candidates out because of typos on social media
, and 42 percent do for photos with alcohol.
#15:
We'll discuss this more in a second, but employer branding will be a bigger deal for organizations. They know that top tech professionals can move around at will for better offers, and they know those professionals talk amongst themselves at events such as hackathons about the culture of places they work. So while companies will want to do the big steps, such as control how they're seen on boards such as Glassdoor, they'll also want to serve as good places to work, actually treating employees with a mix of respect and challenging work. Those environments will inevitably draw the best tech talent possible.
Diversity on the Rise
#16:
It was a huge year for diversity nationally (and globally), and the tech sector was no different. We all remember the "Google Memo," right? Here's one thing we can't avoid discussing: a diversity initiative should be done because it is the right thing to do, but oftentimes you need a bottom line tie-in to make it a priority. Thankfully, McKinsey has been
providing that research for years
, and tech diversity does seem like it might
be on the upswing in 2018.
#17:
Melinda Gates' answer to the tech diversity problem:
make sure the limited partners step up.
If you have access to that level of your organization, it might be a good place to begin or advance the conversation.
Is Silicon Valley Going to Lose its Crown?
#18:
Silicon Valley has held the "tech hub" crown for years, with periodic threats from Austin, Boston, and Seattle. But there are a few challengers stepping up these days, including
"Silicon Slopes" (Utah)
,
Ohio
, and
Indianapolis.
Charlotte
and
Atlanta
are on the rise, as well, and remember: roughly 50,000 mostly-tech employees are about to move to wherever Amazon sets its new headquarters.
2018 Might be a Boom Year for IPOs
#19:
This somewhat depends on the overall market. If it heads up,
both 2018 and 2019 might be big years for IPOs.
Airbnb, Slack, Dropbox, WeWork, Zuora, SpaceX, and potentially even Coinbase all might IPO this year; DocuSign is
apparently already planning to.
#20:
Speaking of which, the biggest IPO in world history should happen this year, with Chinese smartphone manufacturer Xiaomi
expected to go public at around $50 billion.
In short: globally, it's a good market for an exit right now.
CIOs Will Carry More Water for Tech Hiring
#21:
More than 80 percent of CIOs reported difficulty filling tech roles in the past year, and research firm Gartner says the lack of available tech talent is the leading obstacle
keeping CIOs from achieving their objectives.
Increasingly, CIOs and their lieutenants will get more involved in the hiring process, wanting to make sure it's scientific and on-track.
#22:
One area where the "war for talent" has become increasingly real is financial services, with CEO/CIO roles in traditional banks and fintech startups
fighting for the best tech talent they can find
. The good news is that, as this battle spreads to more industries, the elevation of hiring strategy to the C-Suite level may also improve some of the flaws we've long come to associate with a standard hiring process.
Employer Branding Will Become Less of a "Campaign"
#23:
Calling employer branding a "campaign" implies that it's a managed process with checkpoints. That is fine, but you also need to make sure you are genuinely treating employees with respect, giving them opportunities for growth, making sure the tech management team is aligned and communicating feedback, etc. Those elements are going to earn you a good reputation in the marketplace, and your current employees are going to become brand ambassadors when you have open roles. It's
less
about maintaining documents about employer branding and
more
about being a genuinely great place to work.
#24:
In the same vein, perks such as beer, wine, ping pong, etc. may also begin to decline, as some cheaper, more esoteric options such as
Trello's "Knowledge Sharing" program
have resonated with top tech talent more than the opportunity to grab a pint at 3 P.M. on a Friday.
#25:
Now over to you: what concerns, questions, opportunities, or ideas do you have about Q2 recruiting and moving from the summer to the back half of the year? Let me know.
Ryan Leary helps create the processes, ideas and innovation that drives RecruitingDaily. He's RecruitingDaily's in-house expert for anything related to sourcing, tools or technology. A lead generation and brand buzz building machine, he has built superior funnel systems for some of the industry's top HR Tech and Recruitment brands. He is a veteran of the online community and a partner at RecruitingDaily.