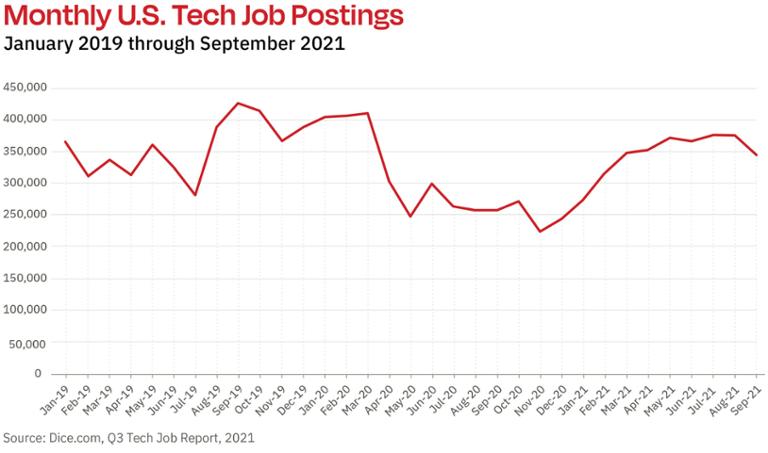 The tech job market stayed hot in the third quarter of 2021, with postings up nearly 40 percent over a pandemic-suppressed 2020, and only 7 percent below recent posting highs hit in 2019, according to the Dice Q3 Tech Job Report [ADD LINK TO GATED REPORT]. As the demand for technologists grew toward its most recent height in job postings Q4 2019, the market saw tech job postings increase quarter-over-quarter between Q2 and Q3 in both 2018 and 2019. This year, however, job postings in Q2 and Q3 saw less than 1 percent change.
These results point both to the continued high demand for technologists across nearly every industry and vertical – tech unemployment lowered to 2.1% in October – as well as stabilization from the double digit quarterly growth experienced since the depths reached during the pandemic.
This quarter's Dice Tech Job Report: First Half 2022 is based on an analysis of more than 1 million tech job postings between July and September 2021. We compared that to job-posting data from April through July 2021, as well as historical trends (via Emsi Burning Glass). The report includes data and analysis on quarter-over-quarter percentage change by tech job posting volume, parsed by location, employer, occupation and skill:
Location Highlights
During the third quarter, Atlanta (down 8 percent) was surpassed by Chicago (up 2 percent), and Texas was well represented by Austin (up 2 percent) and Dallas (up 15 percent), which climbed into the top five. Meanwhile, San Francisco (down 10 percent) and Washington, D.C. (down 16 percent) saw fewer job postings in Q3 than in Q2. Other major tech hubs — New York (up 5 percent), Seattle (up 1 percent), Los Angeles (down 5 percent) and Boston (up 11 percent) — held their ranks from Q2 to Q3.
In Texas, Dallas (up 15 percent) and Irving (up 12 percent) both experienced high growth in the third quarter with companies seeking technologists with skills that are in high demand including SQL, Java, Python, Project Management and Software Development. Houston, San Antonio and Plano also saw growth in tech job postings in Q3 further strengthening the Lone Star State's viability as home to the next Silicon Valley. Check out the Locations section of the report for quite a bit more detail into the fastest-growing hubs.
Employer Highlights
Though the tech hiring market has stabilized across many areas after the surge in Q2, the majority of top employers still increased their tech hiring in Q3. In the third quarter, more than three-quarters of the top 50 companies (by tech job postings) boosted hiring, with only 18 percent decreasing their hunt for tech talent. Employers in the aerospace and defense industries, ecommerce and retail (Amazon, Target, Walmart), IT services (Infosys), health (Anthem Blue Cross) and fintech (FIS) were among the top 10. Get more on the top employers in Q3 here.
Occupation Highlights
If anyone thought cybersecurity would be de-prioritized in favor of other areas as some organizations attempted to get back to "normal," that's certainly not the case, at least through the lens of tech job postings. For most organizations, the new normal will include at least some combination of full-time remote work and an in-office environment, and that, combined with the increased speed of digital transformation for organizations around the globe, means that building a strong cybersecurity function remains an absolutely critical priority. In light of that, it's no surprise that postings for Cybersecurity Engineer roles jumped 31 percent quarter-over-quarter.
Skills Highlights
Job postings in the third quarter demonstrated that employers are looking for technologists who understand the core concepts of software development and project management, in addition to possessing technical skills such as SQL, Java, Python and Linux.
As with previous quarters, SQL remains a dominant skill, and with good reason: As the programming language for managing and querying relational databases, it's the foundation of many organizations' data operations. Without technologists with extensive SQL knowledge, employers can't wrangle the massive datasets they need for everything from HR to sales. Java and Python, two generalist programming languages also used in a number of highly specialized contexts (such as mobile-app building and artificial intelligence), are also likely to remain in extreme demand for quite some time.
For a deep dive into more detail on the state of the tech job market, check out the full Dice Tech Job Report: First Half 2022.