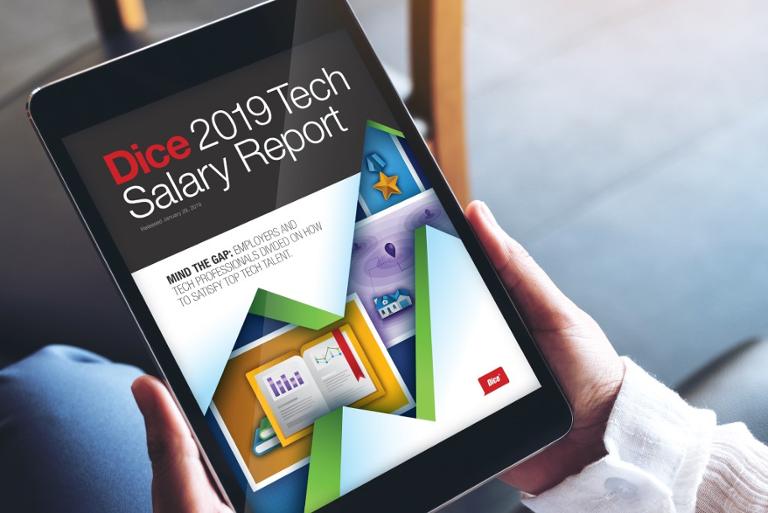 Salaries for technology professionals in the United States were flat in 2018 with average annual salary of $93,244, a slight 0.6 percent increase from 2017. The Dice 2019 Tech Salary Report mirrors static wages in technology across the U.S., but finds compelling options beyond pay for employers looking to impress top tech talent and attract skilled candidates.
In 2018, as with previous years, when asked why they'd anticipate changing employers, the vast majority of tech pros (68 percent in 2018) said they'd change employers to receive higher compensation. While this sentiment continues to trump other satisfaction factors for tech pros, it is also clear that professionals are seeking more than that coveted paycheck.
"Technology is an important driving force behind innovation and most every company will be a tech company at its core in the future. How we incentivize our tech talent will define our business success," shared Art Zeile, CEO of DHI Group, Inc., parent company to Dice. "As it stands now, tech pros see a gap in the benefits and perks they want and need, compared to what they receive with their current employer. This dissonance must be shored up in order for top tech employers to remain competitive in a demanding market."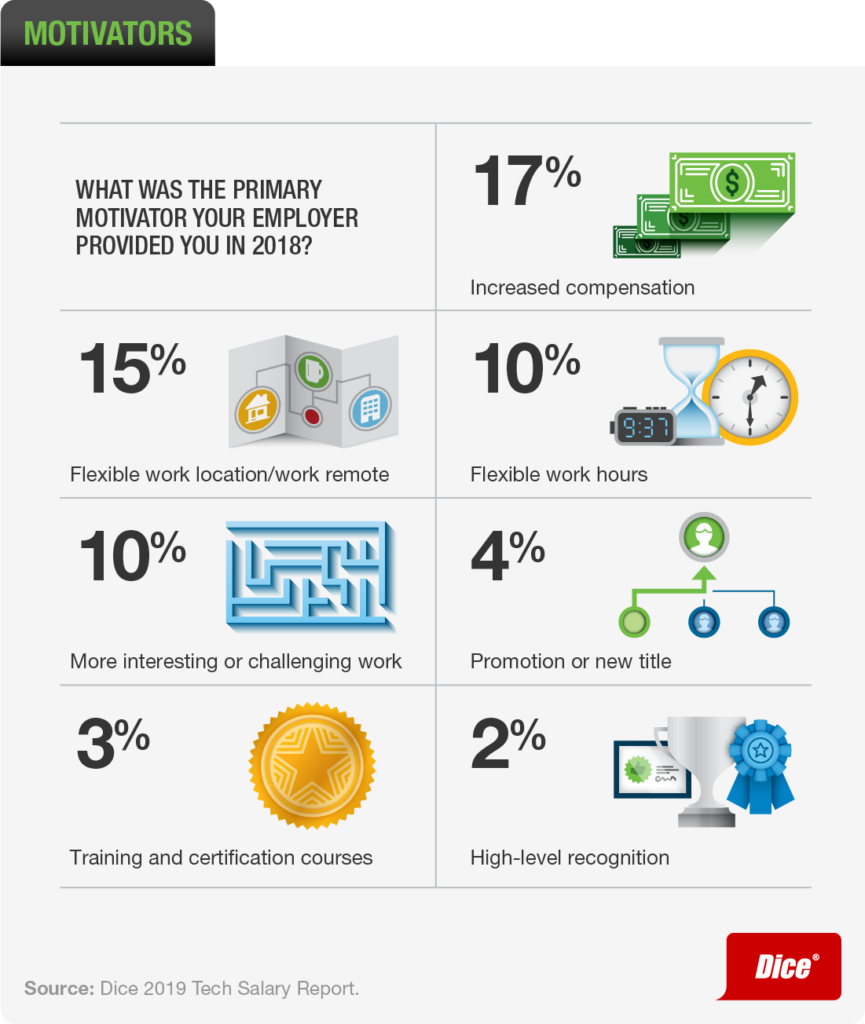 Mind the Gap
Some 47 percent of tech professionals said they'd change employers to seek better working conditions (non-compensation aspects like remote time, flex hours and culture), more responsibility (34 percent), and because they anticipate losing their current position (22 percent). The good news is, employers can mind the gap by offering non-salary options like training and education, flex and remote options, and burnout mitigation in order to recruit and retain the most coveted tech pros.
Promote Training and Education
In 2018, 71 percent of tech pros said that training and education are important to them, but only 40 percent currently have company-paid training and education; that's a 31 percent gap between what's desired and what's offered. This gap is further illustrated by the fact that far more tech pros (45 percent) who are satisfied with their job receive training, while only 28 percent of those who are dissatisfied with their job receive training. "Offering skill-enhancing training keeps employees at the top of their game and could ease the minds of professionals wanting to feel motivated and invested," Zeile said.
Be Flexible on Remote and Flex Options
In addition to training and education, tech pros overwhelmingly noted remote and flexible working options as important (73 percent). In contrast, only 49 percent currently have these options. This 24 percent gap is the second-largest between a desired benefit and what employers broadly are offering, which ties into overall employee satisfaction; 55 percent of people who said they're satisfied at their job have remote and flex options, whereas only 33 percent (who are said they're dissatisfied with their job) have the benefit.
In terms of how often professionals want to work remotely, while 98 percent of Dice respondents said they'd prefer to work remotely at least some of the time, only 62 percent are currently offered this option by their employer. Employers who provide remote and flex options, even part of the time, have a better opportunity to stand out from competitors vying for the same tech talent.
Mitigate Burnout
Lack of recognition (36 percent), workload (35 percent) and lack of challenge or monotony (28 percent) result in tech professional burn out. Around 81 percent of tech pros reported feeling burnt-out in 2018, with a full 35 percent feeling the highest levels of burnout.
Those tech pros who said they are dissatisfied with their jobs even more cite lack of recognition (39%) as the number one reason they're burnt out. Only 2 percent of overall respondents reported that high level recognition was a primary motivator provided by their employer in 2018, illustrating another gap opportunity for employers to close.
Another contributing factor to burnout is the desire for more responsibility and more interesting/challenging work. In fact, 34 percent of tech pros said they'd change employers to receive more responsibility. Only 10 percent of respondents said they were provided more interesting/challenging work in 2018 as a primary motivator by their employer, which remains flat year/year.
Methodology
The Dice salary survey was administered online by Dice.com, with 10,780 employed technology professionals responding between October 22, 2018 and December 13, 2018. To learn more about how respondents were invited to respond to the survey, our cookie methodology and salaries above $350,000, please view the methodology in the full report.