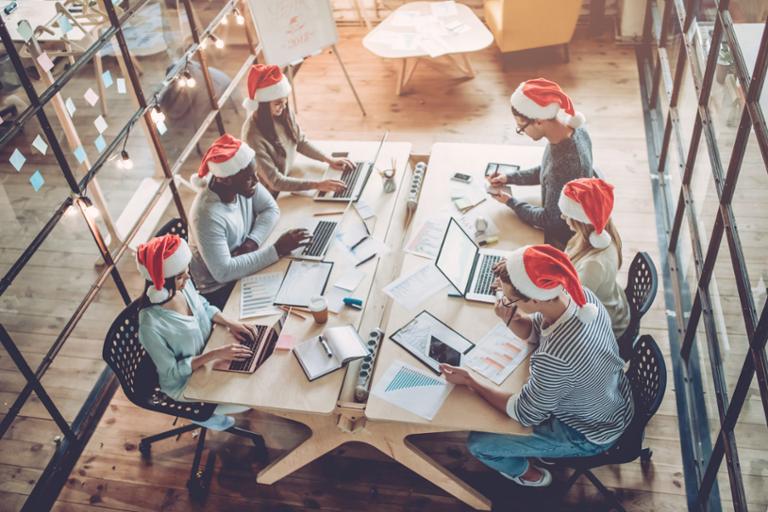 With the holiday season in full swing, it's time to focus around hiring in the new year. There's no time for a slowdown; rather, it's a perfect moment to reflect, revise and prepare for what's to come. Here are 12 holiday hiring hacks every talent acquisition pro can use to navigate the tech talent competition.
Start the Conversation
Sing along now:
As the first holiday hack, my hiring manager gave to me…
brand new job opening needs (okay, maybe that's not really tuneful). Alas, you're not getting a partridge, and in a perfect world, you'd have complete visibility into staffing goals for the next year… or at least the first quarter. Since this is rarely the case,
start having conversations
with your hiring managers now about their current workforce and future needs.
Improve Job Descriptions
On the second day of holiday hacks, my hiring manager gave to me
… two job descriptions. Well no, they probably didn't (I'll bet you didn't get those turtledoves, either). You're probably going to have to
craft those descriptions yourself
, and now's the time to get your head start. While you're having the conversation about 2019, learn as much as you can about any upcoming projects and the skills needed to complete the work. By doing so, you'll find it much easier to research and outline the qualifications you'll hunt for in the new year.
Excel at Events
Chances are, you attend more than three events annually, but for the sake of keeping with the theme, we'll just say this hack is preparing for three tech-recruiting events (that's my minimum, personally). Start reviewing what worked last year, read up on the
hot recruiting topics of this year
, and begin to build out your calendar. Doing this ahead of time will help guarantee your chances of hitting up only the most valuable events, with time to spare for testing out new opportunities (and perhaps even hosting some in your own hen house).
Dedicate Social Recruiting
Sing it with me: Four social networks (for calling out to candidates). Sure, there are more networks available (and for some recruiters, even less; for them, it's Facebook or nothing). Either way, it's all too easy to let these channels languish in the background while you tend to "more important" tasks. But trust me, your social efforts will pay off in the long run, and candidates will definitely notice. Take an hour or two to dust off your presence, refresh who you're following, and seek out new followers by sharing some well-curated content geared toward tech professionals.
Ease of Engagement
Five ways to connect? Maybe that's a stretch, but between social media, email, chat, phone calls and
texting
, there are a lot of ways to get in touch. Not everyone prefers the same method (especially that hard-to-reach tech talent). If there's one thing we know for sure, it's that outreach is all about preparation, personalization and persistence. As you initiate engagement, learn how your candidate likes to communicate before moving ahead.
Go Programmatic
No geese here. Instead, here's a speed round of six things to know about programmatic job advertising: programmatic equals automated, it gives you the ability to target a specific audience, it can improve your access to qualified tech talent, it can integrate into your applicant tracking system, it can give you visibility into job posting performance, and it's likely to save you time and money. Consider it another tool in the box to help you find candidates for those hard-to-fill openings (and optimize the ROI of your job post slots on Dice).
Ask for Referrals
Just by asking existing employees, you could have one, two, seven or more tech candidates swimming in your talent pool before year's end. Don't overlook the value of referrals, whether formal or informal. The key here is making sure your workforce knows how to participate and inquire when new jobs are posted (a weekly, or even a monthly, email will suffice).
Interview Smarter
When's the last time you really
evaluated your interview process
? No one wants to do round after round of interviews (that's some eight maids-a-milking-level work). Consider some new ways you can retool and streamline this process. Whether that means fewer stakeholders, fewer questions or the support of a platform to facilitate e-interviews, everyone involved will appreciate the effort… candidates included.
Niche Talent Networks
If you're not yet hiring, but you want to keep candidates dancing through this season and into the next, develop talent networks that speak to their unique tech skills. You can even promote your organization at the same time. Create and compile content that highlights your culture, spotlights available openings, and acknowledges your candidates' value to the industry.
Assess the Best
Okay, it's unlikely you'll need to run ten different assessments, but you'll have to engage with a few. The technical ones take top billing: Examine tech skills and competencies, followed by behaviors, soft skills and culture add. With assessments in place, you'll gain deeper insights into a candidate's on-the-job abilities and potential performance. Assessments are a valuable way to ensure no new hire goes a-leaping within the first 90 days, making it well worth your time investment.
Rotate Around
While spinning around eleven times might cause you to fall down, moving around some of your top performers has the potential to really strengthen your workforce. Before looking for talent outside of your organization, revisit your recent hires as well as the seasoned pros to identify any internal moves that could work in the company's favor. Sometimes that perfect-fit candidate is already piping away in plain sight.
Stack Your Experience
After those tech candidates drum through the end of 2018 (whether hired or not), take a moment to check up on those key metrics. You know this tight tech market requires your recruiting A-game, so compare your 2018 highs and lows with industry benchmarks. It's difficult to get feedback from those dispositioned, and new hires tend to sing back only positives. In order to get an unfiltered measurement of your success, look at the numbers; combine the data with your own firsthand experiences to determine any redundancies and find out what works. And when in doubt, start again at hiring hack number one (converse!).
Noel Cocca
is the founder and CEO of RecruitingDaily and its merry band of rabble-rousers. He aims to produce at the sweet spot between content and actual awareness by creating great work for living, breathing human beings in recruiting and hiring. He works to ease problems, both large and small, from startups to enterprises.