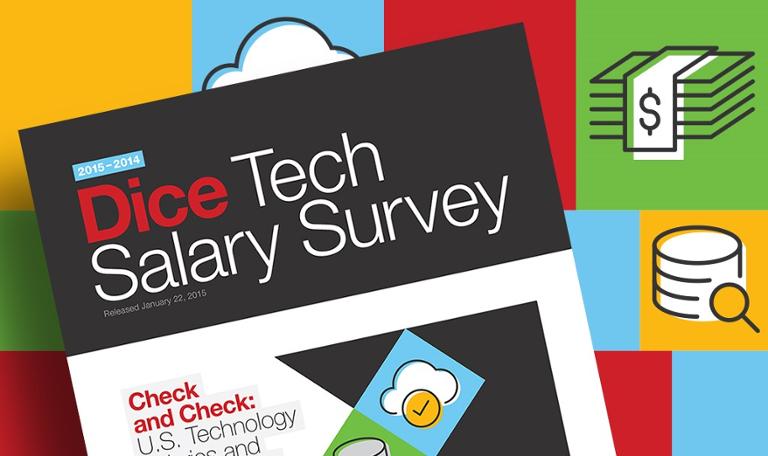 The findings of our annual Tech Salary Survey should help you set salary ranges for specific tech positions, identify which skills require premium compensation and hire in-demand tech candidates with a solid negotiation plan.
In
the 2015 Dice Salary Survey Report, we found that average salaries rose for tech professionals in the United States, but satisfaction with compensation declined. The combination of that slip in satisfaction and an increase in confidence in finding favorable, new positions suggests companies will need to offer more to in-demand candidates.
Salaries Up Two Percent
Overall technology professionals averaged $89,450 in salary in 2014, up two percent from the year prior. Of course, salary changes varied across regions, titles and skills. For example, the Pacific region as a whole saw the highest bump in salaries and tech professionals in Silicon Valley are again the highest paid in the country earning $112,610 on average, up four percent year/year. In addition, big data and cloud dominate the skills which earned the highest paychecks last year.
These differences should be accounted for as you move forward in 2015 with your salary benchmarking and compensation negotiations. Feel free to use the location and skills tables in the report as you prioritize your recruiting efforts with your hiring managers.
Fighting Slipping Compensation Satisfaction
The report also outlines the most frequently used levers your peers pull in trying to retain top tech talent. In all, tech professionals suggested that 66 percent of their employers offered a motivator to stay in 2014, up 13 percentage points since we started reporting on motivators in 2009.
Download the full 2015 Dice Tech Salary Survey Report here.
Based on a keen understanding of your hiring priorities and the compensation for specific skills and talent in specific locations, this data will help you put your best foot forward with top tech candidates.