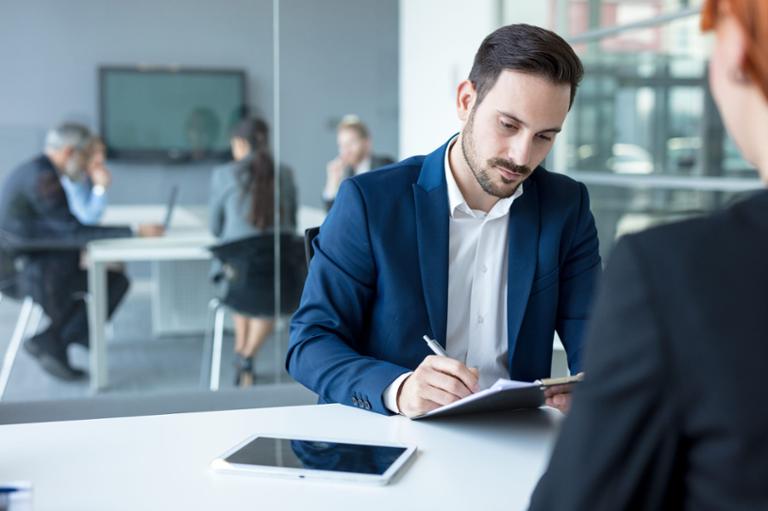 The era of automation can get overwhelming for your average tech recruiter. If you're anything like me, you can't go one day without being bombarded by a never-ending stream of tech solutions and tools entering the market at a rapid rate. Even if these tools aim to better our efforts, and even if they do so successfully, real-life humans still handle most of the recruiting and hiring process—which means
we're the first step to improving it
. If you're considering these technologies before analyzing
your own reflection
, you've got it all wrong. So today, I encourage you to hold off your research into every trendy chatbot, interviewing tool and whatever else that's stirring up the market. Don't devote all your dollars just yet. Instead, let's revisit the ways in which you can improve your tech recruiting efficiency—without all the added tech. Here are a few ideas:
Keep Your Industry Knowledge Up-to-Date
The competition for tech talent remains fierce, and the recruiting landscape is
ever-evolving
. To keep your techniques and tactics relevant along the way, consider reading up on the industry on a regular basis. Whether you're seeking
research findings
or
advice from the experts
, there are countless
resources
that cover the tech recruiting space from practically every angle. Subscribe to blogs and email newsletters. Listen to podcasts and audiobooks. Whatever the medium, look to these industry insights for inspiration that may point you in a different, previously unexplored direction.
Be Present in the Tech Community
Tech-related communities, groups and events tend to pop up almost daily. And because face time is such a critical piece of the tech recruiting puzzle, staying plugged in both locally and virtually can help you stay ahead of the (proverbial) curve. If you can't find what you're looking for, this might be your opportunity to start something new and unique. Paving your own way to success will definitely help you stand out from the crowd.
Become a Resource for Tech Professionals
Continuing with this theme, let's talk about candidate resources. Most tech professionals know just how much you need them, but they don't always know what they're looking for straight off the bat. The job-hunting process can be daunting for many candidates, active and
passive
alike. Some have a tough time even knowing where to begin. Others want help finding the right fit, ensuring they get the best offer possible. All their searching and wandering provides you the perfect opportunity to show off your knowledge and expertise. Create, curate or share content that speaks to the tech candidate's career journey. Highlight their market value and showcase the many options before them. This can take a variety of formats: social posts, emails, direct messages, a personal blog, etc. Besides just sharing content around employment, also read up
tech industry news
. This will help you establish common ground with your candidates' interests. Overall, keep your messages short and to the point, and make sure to ask your candidates
what they care about most
to support your flow of relevant information.
Keep in Touch with Your Talent Pool (Personally)
Many studies show that
communication
is a crucial factor in a positive candidate experience. If nothing else, try to stay in constant contact with tech talent. It's important that you stay within their line of vision, because the second you slip up or forget to share an update, you open the door for someone else to engage with those candidates. Try structuring your day in a way that sets aside time to catch up. Depending on how many candidates are in the queue, break down your list over the course of the week, spending about an hour a day on ensuring that everyone is on the right track. It may seem tedious at first, but the rewards outweigh the risks. Plus,
with the option to text
, there's no need for awkward voicemails or lengthy emails—just a few friendly words and information on when they can expect to hear from you again.
Tap Those Connections Today
Do you have an extensive network of tech connections that you haven't spoken to lately? Excellent. Now's the perfect time to see what they're up to, who they know, and who might be out there looking for their next move. This doesn't mean slapping together some generic "I'm hiring for [insert title here] in [city, state]" status update, but rather, digging into your online Rolodex (remember those?) and
re-connecting
. Let's be honest. There's a good chance that you won't even recognize some of the names, but at the same time, you're bound to find at least a few that stand out. For those who do, drop a line asking them to chat about their career goals and your opportunities (at their convenience, of course). This will get them thinking about their next big move or someone they might know. By the time you get to talking, they're likely to help point you down the right path.
Noel Cocca
is the founder and CEO of RecruitingDaily and its merry band of rabble-rousers. He aims to produce at the sweet spot between content and actual awareness by creating great work for living, breathing human beings in recruiting and hiring. He works to ease problems, both large and small, from startups to enterprises.