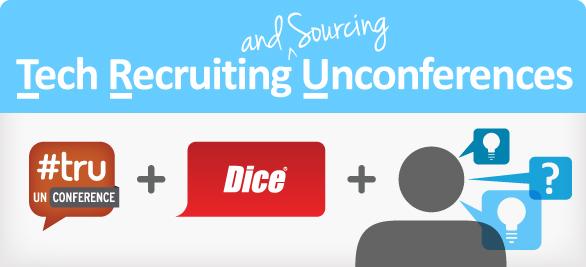 #DiceTru:
A one-of-a-kind, designed with you in mind
Dice and #Tru are a match made in tech recruiting (and sourcing) heaven. Join us for a morning of lively, inspired conversation instead of "death by PowerPoint" - all focused on finding technology talent. Come with questions and ideas. Leave with actionable outcomes for your business.
DiceTru - New York City Headhunter Labs | 307 W. 38th St. | Friday, Nov. 8 | 8 am to Noon ET
---
Network, discuss, get inspired at #DiceTru
Get to the heart of today's tech recruiting and sourcing landscape. 
Join the conversation
in free-flowing, relevant tracks and brainstorm with thought leaders.
Track Leaders and Topics
Gerry Crispin, Co-Founder, CareerXroads

Topic: "The Candidate Experience." Findings from the #CandEs and what the winners do to make a difference.

Josh Holtzman, Managing Director, Headhunter Labs

Topic: "What's happening with HR technology." How is tech disrupting recruiting and changing the way we do things? What is the real innovation and what matters amongst all the hype?

Jonas Barck, Global Head of Commercial Partnerships, Universum

Topic: "The battle for brainpower." The real winners and losers in the war for tech talent.

Ty Abernathy, CEO, Take the Interview

Topic: "Interview process and the impact on hiring." Real life examples of how to change things around in the tech space.

Janine Truitt, Chief Innovations Officer, Talent Think Innovations, LLC

Topic: "High Performing Job Descriptions." The difference changing the way you create and present tech job descriptions impacts on response rates and hiring success, with plenty of real world examples.

Marc Mapes, Dir. of Product Management, Electronic Insight

Topic: "Forensic Culture"

Tom Bolt, CEO, Leute Management Services
Craig Fisher, CEO, TalentNet Live

Topic: "Workforce Marketing." How to get your tech staff to contribute to your recruiting effort. How sharing and creating content can be the real game changer.

Ivo Bottcher, Research Analyst at Germany Trade and Invest

Topic: "Small Improvements/UN - From Berlin to New York." What it is like to find an internship, work globally and be a tech intern in New York.

Joe Wilkie, National Account Manager, Dice

Topic: "Sourcing on Steroids."
Register now
Seating is limited as this is an intimate setting, so don't wait to reserve your seat.