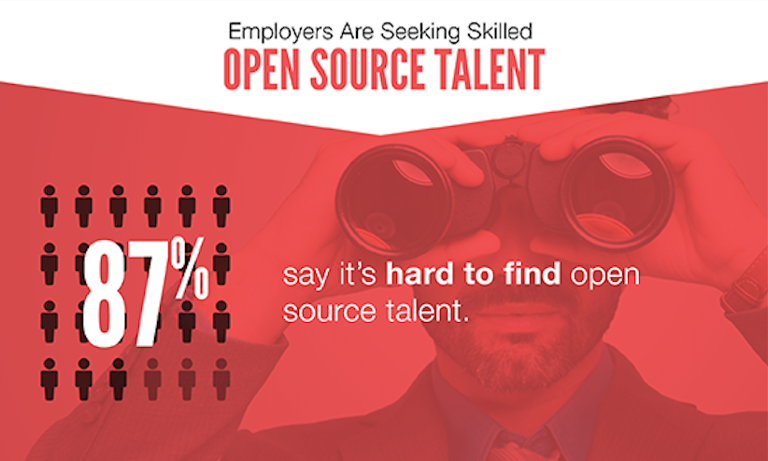 In many industries, open source is no longer the alternative—it's the standard. Open-source software now powers everything from enterprise datacenters to your smartphone. Within the tech industry, that's led to a spike in demand for professionals with Linux and open-source skill-sets.

How strong is that demand? According to the
2016 Open Source Jobs Report
, created through a partnership between Dice and the Linux Foundation, 65 percent of hiring managers report that open-source hiring will rise more than hiring in other parts of their respective businesses over the next six months. (You can
download the report here
.) As part of the report, Dice and The Linux Foundation surveyed hiring managers and open-source professionals. More than 400 hiring managers responded; some 77.5 percent of them worked for companies in North America. In order to qualify for the survey, these hiring managers needed to have hired at least one open-source professional in the past year, or else have plans to hire open-source professionals in 2016. Around 59 percent of hiring managers said they're looking to increase their number of open-source hires. There's just one little issue: a full 87 percent said that it's difficult for them to find the open-source talent they need. Despite that demand, hiring managers aren't just hiring anyone who walks through the door chanting, "Linux rules." Slightly more than half of the surveyed hiring managers said they prioritized hiring candidates with formal open-source training, with 44 percent suggesting they're more likely to hire those with certifications. What are the most important open-source skills among hiring managers? Some 51 percent said cloud technologies such as OpenStack and Cloud Foundry; another 21 percent said networking knowledge, 14 percent said security, 8 percent said containers, and 7 percent said "Other." You can
download
Open Source Jobs Report here
.