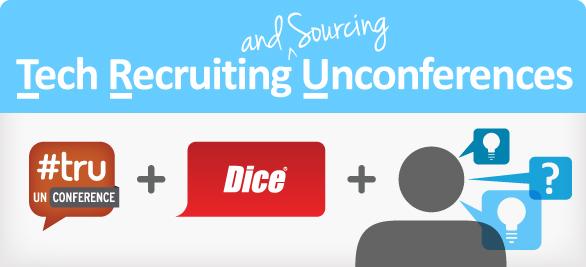 This week, a ragtag group of recruiters, sourcers, hiring managers, pundits, consultants, HR services salespeople and an artist painting cocktail napkins converged in the SOMA part of San Francisco. They were gathered under the auspices of
#GlobalTRU - a series of "unconferences"
to discuss the state of contemporary recruiting. An
unconference
means that there's only a loose agenda, almost no PowerPoint, and participants are encouraged to share the stage. Everything was informal, and mingling was encouraged.
.
Stalking, flirting and rejecting
For
a new recruiter
#truSanFran was a fabulous chance to bathe in the wisdom of veterans and the support of community. I heard two revelatory encapsulations of the recruiting trade: During his presentation on
Cool Tools for Recruiting and Networking
, Craig Fisher explained to his recruiter audience "we are stalkers and professional flirts." Seen this way, my past
exploration of online dating
meshed marvellously with my new recruiting career. With his long hair shoved under a broad brimmed hat, recruiting raconteur
Bill Boorman
later observed that recruiters are primarily rejection managers: rejecting candidate after candidate until one is left standing. Endless rejection was a suitably sober follow up to professional flirting.
.
Employer Branding? Culture Branding.
Boorman hosted a session about Employer Branding - sharing the virtues of the workplace to attract candidates. Except Boorman suggested there was something better than employer branding: culture branding. If employer branding is "tell me" about the workplace, culture branding is "show me" the workplace. Many people at
#truSanFran HR & Recruiting
actively discussed the role of social media in recruiting. How can we unleash our employees to tell the mostly good stories of their work to help with aid online public culture branding? One poor guy from a large utility company bemoaned the many regulations and bureaucracy that prevent any of his people from touching Facebook, Twitter or Google+ in a work setting. Most everyone else at
#truSanFran
had social media kool-aid grins stained on their faces. The #1 thing candidates want to know about a job, Boorman recounted in his British lilt, is a picture of the office where they'll be working. Think "where's my desk" - Boorman encouraged recruiters to encourage their employees to talk about their work in an authentic way - unvarnished. Shoot short videos on an iPhone and post them the same day. If all this social media is effective, I learned, we might successfully lower the number of resumes we receive. Wait - reducing the number of resumes? That's crazy! Don't I want more candidates? It turns out social media and effective culture branding can provide "talent de-selection" - encouraging people not to apply. Boorman put it this way: if it takes 75 applicants to hire someone, and the average recruiter is handling 30 open positions, and 70% of applicants are unsuitable and unqualified, that's 1,500+ resumes to read that aren't applicable. Holy smokes! Culture branding can help create content that might dissuade casual resume spammers, while attracting people who might actually enjoy your tradition of singing when you release software, or building elaborate paperclip architecture during Thursday lunches.
.
Lenny's Dice Tech Trek Bus
Rocker Lenny Kravitz had a pretty gourmet tour bus. All leather seats, a twinkling light ceiling with TVs and sound wired throughout. Near the front, a large guitar-shaped table. I learned about Mister Kravitz's bus since it now serves as a rolling promotion for
Dice's Open Web
. During #truSanFran, Dice's bus served as another conference room. I took this panorama photo in the back, as recruiting futurist
Kevin Wheeler
declared that all recruiting for all companies was headed towards
RPOs
- Recruitment Process Outsourcing:
Fortunately, Craig Fisher and Bill Boorman both violently disagree with Kevin's provocative recruiter outsourcing prognosis: I may still have an in-office job. Maybe in a few months corporate recruiting work will be primarily encouraging engineers to post videos of themselves asking other engineers to help them with hard problems. Later in the day, I co-hosted a session on Gamification for Recruiting in Lenny Kravitz's Dice tour bus. How can game design help find and filter candidates? How can game design drive employee referral programs inside companies? I look forward to sharing my findings here on Dice in the near future.
Meanwhile, if you were going to attend an un-conference like #GlobalTRU, what session would you want to see or host?