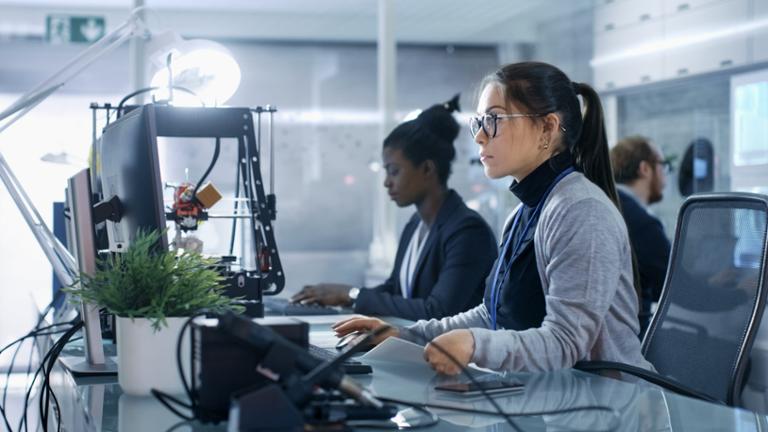 Recruiters, take heart: companies are investing a lot in research and development—which means they'll need professionals well-versed in the latest and greatest technology. A new
study
from WalletHub, titled "2018's Most & Least Innovative States," suggests that the United States is spending over half a trillion dollars on R&D (that's good for fourth place on the
Global Innovation Index
). WalletHub also analyzed the 50 states and District of Columbia through the filter of two categories: 'human capital' (graduates and professionals), and the 'innovation environment' (companies and jobs). The weighted numbers returned a 'state innovation index' score. Massachusetts leads the pack with a score of 73.04, which is 4.5 points higher than second-place Maryland (68.53). Washington, D.C., and California round out the top five with scores of 67.69, 66.09, and 65.37, respectively. Georgia ranked 20th, despite the presence of the burgeoning tech hub of Atlanta. Here's WalletHub's top-ten most innovative states: What this shows is that one city doesn't necessarily make or break a state's tech culture.
A previous WalletHub study
showed Seattle was the best metro area for STEM jobs, but Washington is third on this latest list. Boston ranked second in that previous study, even though Massachusetts comes in first on this one. Further down the list we see some interesting anomalies. Pittsburgh ranks third on WalletHub's best metro list, but we don't see Pennsylvania in the state rankings until 26th place. The same can be said for Maryland: it ranks second among states, but doesn't pop up on the metro list until Baltimore's 55th ranking. Some of these findings are easily explained away. East Coast density means there's plenty of reason Maryland and the District of Columbia would score similarly, for instance. Massachusetts houses both Boston and Springfield, which appear on the metro list. Other areas aren't so clear. Oregon is tenth, but its top city is 29th place Portland. Oregon's other large cities, such as Bend or Salem, don't show up at all. California is buoyed by several top cities, many of which feed into the 'Silicon Valley' geography. If you're a recruiter in one of these top states and/or cities, that's good news—there's a lot of human capital, paired to quite a bit of opportunity in the form of companies and jobs. But that also means a lot of competition, as firms compete for talent with highly specialized skills. Dice's survey data and reporting shows that tech pros care quite a bit
about internal culture
and work-life balance; presenting a company (and its benefits) from that angle can prove highly attractive.