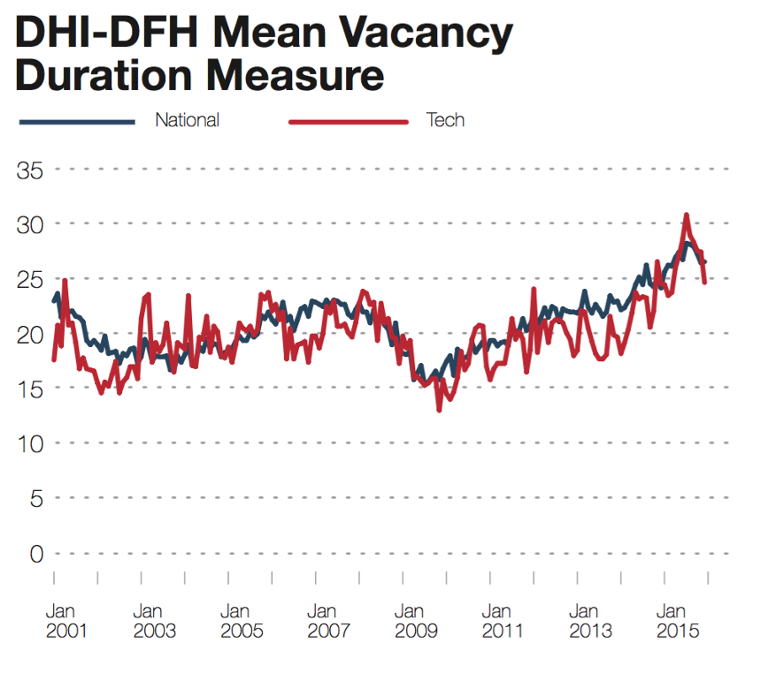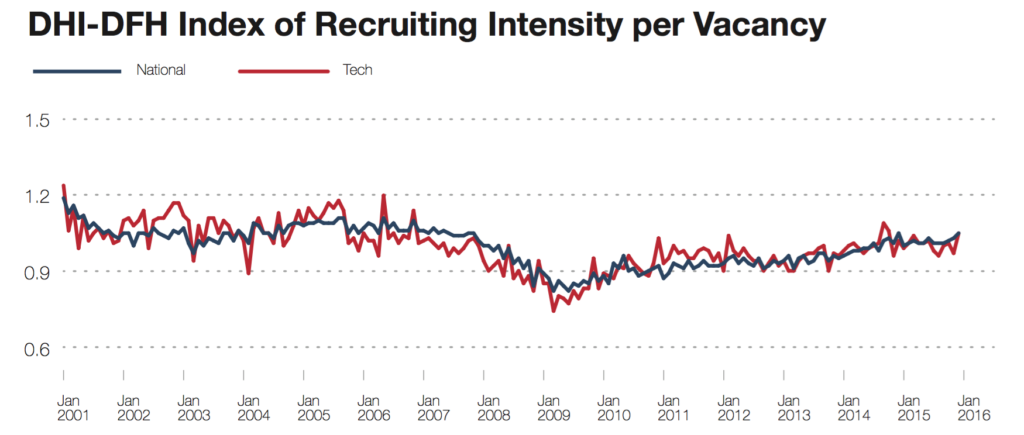 Dice, a DHI Group, Inc. service, brings you the latest hiring trends and industry job vacancy data. The DHI-DFH Mean Vacancy Duration measure found the average job vacancy duration of Professional and Business Services jobs was 26.8 working days in 2015. In December, technology jobs remained open for 24.7 working days, down from 27.5 working days in November.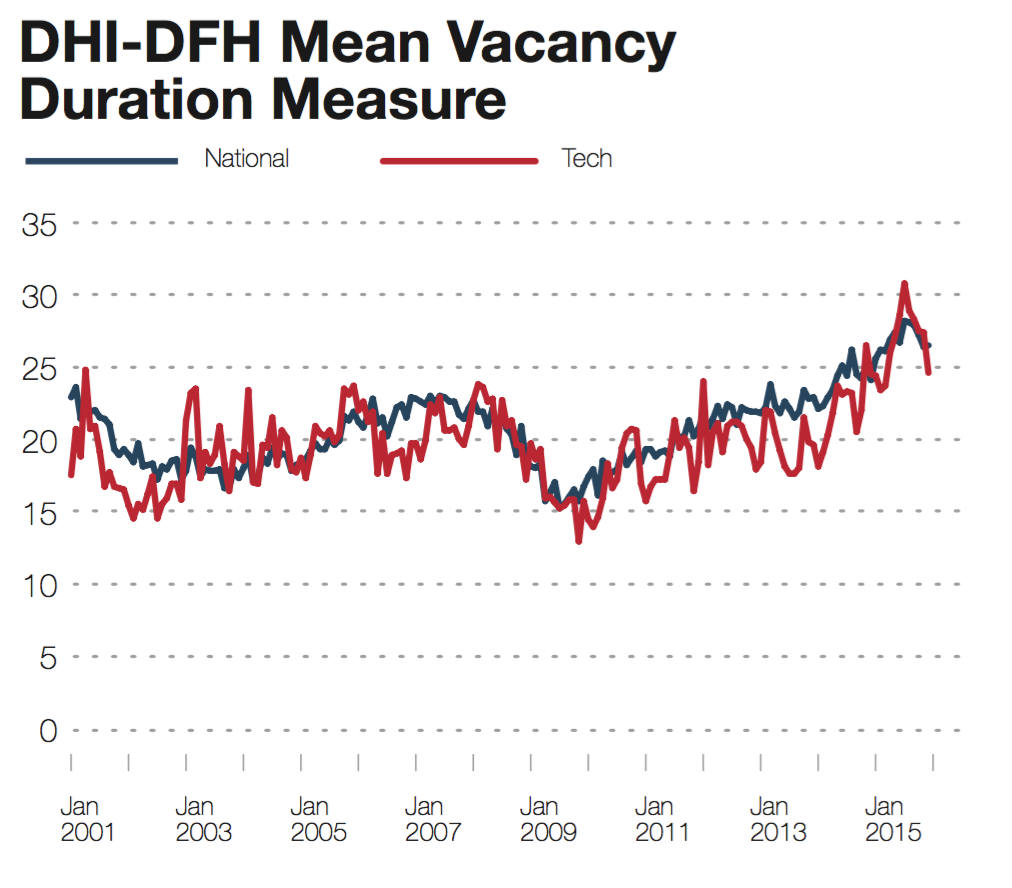 "Last year was a challenge for many employers as they struggled to find highly-skilled available talent, putting pressure on companies to raise the bar with compensation, unique perks and extra benefits to remain competitive," said Michael Durney, President and CEO of DHI Group, Inc. "We've already seen employers raise salaries for tech professionals in response to heightened demand and I expect financial services companies and healthcare providers will follow suit to attract the best talent and fill open roles quickly." Meanwhile, the DHI-DFH Recruiting Intensity index saw the intensity by companies to fill tech jobs rise to 1.05 in December up from 0.97 in November. This recruiting intensity includes actions by employers to fill a job, including payments on help wanted ads, certain recruiting methods, applicant screening process, hiring standards and the attractiveness of compensation packages offered to prospective new hires. "2015 saw the highest average turnover rates in tech since 2001, indicating tech professionals are highly confident in their position in today's market," said Bob Melk, President of Dice. "With confidence levels up and the demand and competition for talent only growing, employers need to think strategically when it comes to recruiting and retaining hard-to-find talent. In addition to offering attractive compensation packages and work/life balance perks, more and more companies are beginning to add non-traditional techniques like sourcing to their recruitment wheelhouse."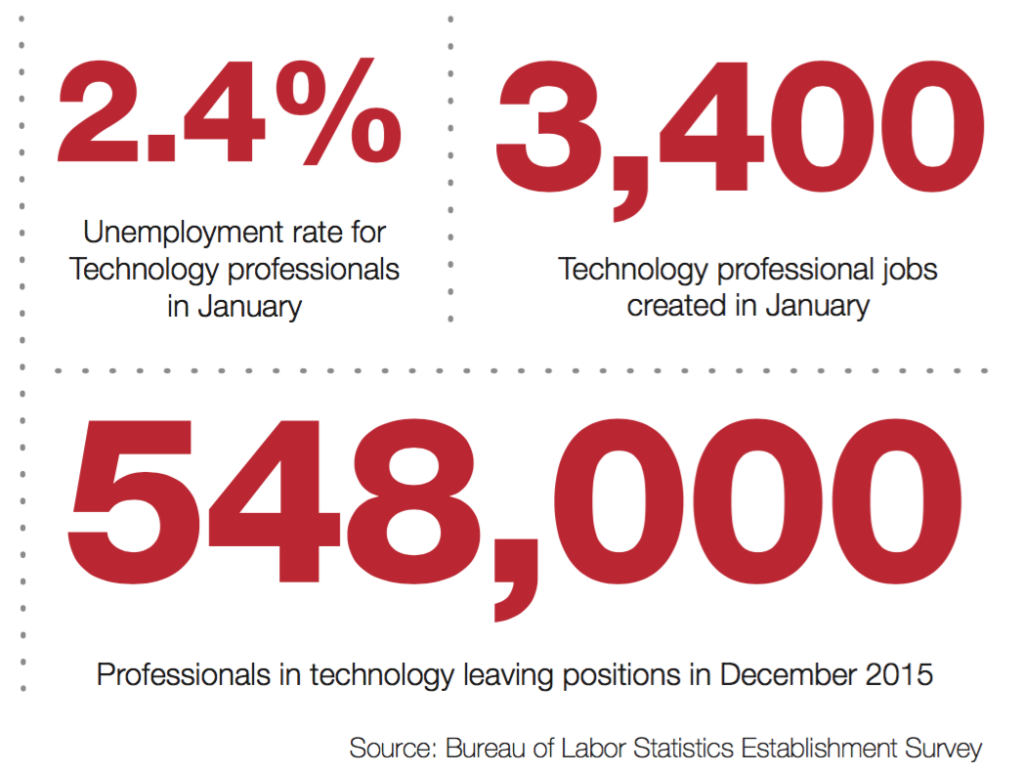 About
The DHI Hiring Indicators offer labor market insights from career provider
DHI Group, Inc
. and
Dr. Steven Davis
, William H. Abbott Professor of International Business and Economics at the University Of Chicago Booth School Of Business and a Visiting Fellow at the Hoover Institution. The DHI-DFH vacancy duration measure reflects the vacancy concept in the Job Openings and Labor Turnover Survey (JOLTS) in the United States. Specifically, a job opening gets "filled" according to JOLTS when a job offer for the open position is accepted. So the vacancy duration statistics refer to the average length of time required to fill open positions. Typically, there is also a lag between the fill date and the new hire's start date on the new job. The Indicators include a monthly report and data release to help employers, professionals and decision makers deepen their understanding of current workforce trends. The category of Professional and Business Services includes professional, scientific and technical activities for others. The category of Computer Systems Design and Related Services rolls into this.