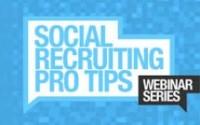 Unleashed: Taking Advantage of Mobile Opportunities in Recruiting
Wednesday, February 11, 2015 at 2 PM ET / 11 AM PT
Jessica Miller-Merrell President, Xceptional HR;
@jmillermerrell
——————————————————————————————----—————--———————–
Attract the "on the go" candidate.
[caption id="attachment_14369" align="alignright" width="150"]
Jessica Miller-Merrell, Xceptional HR[/caption] Tech pros are mobile savants. They frequently use apps and mobile friendly sites to network and find new opportunities. Your recruiting efforts will need to adapt to this behavior. Essentially, tech pros want all of us to be more mobile friendly.
Register for a live webinar
featuring Jessica Miller-Merrell, President of Xceptional HR, to learn how to apply mobile best practices to each layer of your recruiting strategy. You'll learn how to:
Source through mobile apps like Dice Recruiter
Communicate in a tone and structure to on-the-go candidates
Setup your careers site for mobile success
Date: Wednesday, February 11, 2015 Time: 2 PM ET / 11 AM PT Duration: 45 minutes