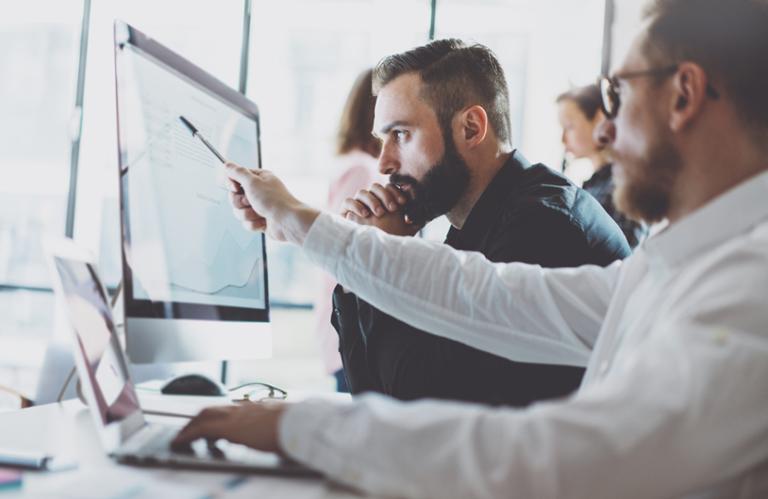 As tech unemployment dips, and the battle for top talent grows fiercer, employers are willing to pay extra for technical skills that don't require a certification. In fact, many tech managers prefer hands-on experience and soft skills over a set of letters after a tech pro's name. The non-certified skills listed below not only grew in market value during the first half of 2018; they paid a premium of at least 15 percent above base salary, based on data collected for Foote Partners' IT Skills and Certification Pay Index. Keep that in mind the next time you're recruiting for roles that require these skills; you may end up having to pay a bit of a premium in order to lock the talent down.
Risk Analytics/Assessment
Pay Premium: 17 percent of base salary Market Value Increase: 6.3 percent The field of risk analytics has entered its prime, explained David Foote, chief analyst of Foote Partners LLC. That means a spike in interest for non-certified skills to prevent misappropriation of assets, bribery and corruption, fraud, data theft or money laundering in financial services, government or public utilities. The global fraud detection and prevention market is projected to reach $41.59 billion by 2022.
Ethereum
Pay Premium: 16 percent of base salary Market Value Increase: 6.7 percent For blockchain experts (and companies interested in hiring blockchain experts), knowledge of how to build apps with Ethereum is essential. Ethereum is arguably the most popular open-source, public blockchain-based distributed computing platform and OS for smart contract functionality, Foote said. The pay's not bad, either.
Cryptography (encryption, VPN, SSL/TLS, Hybrids)
Pay Premium: 16 percent Market Value Increase: 14.3 percent Cryptography is undergoing a bit of a revival. In fact, the skillset has doubled in value since 2010. Today, the focus is on designing algorithms, authentication systems and code that can't be compromised. Examples include RSA encryption, Schnorr signature and PGP. More complex cryptosystems include electronic cash systems, signcryption systems and others. For those who need a refresher, free training courses are available online.
Big Data Analytics
Pay Premium: 16 percent Market Value Increase: 14.3 percent As a group, the 85 non-certified Big Data skills tracked by Foote Partners increased in value by 12 percent during the first six months of 2018. In addition to data science and cryptography, other top-gaining skills in the Big Data group included Cloudera software, which gained 16.7 percent in market value, and Apache Cordova, C and C++, which gained 11.1 percent respectively.
Data Governance
Pay Premium: 16 percent Market Value Increase: 6.7 percent The growth of unstructured data and the need to comply with new regulations is fueling the data governance market, which is expected to grow from 1.31 billion in 2018 to 3.53 billion by 2023. Creating a broader, over-arching governance framework, training co-workers and getting executive buy-in requires a broad range of non-certified hard and soft skills.
Data Science
Pay Premium: 15 percent Market Value Increase: 15.4 percent Data science incorporates a basket of skills involving mathematics, statistics, algebra and calculus, as well as coding, machine learning, data cleansing, data visualization, data architecture, communication, problem-solving and critical thinking (among others). Professionals with any combination of these skills and the right experience may be able to score premium pay.
(Tie) Apache Spark, Artificial Intelligence, Penetration Testing, Scala
Pay Premium: 15 percent Market Value Increase: 7.1 percent Apache Spark, which was initially open-sourced back in 2012, has become one of the key Big Data distributed processing frameworks in the world, deployed in a variety of ways to provide native bindings for Java, Scala, Python and R programming languages. It supports SQL, streaming data, machine learning, and graph processing—all very in-demand skills. There's still time to jump aboard the A.I. and machine learning train, Foote suggests, for those who possess the right combination of technical and academic skills. From a recruiting perspective, that means finding candidates who have a firm understanding of probability and statistics, algorithm theory, and some experience with Python/C++/R/Java and possibly UNIX tools and Advanced Signal Processing techniques. The good news is that investments in A.I. skills will continue to pay off for the foreseeable future. Pen testing is an excellent foundation skill for anyone who wants to pursue a career in application security, cyber security, digital forensics or auditing. "Currently, only about half of pen testers are certified, and because companies are pen testing everything, there's a huge shortage of qualified applicants," Foote said. That demand means the right talent can demand a hefty salary premium. The Scala programming language is rising in popularity (again) among many of the world's biggest companies because it makes up for a lot of deficiencies in Java. It appeals most to enterprises that have already invested in Java and don't want to have to support anything new in their production environments, Foote added. Java developers with Scala in their toolbox can demand (and receive) hefty salaries.