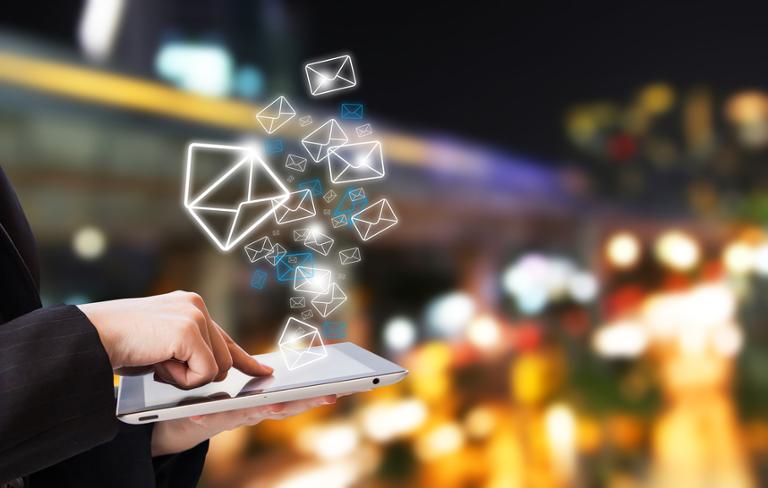 "You can make flight or hotel reservations on a mobile device, or purchase products through eBay and Amazon, but you can't complete an application," points out Ben Gotkin (
@bengotkin
), Principal Consultant for
Recruiting Toolbox
, of recruiting's mobile shortcomings. Or can you? The Dice mobile app for lets tech candidates apply for jobs on the go. Even with our efforts and those of others, recruiting definitely has room to grow mobally. As of Summer 2012, only 11 of the Fortune 500 companies let job seekers apply completely on the mobile device (source:
iMomentous' Corporate Mobile Readiness Report
). That's a big area of opportunity, as U.S. smartphone penetration has almost reached half of all mobile phone users (source:
comScore
). For those seeking positions in tech, that percentage is even higher.
Compressing the steps to hire
"The key friction point in hiring top talent is the amount of time it takes," says Lorne Epstein (
@lorneepstein
), Founder of
Electric Cow
. "It takes time because there are many touch points in hiring. And the more talented the hire, the more touch points it takes before the hire is complete." "The future of mobile recruiting is messaging done right," says Andrew Rangel (
@andrewnexusit
), Candidate Experience Representative for
nexus IT group
, about solving communication issues. Is there a way that mobile can improve that process, reduce the number touch points, and improve messaging? We reached out to industry experts and recruiters and asked what they're currently doing in mobile recruiting, or if they had a wish for the future of mobile recruiting.
1. Optimize career page for mobile
"Almost 90 percent of the Fortune 500 have yet to optimize their career sites for a mobile web browser," said Ed Newman (
@newmaed
), VP, Strategy for
iMomentous
. "I believe where you get the biggest bang for your buck is to mobile optimize your current career site," Justin Clem (
@justin_clem
), Global Recruiting Director for
SolarWinds
. "It's cost effective, user friendly, and is not biased towards Droid or Apple."
2. Let the ATS send updates regarding the process
One common broken link in the hiring process is keeping the candidate in the loop.
At the 2012 SHRM National Conference in Atlanta
, Gerry Crispin (
@gerrycrispin
), Cofounder of
CareerXroads
, noted that all the application tracking systems (ATS) allow for an email to be sent out automatically when a position is closed. But most companies don't choose to use it and he doesn't even think many realize they can do it. Caroline McClure (
@ScoutRockLines
), Principal for
ScoutRock
, envisions a system where every single step from the ATS is automatically messaged out to the candidate. A message could be just a touch point to alert the candidate of the current status or it could be a request for more information to move ahead (e.g., resume received, click here to schedule an interview, resume sent to hiring manager, background verification initiated, offer pending, opening filled).
3. Hive mind recruiting
"The perfect mobile recruiting scenario would be the ability to have one cloud service that is responsible for all communications," said Alyssa Bunn (
@AlyssaBunn
), Talent/Marketing for
Reddwerks Corporation
. This all-in-one service would be available to all candidates and recruiters, letting everyone see the history of all outcomes. That would allow the recruiter "to gauge the candidate's willingness to explore new career opportunities, relocation, or different industries," says Bunn. With all that input, the system over time would become smarter for the needs of the recruiter, candidate, and company.
4. Run reports across ATS and social networks
While having a collection of all job search communications would be fantastic, it would be even better to run specific reports across different mediums, whether via ATS or social networks. Danielle Walker (
@DanielleWalk20
), Senior Recruiter for
Rockfish
would like to be able to run job-related conversation reports through her mobile at any time, such as "How many people with Objective-C experience have I spoken to in the past six weeks?"
5. One-click apply
"Now it is very easy to use mobile apps to job hunt on the go from your mobile device.
But once a job seeker finds a great job, it becomes harder to go through the rest of the process on the move. It's likely most job seekers are waiting until they get home to apply for great positions, instead of applying from their devices," says Josh Tolan (
@SparkHire
), CEO of
SparkHire
. "You should be able to store your resume or career profile on your mobile device or in the cloud, and simply use it when you apply to complete most if not all of a mobile application," says Recruiting Toolbox's Gotkin. Like Amazon's "one-click shopping" which already has your account details saved and known, job boards could offer "one-click apply," says Elaine Orler (
@TalentFunction
), President of
Talent Function
. The Dice app does that too - it allows candidates to use saved resumes to apply via mobile.
6. Face-to-face video interviewing
"Mobile interviewing is a tremendous opportunity which would provide the ultimate convenience to the candidate," says SolarWinds' Clem. Especially in the tech sector, work has become more and more mobile. If the candidate will not be in your office, there is no need to do formal in-person interviews. Video interviewing can easily supplant that step in the process. From a mobile interview, you could start sandwiching more elements of the interview process, says Electric Cow's Epstein. The recruiter could review the resume and record the interview. When finished, the recording and the recruiter's notes could be forwarded off to the hiring manager. Those interviews don't even have to be in real time. "Candidates can record videos of themselves answering written interview questions posed by employers," says Tolan, whose company Spark Hire currently uses video to connect job seekers with employers. Maintaining communications with virtual candidates via mobile will be the most reliable device for quick response, especially if the candidate is in another time zone.
7. Reach passive candidates through location-based apps, such as Foursquare
Brian Murray (
@btmurr
), Director of Talent at
Likeable Media
has successfully recruited interns via
Foursquare
by
dropping tips at locations around campuses
throughout the Northeast
. For example, if you check in at Boston University, you'll see the following tip: CEO, @DaveKerpen, graduated from here in 1998 and he loves having interns who represent his alma mater! If you want to intern @LikeableMedia and have an in with the CEO, email jobs@likeable.com! "These users are the students we want," says Murray, whose Foursquare tips have led to 11 interviews and subsequently four intern hires. He's now focused on more permanent positions and plans on utilizing the same tactic at retail businesses near competing agencies.
8. Peer-to-peer communications about the process
"Since most mobile users are social, it makes sense that mobile recruiting in the future will include chat or communication functions that allow people to share insight and talk about specific jobs," says Pat Quagrello, Director of Recruiting for
Signature Consultants
.
9. Embrace text messaging
"Every single recruiter I've ever spoken to positively insists on
speaking
rather than texting or emailing for the majority of the interaction," says Ewan MacLeod (
@ew4n
), Editor of
Mobile Industry Review
. "Rarely is it possible for many executives to easily speak on the phone, especially during the day, and during meetings." While MacLeod knows this wish doesn't sound "futuristic", it's often the most effective quick-reply mechanism available. "Once you've established contact with the candidate, seriously consider text messaging for on-going and 'real time' interaction," says MacLeod.
10. "On demand" or short-term hiring
"Mobile will have the greatest impact on temporary and short term staffing. The notion of the 'pop up job' will become more prevalent where someone needs a resource immediately and talent is available 'on demand' through mobile alerting and responses," says Dan Arkind (
@jobscore
), CEO of
JobScore
. Using mobile for quick-fill jobs will be incredibly useful for industries that have seasonal and even time-based fluctuations in their business. Think retail during the holiday season. "We need a Santa at Macy's, stat!"
11. Enable GPS for real world connections and conversations
GPS could be a recruiter's best friend to find potential candidates nearby whether at an event or just out and about in the real world, says JobScore's Arkind. Rosie Pongracz (
@rosiepongracz
), Founder of
Pongracz Strategic Marketing
, suggests the following scenario: "Have an event app that lets me post what I'm looking for as a recruiter, and then as a candidate, I can 'broadcast' my skills and attendance of the event, even suggest times to meet. It could possibly be anonymous, so the app would be a broker." For years we have seen event-based applications that try to create matches. Sadly, there has not been widespread adoption. This failure could be for a whole host of reasons such as poor usability or simply lack of awareness.
12. Use traditional outdoor advertising to connect via mobile
While you're waiting for Pongracz's suggested event app to come to fruition, Dan Fisher (
@dbfish
), Information Technology Administrator at the
Sac-Yolo Mosquito & Vector Control District
, suggests you envision the physical world as an interaction point for mobile users. "Mobile means something that finds you while you're not at home. And that's still mainly occupied by traditional space advertising such as banners, billboards, posters, bus ads, etc., but made mobile by encouraging users to interact with it via their mobile device," says Fisher. He reminds us that mobile recruiting should not be confused with social recruiting, even though the two are often used interchangeably.
13. Target audiences that use mobile as primary tool of communications
"Mobile recruiting will be particularly important in developing countries where the Internet infrastructure isn't strong, but the mobile communications infrastructure is," saysScoutRock's McClure noting that in some areas of Asia and Africa, there are no computers in the home, but most people have phones. In the U.S., Internet use by minorities (African-American and Hispanic) on mobile phones is significantly higher than Caucasians. (source:
Pew Internet
). And while minorities own slightly fewer computers, their Internet usage is actually equal given their increased mobile usage, notes Heather Bussing (
@HeatherBussing
), Employment Attorney with
Bussing Law
, in a post for
HR Examiner
entitled,
"Disparate Impact – Why Mobile Matters."
"As company job pages adapt to mobile, recruiters will be able to reach and connect with a more diverse candidate base," says Bussing.
14. Focus on one-minute recruiting activities
While there seems to be an overall eagerness for mobile recruiting, Evan Lesser (
@clearancejobs
), Founder and Managing Director for
ClearanceJobs.com
, is not so bullish. "Mobile recruiting will never match the ease and efficiency of desktop recruiting," says Lesser. That doesn't mean Lesser discounts the value of mobile for recruiting. Rather, he believes those activities should be isolated into one-minute sessions. "If mobile developers in the recruiting space can look at the entire recruiting process from end-to-end, there are places where one-minute mobile sessions can help," says Lesser. "For example, an app that lets a recruiter flip through condensed resumes and quickly approve or reject each one, or an app that allows a recruiter to rate and rank lists of candidates for later review would be perfect for making good use of time while sitting in traffic, waiting in a doctor's office, or waiting on the barista to finish making your latte."
15. Feedback on how one stands up against other candidates
CareerXroads' Gerry Crispin, through his
Candidate Experience Awards
, has been on a charge for companies to improve how they treat candidates during the recruiting process. He sees mobile as an excellent means to maintain ongoing communications with potential hires. Using a combination of the previously mentioned hive mind recruiting and online dating-style algorithm-based matching, a mobile tool could constantly provide feedback on the entire process, such as:
How many have applied?
How much experience do the other candidates have?
What education is necessary?
How many have interviewed already?
When will a decision be made?
Via a mobile environment, Crispin advises the tool should constantly be able to answer the question, "Where do I stack up against others who might be considered?"
16. Notify passive candidates only about exact matches
Recruiting passive candidates requires a gentle balance of informing them of great opportunities, and not bothering them with openings that are irrelevant. Passive candidates should be able to create both a profile of themselves and a wishlist for their next position. Candidates would only be pinged when a job opening comes available that they are both qualified for and that meets their desires for a new position. "[These solutions] are only as good as the data you initially provide and continuously maintain," says Headhunters' Cookbook Battaglia. "A lapse in updating can cost you that dream job."
Conclusion: Mobile can provide the ultimate contextual-based recruiting experience
From all our interviews with industry experts and recruiters, the hope is that mobile will be able to deliver more relevant information to all interested parties and help sandwich the processes that lengthen the time it takes to recruit. If you can always reach the person you need to reach via mobile, then the process should theoretically be move more quickly. "The shift to mobile is, on one level, simply just a continuation of the personalization of communication," says CareerXroads' Crispin. That said, the value of faster communications will be highly dependent on the information gathered.
"We should be able to incorporate data about the job seeker's profile, their industry, location (using built in GPS), likes/dislikes, and social conversations, in order to serve just the right content, at just the right time, to create a unique and engaging experience for the individual," says iMomentous' Newman. There are already tools out there starting down that path, and more will undoubtedly be introduced in the constantly changing mobile environment.
[gigya src="http://www.flickr.com/apps/slideshow/show.swf?v=71649" width= "333" height="500" flashvars="offsite=true&lang=en-us&page_show_url=/photos/68783104@N05/sets/72157631526721084/show/&page_show_back_url=/photos/68783104@N05/sets/72157631526721084/&set_id=72157631526721084&jump_to=" allowFullScreen="true" ]
Photos from mRecruitingcamp 2012. See all 82 mobile recruiting wish photos on Flickr.
Joy Powers helped with the research for this article.