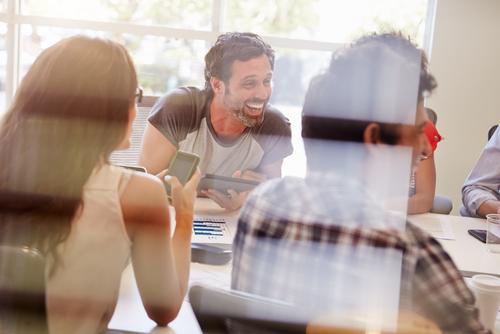 You connect with tech candidates online every day. While you're at it, connect with us too.
Like Employers on Dice on Facebook.
If you can't make it to events like #sourcecon, #ere, #talent42, #GlobalTru or #SxSW, no worries – we've captured recruiter and sourcing rockstar moments for you. Like us on Facebook and check out cool content:
Photos, photos, more photos

– From karaoke to air guitar, check out the fun your colleagues are having with Dice at HR and recruiting events.

Real Rockstars

– We're hanging out with the original King and the King of Pop, along with real rockstars who are changing the face of hiring.

Surprising Superfans

– It took his own wedding for one Facebook friend to part with his Dice swag. See who it is – you might know him.
From industry experts to social recruiting pundits, there's much more – event giveaways, charity connections, and content you can use to do your job better.
.
Like Employers on Dice
and come back to visit often.
.
.
[gallery type="rectangular" ids="eyJ1cmwiOmZhbHNlLCJ0aXRsZSI6bnVsbCwiY2FwdGlvbiI6ZmFsc2UsImFsdCI6IiIsImRlc2NyaXB0aW9uIjpudWxsfQ==,eyJ1cmwiOmZhbHNlLCJ0aXRsZSI6Ikh1cmQgRGVjbGluZXMgRGVsbCBDRU8gSm9iIEFzIEJsYWNrc3RvbmUsIEljYWhuIE1ha2UgQmlkcyIsImNhcHRpb24iOmZhbHNlLCJhbHQiOiIiLCJkZXNjcmlwdGlvbiI6Ik9yYWNsZSBwcmVzaWRlbnQgTWFyayBIdXJkIHNob3QgZG93biBydW1vcnMgdGhhdCBoZSBtaWdodCBiZSBhc2tlZCB0byByZXBsYWNlIE1pY2hhZWwgRGVsbCBhcyBjaGllZiBleGVjdXRpdmUgb2YgRGVsbCBJbmMuLCB0ZWxsaW5nIHJlcG9ydGVycyB0aGF0IGhlIGhhcyBubyBpbnRlcmVzdCBpbiB0aGUgam9iLlxyXG5cclxuRGVsbCBJbmMuIHJlY2VpdmVkIHR3byBtb3JlIGJ1eW91dCBvZmZlcnMgTWFyY2ggMjY6IGJpbGxpb25haXJlIGFjdGl2aXN0IGludmVzdG9yIENhcmwgSWNhaG4gbWFkZSBhbiBvZmZlciBmb3IgdGhlIGNvbXBhbnkgYXQgJDE1IHBlciBzaGFyZVx1MjAxNHdlbGwgYWJvdmUgdGhlICQxMy42NSBwZXIgc2hhcmUgdGhhdCBmb3VuZGVyIGFuZCBjaGllZiBleGVjdXRpdmUgTWljaGFlbCBEZWxsIG9yaWdpbmFsbHkgb2ZmZXJlZCB3aXRoIGhpcyBwYXJ0bmVyLCBTaWx2ZXIgTGFrZSwgdG8gdGFrZSB0aGUgY29tcGFueSBwcml2YXRlLiBJbiBhIHNlcGFyYXRlIGJpZCwgQmxhY2tzdG9uZSBHcm91cCBvZmZlcmVkIGEgcHJlbWl1bSAkMTQuMjUgcGVyIHNoYXJlLiBEZWxsIEluYy4gc2FpZCBpdCBjb25zaWRlcmVkIGJvdGggcHJvcG9zYWxzIHN1cGVyaW9yIHRvIE1pY2hhZWwgRGVsbCdzIG93biwgcGFydCBvZiB0aGUgXCJnby1zaG9wXCIgcHJvY2VzcyB0aGF0IGFsbG93ZWQgb3RoZXIgYmlkcy5cclxuXHJcblBhcnQgb2YgdGhlIHNwZWN1bGF0aW9uIHN1cnJvdW5kaW5nIERlbGwncyBmdXR1cmUgY29uY2VybmVkIEh1cmQsIHRoZSBmb3JtZXIgY2hpZWYgZXhlY3V0aXZlIG9mIEhld2xldHQtUGFja2FyZCwgd2hvIGxlZnQgdGhlIGNvbXBhbnkgaW4gMjAxMCBhZnRlciBhIHNjYW5kYWwgcmVnYXJkaW5nIGEgZmVtYWxlIGNvbnRyYWN0b3IuIEhlIHdhcyBxdWlja2x5IHNuYXBwZWQgdXAgYnkgT3JhY2xlIENvcnAuLCB3aGVyZSBoZSBoYXMgc2VydmVkIGFzIGNvLXByZXNpZGVudCBldmVyIHNpbmNlLlx1MDBhMCBCbGFja3N0b25lIGhhZCByZXBvcnRlZGx5IGFwcHJvYWNoZWQgSHVyZCB0byBydW4gdGhlIGNvbXBhbnkuXHJcblxyXG5CdXQgSHVyZCB0dXJuZWQgZG93biB0aGUgb2ZmZXIsIGFjY29yZGluZyB0byB0aGUgPGVtPjxhIGhyZWY9XCJodHRwOlwvXC93d3cubWVyY3VyeW5ld3MuY29tXC9idXNpbmVzc1wvY2lfMjI4NjgwNTBcL29yYWNsZXMtbWFyay1odXJkLXNheXMtbm8taW50ZXJlc3QtZGVsbC1qb2I/c291cmNlPWpCYXJcIj5TYW4gSm9zZSBNZXJjdXJ5IE5ld3M8XC9hPjxcL2VtPi4gXCJcdTIwMTlJIGFtIGF0IE9yYWNsZSBhbmQgSSBhbSB2ZXJ5IGhhcHB5IGF0IE9yYWNsZSxcdTIwMTkgTm8gaW50ZXJlc3QsXCIgaGUgc2FpZCwgYWNjb3JkaW5nIHRvIGFuIE9yYWNsZSBzcG9rZXN3b21hbiBxdW90ZWQgYnkgdGhlIG5ld3NwYXBlci5cclxuXHJcblVuZGVyIHRoZSB0ZXJtcyBvZiB0aGUgU2lsdmVyIExha2UgZGVhbCwgTWljaGFlbCBEZWxsIHdvdWxkIHJlbWFpbiBhcyBjaGllZiBleGVjdXRpdmUuIEJhY2sgaW4gRmVicnVhcnksIERlbGwgYW5kIGhpcyBwYXJ0bmVycyBvZmZlcmVkIHRvIGJ1eSBoaXMgY29tcGFueVx1MjAxOXMgb3V0c3RhbmRpbmcgc2hhcmVzIGF0IGEgMjUgcGVyY2VudCBwcmVtaXVtIG92ZXIgRGVsbFx1MjAxOXMgY2xvc2luZyBwcmljZSBvbiBKYW4uIDExLCByaWdodCBiZWZvcmUgdGhlIHJ1bW9ycyBvZiBEZWxsIGdvaW5nIHByaXZhdGUgYmVnYW4gdG8gZ2FpbiBzdGVhbS5cclxuXHJcbjxhIGhyZWY9XCJodHRwOlwvXC93d3cuZGVsbC5jb21cL0xlYXJuXC91c1wvZW5cL3VzY29ycDFcL3NlY3VyZVwvYmxhY2tzdG9uZS1wcm9wb3NhbD9jPXVzJmFtcDtsPWVuJmFtcDtzPWNvcnAmYW1wO2NzPXVzY29ycDFcIj5EZWxsIHB1Ymxpc2hlZCB0aGUgQmxhY2tzdG9uZSBiaWQ8XC9hPiBhcyB3ZWxsIGFzIDxhIGhyZWY9XCJodHRwOlwvXC93d3cuZGVsbC5jb21cL0xlYXJuXC91c1wvZW5cL3VzY29ycDFcL3NlY3VyZVwvaWNhaG4tcHJvcG9zYWw/Yz11cyZhbXA7bD1lbiZhbXA7cz1jb3JwJmFtcDtjcz11c2NvcnAxXCI+dGhlIG1vcmUgY29tcGxleCBJY2FobiBwcm9wb3NhbDxcL2E+LCB3aGljaCB3b3VsZCBzZWUgSWNhaG4gYW5kIGhpcyBpbnRlcmVzdHMgb3duIDI0LjEgcGVyY2VudCBvZiB0aGUgc3Vydml2aW5nIGNvbXBhbnkuIFx1MjAxY1dlIGFyZSBncmF0aWZpZWQgYnkgdGhlIHN1Y2Nlc3Mgb2Ygb3VyIGdvLXNob3AgcHJvY2VzcyB0aGF0IGhhcyB5aWVsZGVkIHR3byBhbHRlcm5hdGl2ZSBwcm9wb3NhbHMgd2l0aCB0aGUgcG90ZW50aWFsIHRvIGNyZWF0ZSBhZGRpdGlvbmFsIHZhbHVlIGZvciBEZWxsIHNoYXJlaG9sZGVycyxcIiBEZWxsIEluYy4gc2FpZCBpbiBhIHN0YXRlbWVudC4gXCJXZSBpbnRlbmQgdG8gd29yayBkaWxpZ2VudGx5IHdpdGggYWxsIHRocmVlIHBvdGVudGlhbCBhY3F1aXJlcnMgdG8gZW5zdXJlIHRoZSBiZXN0IHBvc3NpYmxlIG91dGNvbWUgZm9yIERlbGwgc2hhcmVob2xkZXJzLCB3aGljaGV2ZXIgdHJhbnNhY3Rpb24gdGhhdCBtYXkgYmUuXHUyMDFkXHJcblxyXG5EZWxsIHJlcG9ydGVkICQ3MDIgbWlsbGlvbiBpbiBuZXQgaW5jb21lIGZvciB0aGUgZm91cnRoIHF1YXJ0ZXIgb2YgZmlzY2FsIDIwMTMgb24gcmV2ZW51ZSBvZiAkMTQuMyBiaWxsaW9uOyBmb3IgdGhlIGZpc2NhbCB5ZWFyLCBpdCByZXBvcnRlZCAkMy4wMiBiaWxsaW9uIGluIHByb2ZpdHMsIGFuZCAkNTYuOSBiaWxsaW9uIGluIHJldmVudWUuXHJcblxyXG48YSBocmVmPVwiaHR0cDpcL1wvd3d3LmJsb29tYmVyZy5jb21cL25ld3NcLzIwMTMtMDMtMjRcL2RlbGwtc2FpZC10by1nZXQtcml2YWwtYnV5b3V0LWJpZHMtZnJvbS1ibGFja3N0b25lLWljYWhuLmh0bWxcIiB0YXJnZXQ9XCJfYmxhbmtcIiByZWw9XCJub29wZW5lclwiPkFzIEJsb29tYmVyZyByZXBvcnRlZDxcL2E+LCBpdCdzIHJhcmUgZm9yIG9uZSBwcml2YXRlIGNhcGl0YWwgZmlybSB0byB0cnkgYW5kIG91c3QgYW5vdGhlci4gRGVsbCB3aWxsIGFwcGFyZW50bHkgZ28gZm9yd2FyZCBhcyBhIGJ1c2luZXNzXHUyMDE0YnV0IHdpbGwgTWljaGFlbCBEZWxsIGJlIHJ1bm5pbmcgaXQ/XHJcblxyXG4mbmJzcDtcclxuXHJcbjxzcGFuIHN0eWxlPVwiY29sb3I6ICM4ODg4ODg7XCI+SW1hZ2U6IERlbGw8XC9zcGFuPiJ9,eyJ1cmwiOmZhbHNlLCJ0aXRsZSI6bnVsbCwiY2FwdGlvbiI6ZmFsc2UsImFsdCI6IiIsImRlc2NyaXB0aW9uIjpudWxsfQ==,eyJ1cmwiOmZhbHNlLCJ0aXRsZSI6bnVsbCwiY2FwdGlvbiI6ZmFsc2UsImFsdCI6IiIsImRlc2NyaXB0aW9uIjpudWxsfQ==,eyJ1cmwiOmZhbHNlLCJ0aXRsZSI6bnVsbCwiY2FwdGlvbiI6ZmFsc2UsImFsdCI6IiIsImRlc2NyaXB0aW9uIjpudWxsfQ==,eyJ1cmwiOmZhbHNlLCJ0aXRsZSI6bnVsbCwiY2FwdGlvbiI6ZmFsc2UsImFsdCI6IiIsImRlc2NyaXB0aW9uIjpudWxsfQ==,eyJ1cmwiOmZhbHNlLCJ0aXRsZSI6bnVsbCwiY2FwdGlvbiI6ZmFsc2UsImFsdCI6IiIsImRlc2NyaXB0aW9uIjpudWxsfQ==,eyJ1cmwiOmZhbHNlLCJ0aXRsZSI6bnVsbCwiY2FwdGlvbiI6ZmFsc2UsImFsdCI6IiIsImRlc2NyaXB0aW9uIjpudWxsfQ==,eyJ1cmwiOmZhbHNlLCJ0aXRsZSI6IldlYi1Db25uZWN0ZWQgRGV2aWNlcyBUb3AgNTAwIE1pbGxpb24gaW4gdGhlIFUuUy4iLCJjYXB0aW9uIjpmYWxzZSwiYWx0IjoiIiwiZGVzY3JpcHRpb24iOiI8aW1nIGNsYXNzPVwiYWxpZ25jZW50ZXIgc2l6ZS1mdWxsIHdwLWltYWdlLTg1OTJcIiB0aXRsZT1cInNodXR0ZXJzdG9ja18xMzIwNDYyMzJcIiBzcmM9XCJodHRwOlwvXC9pbnNpZ2h0cy5kaWNlLmNvbVwvd3AtY29udGVudFwvdXBsb2Fkc1wvMjAxM1wvMDNcL3NodXR0ZXJzdG9ja18xMzIwNDYyMzIuanBnXCIgYWx0PVwiXCIgd2lkdGg9XCI1MDBcIiBoZWlnaHQ9XCIzMzRcIiBcLz5cblxuXG5cblNvbWV0aW1lcyBpdCBmZWVscyBhcyBpZiBub2JvZHkgbGVhdmVzIHRoZSBob3VzZSB3aXRob3V0IGEgc21hcnRwaG9uZSBhbmQgdGFibGV0IGluIHRvdy4gXHUyMDFjSGVyZSwgbGV0IG1lIHNob3cgeW91IHNvbWV0aGluZyxcdTIwMWQgYSBmcmllbmQgd2lsbCBzYXksIHdoaXBwaW5nIG91dCBvbmUgc2NyZWVuIG9yIGFub3RoZXIgdG8gZGlzcGxheSB0aGUgbGF0ZXN0IHZpZGVvIG9yIGFwcC5cblxuXG5cblRob3NlIHRhYmxldHMgYW5kIHNtYXJ0cGhvbmVzIGFyZSBvbmUgdGhlIG1haW4gcmVhc29ucyB3aHkgdGhlIG51bWJlciBvZiBJbnRlcm5ldC1jb25uZWN0ZWQsIGFwcC1lbmFibGVkIGRldmljZXMgaW4gVS5TLiBob21lcyBqdXN0IGhpdCBoYWxmIGEgYmlsbGlvbiwgYWNjb3JkaW5nIHRvIDxhIGhyZWY9XCJodHRwczpcL1wvd3d3Lm5wZC5jb21cL3dwc1wvcG9ydGFsXC9ucGRcL3VzXC9uZXdzXC9wcmVzcy1yZWxlYXNlc1wvaW50ZXJuZXQtY29ubmVjdGVkLWRldmljZXMtc3VycGFzcy1oYWxmLWEtYmlsbGlvbi1pbi11LXMtaG9tZXMtYWNjb3JkaW5nLXRvLXRoZS1ucGQtZ3JvdXBcL1wiPm5ldyBlc3RpbWF0ZXMgZnJvbSByZXNlYXJjaCBmaXJtIFRoZSBOUEQgR3JvdXA8XC9hPi4gSW5kaXZpZHVhbCBob3VzZWhvbGRzIGNvbnRhaW4gYW4gYXZlcmFnZSBvZiA1LjcgY29ubmVjdGVkIGRldmljZXMuXG5cblxuXG5UaGUgTlBEIEdyb3VwXHUyMDE5cyBzdXJ2ZXkgaW52b2x2ZWQgNCwwMDAgVS5TLiBjb25zdW1lcnMgYWdlZCAxOCBhbmQgb2xkZXIsIHN1cnZleWVkIGluIHRoZSBmaXJzdCBxdWFydGVyIG9mIHRoaXMgeWVhci4gVGhlIGZpcm0gdGhlbiB1c2VkIHRoYXQgaW5mb3JtYXRpb24gdG8gZXh0cmFwb2xhdGUgaXRzIGJyb2FkZXIgZXN0aW1hdGVzLlxuXG5cblxuSnVzdCBiZWNhdXNlIHRhYmxldHMgYW5kIHNtYXJ0cGhvbmVzIGFyZSBhc2NlbmRhbnQsIGhvd2V2ZXIsIGRvZXNuXHUyMDE5dCBtZWFuIHRoYXQgcGVvcGxlIGFyZSB0b3NzaW5nIG91dCB0aGVpciBkZXNrdG9wcyBhbmQgbGFwdG9wcy4gXHUwMGEwXHUyMDFjRXZlbiB3aXRoIHRoaXMgZXh0cmFvcmRpbmFyeSBncm93dGggaW4gdGhlIHNtYXJ0cGhvbmUgYW5kIHRhYmxldCBtYXJrZXQsIFBDcyBhcmUgc3RpbGwgdGhlIG1vc3QgcHJldmFsZW50IGNvbm5lY3RlZCBkZXZpY2UgaW4gVS5TLiBJbnRlcm5ldCBob3VzZWhvbGRzLCBhbmQgdGhpcyBpcyBhIGZhY3QgdGhhdCB3b25cdTIwMTl0IGJlIGNoYW5naW5nIGFueSB0aW1lIHNvb24sXHUyMDFkIEpvaG4gQnVmZm9uZSwgZGlyZWN0b3Igb2YgZGV2aWNlcyBmb3IgTlBEXHUyMDE5cyBDb25uZWN0ZWQgSW50ZWxsaWdlbmNlLCB3cm90ZSBpbiBhIE1hcmNoIDE4IHN0YXRlbWVudC5cblxuXG5cbkhvd2V2ZXIsIGhlIGFkZGVkLCBcdTIwMWN3aGVuIHlvdSBsb29rIGF0IHRoZSBjb21iaW5lZCBudW1iZXIgb2Ygc21hcnRwaG9uZXMgYW5kIHRhYmxldHMgY29uc3VtZXJzIG93biwgZm9yIHRoZSBmaXJzdCB0aW1lIGV2ZXIgaXQgZXhjZWVkZWQgdGhlIGluc3RhbGxlZCBiYXNlIG9mIGNvbXB1dGVycy5cdTIwMWQgVGhlIHRhYmxlIGFib3ZlIGRlbW9uc3RyYXRlcyB0aGUgZXh0ZW50IG9mIHRoYXQgZ3Jvd3RoLCB3aXRoIHRhYmxldHMgYW5kIHNtYXJ0cGhvbmVzIGVuam95aW5nIHNpZ25pZmljYW50IHF1YXJ0ZXItb3Zlci1xdWFydGVyIGdhaW5zIGluIGhvdXNlaG9sZCBwZW5ldHJhdGlvbiBldmVuIGFzIFBDcywgZGVzcGl0ZSB0aGVpciBlbnZpYWJsZSBtYXJrZXQtc2hhcmUsIGJhcmVseSBnYWluIHNoYXJlLlxuXG5cblxuVGhhdCBkaWNob3RvbXkgbWF5IGdyb3cgbW9yZSBsb3BzaWRlZCBpbiB0aGUgeWVhcnMgYWhlYWQuIFx1MjAxY0l0XHUyMDE5cyBoYXJkIHRvIGJlbGlldmUgdGhhdCB0YWJsZXRzIGFuZCBzbWFydHBob25lcyBhcmUgc3RpbGwgc29tZXdoYXQgaW4gdGhlaXIgaW5mYW5jeSxcdTIwMWQgQnVmZm9uZSB3cm90ZS4gXHUyMDFjQnV0IGFzIHdlIGhhdmUgc2VlbiBpbiBqdXN0IHRoZSBwYXN0IGZldyBtb250aHMsIHRoZXJlIGlzIHNpZ25pZmljYW50IHBvdGVudGlhbCBmb3IgdGhpcyBtYXJrZXQgdG8gZGV2ZWxvcCBmdXJ0aGVyLlx1MjAxZFxuXG5cblxuRWFybGllciB0aGlzIHllYXIsIFRoZSBOUEQgR3JvdXAgPGEgaHJlZj1cImh0dHA6XC9cL3NsYXNoZG90Lm9yZ1wvdG9waWNcL2Nsb3VkXC93ZWItY29ubmVjdGVkLWRldmljZXMtb3V0bnVtYmVyLXUtcy1yZXNpZGVudHNcL1wiIHRhcmdldD1cIl9ibGFua1wiPmVzdGltYXRlZCB0aGF0IEludGVybmV0LWNvbm5lY3RlZCBkZXZpY2VzIG5vdyBvdXRudW1iZXIgVS5TLiByZXNpZGVudHM8XC9hPiwgd2l0aCAxLjMgcGllY2VzIG9mIFdlYi1lbmFibGVkIGhhcmR3YXJlIGZvciBldmVyeSBtYW4sIHdvbWFuIGFuZCBjaGlsZCBpbiB0aGUgY291bnRyeS4gQnV0IHRoYXQgc3R1ZHkgaW5jbHVkZWQgQmx1LXJheSBkaXNjIHBsYXllcnMsIEhEVFZzLCBhbmQgb3RoZXIgZGV2aWNlcyB0aGF0IHdlcmVuXHUyMDE5dCBuZWNlc3NhcmlseSBhcHAtZW5hYmxlZFx1MjAxNGEgY3J1Y2lhbCBkaXN0aW5jdGlvbi5cblxuXG5cbiZuYnNwO1xuXG5cblxuPHNwYW4gc3R5bGU9XCJjb2xvcjogIzg4ODg4ODtcIj5JbWFnZTogQWZyaWNhIFN0dWRpb1wvU2h1dHRlcnN0b2NrLmNvbTxcL3NwYW4+In0=,eyJ1cmwiOmZhbHNlLCJ0aXRsZSI6bnVsbCwiY2FwdGlvbiI6ZmFsc2UsImFsdCI6IiIsImRlc2NyaXB0aW9uIjpudWxsfQ=="]