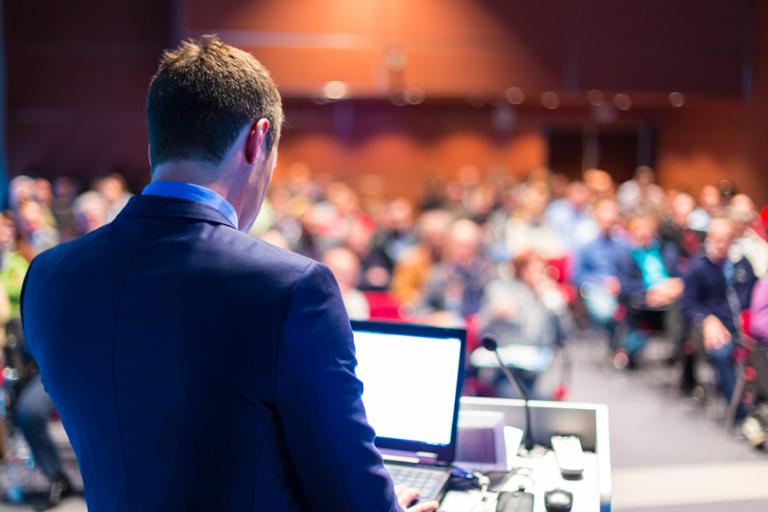 Conferences are a fantastic way to get up to speed on the latest in talent acquisition, hear inspiring keynotes from thought leaders, and rub elbows with other recruiters and sourcers. With that in mind, which talent acquisition conferences should you attend this year to stay sharp and grow your skills? We've made it easy by identifying the top-rated, "can't miss" events for you, including a handy sampling of hot topics and speakers. See which events best fit your goals and budget, and start planning now.
February 26–28 in Las Vegas, NV
Join sourcers and recruiters at this growing and vibrant event. At SourceCon, you can learn the tools and strategies for more effective sourcing. Experts will share their advice about targeting ideal candidates, and there are interactive tracks focusing on sourcing tech, sourcing leadership and sourcers as coders – plus hackathons and innovation labs.
A Taste of SourceCon's Session Topics:
Sourcing Through Marketing Online and Offline Strategies
Speaker: Derek Zeller, Lead IT Recruiter at comScore
How to Get More Diverse Candidates from Pipeline to Hire
Speakers: Lou Candiello, Diversity Engagement Leader for Military & Disability Talent at Dell; Susan Graye, Talent Acquisition Manager, Veteran and Diversity Programs at Hewlett Packard Enterprise and Glenn Gutmacher, Vice President, Diversity Sourcing at State Street Corporation
Cost
: $1,595 and up
March 9 in Austin, TX                 
Kick off SXSW Interactive by mastering best practices in recruiting, talent attraction, employee engagement and more at this intimate one-day event located at Whole Foods Market World HQ. Take a deep dive into the emergence of artificial intelligence (A.I.) in recruiting tech, case studies on employer branding, and developments in diversity recruiting. And don't miss the Dice karaoke after-party!
A Taste of TalentNet's Session Topics:
Timing is Everything: The When of Winning Tech Talent
Speaker: Patrick McCue, Director of North American Staffing at Dice
The Whole Foods Book of Recruiting Genius
Speakers: Andres Traslavina, Global Recruiting Director at Whole Foods; Jennifer Davis, Global Recruiting Director at Whole Foods
Cost:
$135 and up
March 9–18 in Austin, TX                 
SXSW hosts thousands of creatives from all sorts of industries, and all of them want to discover what's next. Panelists and speakers invite attendees to think outside the box; there are tracks in marketing and branding, workplace, startups, and cutting-edge technologies such as virtual reality (VR) and augmented reality (AR).
A Taste of SXSW's Session Topics:
The Future of A.I. and Hiring
Speakers: Tatiana Goldberg, Director of Leadership Development at Unilever; Frida Polli, CEO and Founder of Pymetrics
How to Hire Like Big Business, Even If You're Not
Speakers: Brendan Brown, VP of Global Talent Acquisition at LinkedIn; Abby Hamilton, VP of People Development at Undertone
Cost:
$1,225 and up
March 26–29 in Scottsdale, AZ                 
The i4cp Conference, intended for senior HR and talent-acquisition leaders, offers a variety of networking and thought-leadership opportunities. It's also closed to vendors and consultants. Thought leaders on offer include Brené Brown and Dan Pink, as well as executives from Accenture, Pinterest and more; they'll explain how talent programs can make your hiring more effective, with a bigger impact on the overall business.
A Taste of i4cp's Session Topics:
Building a Diverse Workforce – Lessons Learned on Improving Diversity at Pinterest
Speaker: Candice Morgan, Chief Diversity Officer at Pinterest
Next Practices in Organizational Agility
Speakers: Deb Bubb, HR VP and Chief Leadership, Learning & Inclusion Officer at IBM Corporation; Emily Dancyger King, SVP, Talent Management & Diversity at McKesson Corporation
Cost:
$1,995 and up
April 2–4 in San Diego, CA                 
This conference allows you to rub shoulders with recruiting and talent-acquisition peers. The focus is on enterprise talent acquisition and recruiting that scales; there are small group discussions and 1:1 networking opportunities with HR leaders from General Electric, Unilever, British Telecom and other firms. You'll come away with more knowledge of the trends shaping the future of recruiting, as well as new insights and best practices.
A Taste of ERE Recruiting's Session Topics:
Talent Leadership in a World Going Digital
Speakers: Michelle Rife, Recruiting Leader, Data and Analytics at Facebook; Will Staney, Founder at Proactive Talent Strategies
Machine Learning/AI Roles Will Dominate Your Firm - How Recruiting Must Prepare
Speaker: Dr. John Sullivan, Professor of Management at San Francisco State University
Cost:
$1,595 and up
April 16–18 in Las Vegas, NV
The 2018 SHRM Talent Conference & Exposition is meant for recruitment and talent management professionals. The tools, resources, and solutions you learn here will contribute mightily to your talent strategies. This conference is also a way to work toward the professional development credits you need every three years to maintain your certification.
A Taste of SHRM's Session Topics:
Opening General Session
Speaker: Bill Taylor, Entrepreneur, Author and Co-founder of Fast Company
Closing General Session
Speaker: Gretchen Rubin, Author of The Happiness Project
Cost:
$1,095 and up
April 22–25 in Scottsdale, AZ                 
This SHRM Executive Network conference is intended for senior HR leaders with 15+ years of experience who are responsible for planning the strategic direction of their organizations. The emphasis here is on practical learning experiences, and the vital role that HR plays in building up organizations (as well as affecting employees' work expectations).
A Taste of HR People + Strategy Annual Conference's Session Topics:
The Rise of the Individual in the Future of Work
Speaker: Josh Bersin, Principal at Deloitte Consulting LLP
The Unquestionable Power of a Purposeful Company Brand
Speakers: Jonathan Mildenhall, former Chief Marketing Officer at Airbnb; Mark Levy, former Chief Employee Experience Officer at Airbnb
Cost:
$2,395 and up
May 15–16 in Las Vegas, NV    
UNLEASH (once known as HR Tech World) focuses on the intersection of people, technology, and organizations. It strives to bring visionaries and hard-edged thinkers, all of whom are intent on shaping and predicting how the workplace will look in coming years and decades.
A Taste of UNLEASH's Session Topics:
Just announced!
Speaker: Mo Gawdat, Chief Business Officer at Google X
Cost:
$1,349 and up
June 5–6 in Seattle, WA 
The agenda at this conference includes in-depth discussions on how to leverage technology to improve recruiting results without removing the human element from the equation. As automation and technology change recruiting, this conference will arm you with expert-level how-to strategies and techniques to attract and retain world-class talent.
A Taste of Talent42's Session Topics:
Scaling Without Sacrifice, The Lyft Way
Speaker: Linsey Jackson, Head of Technical Recruiting at Lyft
How to Deliver Speed & Quality
Speaker: John Vlastelica, Managing Director at Recruiting Toolbox and Co-Founder of Talent42
Cost:
$1,295 and up
June 17–20 in Chicago, IL  
This conference, which features internationally-renowned speakers, has over 200 concurrent sessions for HR professionals at every stage of their career. Attendees will hear about solutions for making organizations more compliant, as well as trends that will impact the future workplace. There's also the opportunity to build a strategic talent-management plan to increase engagement and retention.
A Taste of SHRM's Session Topics:
Givers Take All: Creating a Culture of Productive Generosity
Speaker: Adam Grant, New York Times Best-selling Author and Professor, The Wharton School of Business at the University of Pennsylvania
Cost:
$1,620 and up
November 7–9 in Bonita Springs, FL
This conference offers more than 20 breakout sessions within four tracks; there are also IMPACT! Talks, which are 1-hour sessions featuring dynamic talks from industry innovators, and the Large Firm Forum, TechServe's conference-within-a-conference for larger IT and engineering-staffing and solutions firms.
Cost:
Coming soon – check website