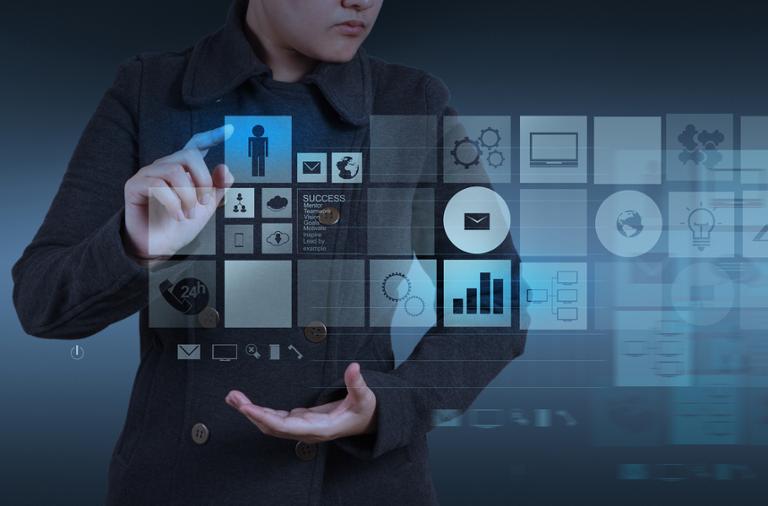 This year's HR Technology Conference wasn't arguably the biggest yet – it was the biggest yet. From HRTechConference.com: "The 15th Annual HR Technology® Conference & Expo was, as predicted, the largest and most exciting ever! With record-breaking attendance and record-breaking exhibits plus attendees from dozens of countries around the world, it truly was an international annual Town Meeting!" The major themes at the conference were very clear. HR Technologist Michael Krupa and Rob Garcia defined them perfectly: Social, Mobile, Big Data (Analytics), and The Cloud.
Social. One session in particular that showcased the power of social technology was 'Marsh Transforms Itself With Social Technology' with Laurie Ledford (CHRO, Marsh & McLennan Companies) and Ben Brooks (SVP & Global Director, Enterprise Communications & Colleague Engagement, Marsh Inc.). The session showcased what they were doing with Marsh University. Key takeaways: 1. Social learning can be very powerful – find a way to uncover the knowledge, expertise, and interests of your employees and then enable them to cross-pollinate. 2. Technology alone does not solve business problems – there is still demand for visionary leaders like Laurie and Ben to drive innovative application of technology to shift the business and solve real problems. Repeat after me: It's not about the tool... or the technology…
Mobile. Social and mobile are converging in a powerful way that is empowering sexy, on-demand functionality across all areas of HR Technology. Want proof? Check out HireVue's new OpenVue product – this is disruptive technology, and it's here to stay. How prevalent is mobile? Ken Burbary, Chief Digital Officer at Campbell Ewals said it best:
Ken's tweet speaks to media, but the mobile trend can be much more widely applied than this – company e-mail, applications, interpersonal interaction – mobile is pervasive across all aspects of personal and professional engagement. Having a mobile strategy is no longer a nice thing to have – it's absolutely essential! Mobile is even causing slow-to-change industries to innovate wildly. Philips just announced a new iOS-controlled LED home lighting system. How cool is that? . Big Data. This is the business and consulting buzzword of 2012. Charlie Judy wrote a great post for Dice on this called 'Analyze Your Workforce: People First, Numbers Second.' Another recent article by Alex Williams of TechCrunch noted that: "Big data will drive $232 billion in spending though 2016. It will directly or indirectly drive $96 billion of worldwide IT spending in 2012, and is forecast to drive $120 billion of IT spending in 2013." $232 BILLION. Let that sink in for a minute. The research, published by Gartner, drew several interesting conclusions as well. One thing is for sure – it's going to impact products, businesses, software sales, and implementation/support services immediately, and in a massive way. . The Cloud. We used to call this SaaS (Software-as-a-Service). The new buzzword is The Cloud. One of the most anticipated events at each HR Tech conference is Naomi Bloom's Master Panel, and this year's panel was "Bringing HR Into The Cloud." All of the major powerhouses in enterprise HR software were represented - Steve Miranda (Oracle), Mike Capone (ADP), Sanjay Poonen (SAP), John Wookey (Salesforce.com), Stan Swete (Workday), and Adam Rogers (Ultimate Software). The key takeaway here: Each may define the path to the cloud and what that entails differently, but all emphatically agree that The Cloud is here to stay. . The Glue (Hint, it's the People). While the conference focus is on the technology component of human resource technology, there is still a large emphasis on the human component as well. After all, you can't leverage technology investments to their full potential without human intervention. Technology investment must be undertaken with a business outcome in mind, and they require skilled people to deliver on these initiatives. The emergence of 'the candidate experience' as the primary point of discussion in any and all recruiting sessions is more proof of this, as are the numerous Talent Communities that are popping up to provide resources to these candidates. The 'Second Annual Candidate Experience Awards – 'The CandEs!' session showcased this trend, with a strong emphasis on high-touch engagement with candidates, creative recruiting processes, and a constant focus on personalization.
We talk at length about trends – mobile development, big data, cloud computing – amongst many others, and as demand grows for professionals with the right skills and experience to drive these initiatives, candidate experience will be a key differentiator for companies. Likewise, Talent Communities such as the ones here at Dice will become an important resource for job seekers to have a central hub for information exchange, learning, resources, organizations, and current events. . The Rest. There are literally hundreds of posts that could be written about advancing the ball in HR Technology and resulting implementations. Mike Rayburn gave a nebulous to-do – we should be leveraging 'What If' as the most powerful question, since at that point any proposal lacks commitment but anything is possible. So what can you do with that today? .