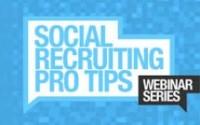 Using Social Media to Message Candidates
Wednesday, May 6, 2015 at 2 PM ET / 11 AM PT
Kara Yarnot, Founder & President, Meritage Talent Solutions ——————————————————————————————----—————--———————– With the tech unemployment rate at just 2%, top talent is getting bombarded every day. Social recruiting is an undeniably powerful channel to cut through the clutter. So what does it take to create compelling messages?
Register for a live webinar
featuring Kara Yarnot, Founder and President at Meritage Talent Solutions, to learn how to craft messages that'll get responses. In this webinar, you'll learn:
The rules of engagement on social sites and email.
How to use social sites differently to drive candidate responses.
Messaging best practices with templates to get you started.
Webinar: Using Social Media to Message Candidates Date: Wednesday, May 6 Time: 2 PM EST / 11 AM PST Duration: 45 minutes